Total Team Effort Made It Happen
By Larry Stalcup, Contributing Editor
From Cheyenne to Calvary, North America's biggest rodeos and equine events were corralled by the coronavirus from March on. The 'rona also toppled traditions at dozens of smaller arenas that would've seen grand entries galore in summer celebrations. But the team at Amarillo's Will Rogers Range Riders knew social distancing couldn't stop their 79th annual rodeo from stealing the stage Fourth of July weekend.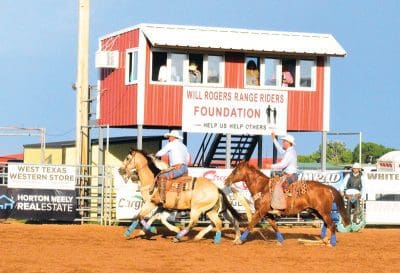 The event attracted several thousand fans, participants and volunteers all three nights. A special Colt Starting Challenge saw hundreds jam the Range Riders indoor arena to witness master cowboys and cowgirls help tame some feisty fillies.
Range Riders was formed in 1938 and is the nation's oldest continuously operating riding club. Its Independence Day rodeo has been ongoing since World War II. Even though it has sometimes faced hardships like many small rodeos, Range Riders 2020 lit a fire under the local western community that's still burning.
Co-rodeo chairs Terry Rich and Vic Morrison joined forces following the 2019 rodeo to strategize how to expand it and add more pizazz. They rounded up dozens of volunteers and a herd of sponsors. Range Riders members made extra hardy hands.
"We have about 155 members in Range Riders," says Morrison, whose day job is regional vice president for Diversified Crop Insurance Services. "They range from teens to men who served in World War II. They were heavily involved in this year's event."
"It was important to have co-chairs," adds Rich, owner of T.L. Rich Construction and long-time Range Rider member. "Vic handled most of the rodeo and Colt Challenge activities. I took charge of getting sponsors and coordinating volunteers. Both of us had few people turn us down to help make this a great event."
Combined ranch and open rodeos
Will Rogers Range Riders became a Working Ranch Cowboys Association (WRCA)-sanctioned rodeo in 2019. Contestants could compete for invitation to the WRCA World Championship Rodeo in Amarillo this Nov. 12-15.
Twelve ranches competed in the ranch rodeo. The winning ranch team was Wilson Cattle of Canyon, Texas, combined with EC Cattle Co., of Santo, Texas. Second place was Burns Ranch of Henrietta, Texas. Third place was Tongue River Ranch out of Paducah, Texas.
The Top Hand was Colten Mayo of Burns Ranch. The Top Horse was SR Surprise Party ridden by Robert Frost.
In conjunction, Range Riders conducted an open rodeo. McCloy Rodeo of Morse, Texas, provided stock for both rodeos. "Most people had never seen an open rodeo and ranch rodeo combined – and it worked," Rich says.
The open competition included a 30-head bronc riding spectacle on opening night. In between runs were special events, including a first responder calf tying. "This was one of the best parts of the weekend," says Morrison, a past International Rodeo Cowboys Association champion team roper.
"We had 12 local firefighters and law enforcement officers competing. Most had never tried to rope or tie a calf. They all had a great time. With the many things happening to first responders, it was our way of showing them how much we respect them and the things they do to keep us safe."
Each rodeo performance featured the traditional grand entry and the Range Riders Lady Drill Team. Opening ceremonies were highlighted by a salute to veterans. Representatives of the U.S. Army, Air Force, Marines and Navy gathered in the arena. The veterans included Admiral Ronny Jackson, USN, Retired, former White House doctor for President Donald Trump and the Republican nominee for Texas Congressional District 13.
"There wasn't a dry eye in the house," Rich says. "Nothing was more important than recognizing veterans in attendance, thanking them, other veterans and active duty personnel everywhere for the service they provide to our country."
Colt Starting Challenge
To expand the Western Heritage theme, Ranger Riders added a Colt Starting Challenge to the festivities. The Colt Challenge is similar to the Road to the Horse program that identifies top horses and horsemen and women.
In just a few hours, contestants gentle the horse, start and ride unbroken horses. "Contestants can quickly tame, and then ride an un-broke horse using Natural Horsemanship techniques," according to the Range Riders rodeo program.
The six fillies donated for the challenge were from the JA Ranch, JM Birdwell, Mikael Nixon, David Williams and Rockin' JM Performance Horses. Contestants were Chance Gainer, Dusty Burson, Clint Gregory, Obbie Schlom, Gatlin Duncan and Taylor Coon.
Judges were Joe Wolter, Jeff Williams and Buster McLaury. After the competition, the horses were auctioned off, with the average price for each approaching $4,000. Proceeds from the auction went the WRCA Foundation and Will Rogers Range Riders Foundation.
"The Colt challenge attracted more people than we had hoped for," Morrison says. "Our indoor bleachers were packed for nearly all sessions. We wanted to provide families with many ranch-related activities. The Colt Challenge provided that and will be part of upcoming Range Riders rodeos."
Sponsors, volunteers step up
Rich had experience in recruiting volunteers to make a rodeo happen. He was among those who secured major sponsors to get the WRCA Championship Rodeo started 25 years ago. He and many of his Range Rider friends got the Amarillo area interested in getting the "real deal" championship rodeo off the ground. They wanted to acknowledge true working cowboys and their way of life.
He and the new team pulled similar strings for the 2020 event. "Amarillo area businesses and organizations are known for helping support events that promote our area," Rich explains. "They did just that for Range Riders."
Major sponsors included Budweiser, Cavender's, Coolhorse, KC Graphics, Kimrad Transport, Street Toyota and Volkswagen, Tyson, United Supermarkets and WRCA. Dozens of other sponsors helped make the rodeo a success.
To add more flair, Rich and the team built an outdoor dance floor with a custom roof – free of charge. All design, engineering, lumber and other materials, electrical, insulation, concrete and roofing were donated, not to mention nearly all labor.
"Fellow Range Rider Guy Bell and I talked about wanting a dance hall years ago," Rich says. "We reached out to various local companies. They provided goods and services to build this new dance hall. Numerous businesses, individuals and Range Riders members supported this project."
Three nights of post-rodeo dances attracted an average of 1,000 or more two-steppers. Even the oldest living Range Rider, Wayne "Okie" Snyder, forever head driver of the Range Riders chuckwagon, appreciated the barn dance.
While standing along the dance floor railing, the 93-year-old was asked to join friends at a table. He quipped back to them, "Why? The girls are up here."
Just the start
The revamped rodeo was unconventional, without forgetting long-time customs. "Nearly everything was experimental," Rich says. "The special VIP tent, the dance, several food trucks, the Colt Challenge and the combining of two rodeos was new. And the experiment worked."
Range Rider members never flinched at helping ride herd. Their dedication reminded Rich and Morrison of early-day Range Riders. That was when members too old to serve in the military during World War II helped families manage cattle and other farm and ranch chores while their husbands, sons and others were off to battle. Like now, Range Riders had their community in mind.
"What took place wasn't possible without the help and support of everyone involved," Rich says. "Back in the day, we had a large rodeo committee. But that had slacked off. This year we reinstated a large committee – and members were all-in from the beginning. We had over 50 members who never let up in making this a success.
"Two days after the rodeo, guys were already calling about when can we start planning for 2021. We had a 3½-hour post-rodeo meeting the following Saturday. Many guys showed great emotion over what took place within our ranks, by bringing guys back, motivating them to participate.
"That's the attitude the Range Riders have. We're already extremely motivated for next year and feel many more members will grab the reins with passion."
Morrison says next year's planning is already underway. "We'll do a lot of things better as we expand on this year's success," he says. "It'll be hard to top what we did. But with the drive from our members to excel even further, this rodeo will be one people won't want to miss in 2021."
Since there has been a shortage of WRCA-sanctioned rodeos due to COVID-19, Rich and Morrison note that, if needed, Range Riders could hold another sanctioned ranch rodeo this fall.
As the nation and world strive to get past COVID-19, hopefully all small and large rodeos, ropings and other Western heritage activities get back in the saddle.
And let's pray the 'rona's not going to be the burr that keeps it from happening.
The Will Rogers Range Riders Foundation supports the Black Stallion Literacy Program, Camp Alphie, ADVO, Cal Farley's Boys Ranch, area 4-H Clubs, student scholarships, Type One Diabetes Area Support, other local charities and individuals affected by crisis. To donate, visit https://www.wrrangeriders.com/wrrr-foundation/.