By Burt Rutherford Contributing Editor 

If there are two things that beef producers talk about most, it's weather and markets. So pour a cup and let's start the conversation.
"La Niña is fading away." That's the good news from meteorologist Matt Makins, speaking during the annual CattleFax Outlook Session during the 2023 Cattle Industry Convention in New Orleans this February. Before you start dancing in the mud puddles, however, there are a few caveats.
The indications that 2023 will bring a transition from the drought-ridden La Niña of the past few years are based on sea surface temperatures. Based on that, Makins predicts the door is opening to El Niño, which means a return of more moisture to North America.
But there's going to be a period where the transition will be in a neutral phase. "As we get into next fall, we begin to open the door and see if El Niño wants to come in," Makins said.
The issue is that, while chatter will continue about sea surface temperatures heralding a return to El Niño, the atmosphere doesn't have to listen, he said. "The atmosphere and the ocean do work together, but they may be several months or several seasons offset from one another."
For this spring and summer, the outlook is neutral. "As we get into fall, we'll start to bring in some elements of El Niño," Makins predicted.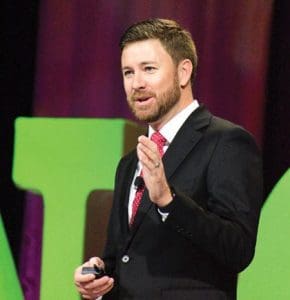 Looking at the spring forecast, he said dryness spreads over the Southwest while the Pacific Northwest and Northern Plains are hit and miss for moisture.
"Soil moisture issues, the drought impact for the High Plains from Colorado into the western plains of Kansas all the way down through New Mexico, Oklahoma and Texas will remain," he said. Moisture's going to be favored in the Ohio and Tennessee valleys.
For temperatures, due to the snow and ice across the upper High Plains and upper Midwest, expect a cooler-than-average spring, which may delay planting, and warmth across the Southwest.
"For the summer, we have allowed enough time for the ocean to tell the atmosphere that we're neutral now," Makins said.
What does that mean? "La Niña provides extremes of one kind. El Niño provides extremes of another kind. To be neutral, you begin to eliminate the extremes."
Nonetheless, Makins expects a better monsoon season and a transition for the Northern and Southern Plains of having a more favorable moisture outlook than the past several years. "And that moisture becomes pretty much evened out east of the Rockies," he said.
Looking to fall, Makins predicts pockets of wetness but doesn't expect the transition from La Niña to El Niño will be fully complete. "But for the fall, a much more favorable precip outlook for the Dakotas, Nebraska, parts of Kansas, parts of Missouri, really focusing on the Ohio Valley and upper Midwest with moisture late in the season," he predicted. "Still relatively dry out to the west in California, Arizona, Utah and Nevada."
Indeed, 2023 looks to provide at least some relief from the drought that has caused the massive cow cull the past several years. In spite of the snow this winter and a better outlook for the rest of the year, Makins reminds beef producers that the drought isn't over. "That's how far we are in the hole," he said.
Markets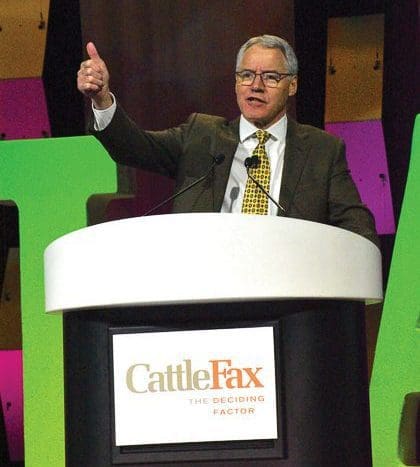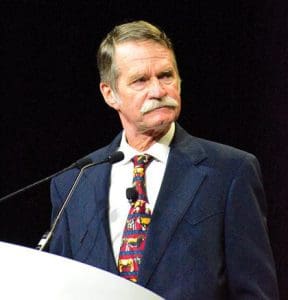 Here's an interesting tidbit. Among the analog years Makins looked at in making his 2023 weather forecast were 2012 through 2015. Those were La Niña drought years, which resulted in the highest cattle prices in memory in 2014 and 2015.
Now, some are comparing the market outlook to prices in 2014 and 2015. Think there's a connection? May be. According to CattleFax analyst Kevin Good, "As we all are well aware of, we've had four tough years of liquidation. We've liquidated 5.5 million head out of our cattle herd since the last peak after five years of expansion. So as I think about where we're at from a big picture standpoint, we're just starting to get into the short rows of tighter supplies. We all recognize that is coming, not just for this year, but for years to come."
And liquidation likely isn't over. It takes grass for the cow herd to expand, and a return to wetter weather for everyone in 2023 isn't a given. "The fact that we've got a heifer-on-feed population that's about 40 percent, still historically strong, and the weather, would all suggest that we still have another 12 months where we're going to see some liquidation as we go forward."
That equates to a smaller calf crop and fewer feeder cattle. As of the first of the year, the feeder cattle and calf supply was down about 1.3 million head from the year prior. That translates into tighter fed cattle supplies, particularly in the second half of the year, he said.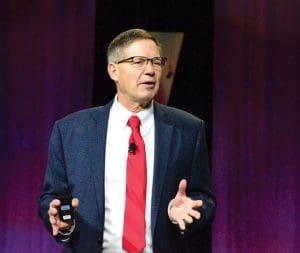 Given that and a host of additional factors, here's Good's outlook for cattle prices:
Fed Steer: $158 per cwt average. "The fed cattle market averaged $144 per cwt in 2022, with a general uptrend as cattle feeders regained leverage throughout the year. Tighter supply should continue to push 2023 prices generally higher while following in a seasonal pattern, trading in a range of $150 to $172."
800-lb. Steer: $200 per cwt average. "Stronger fed cattle values and smaller calf crops over the last four years should support feeder cattle prices at higher levels this year, after averaging $166 through 2022. Expect a 2023 U.S. average 800-pound steer to trade in a range from $180 to $215 per cwt."
550-lb. Steer: $225 per cwt average. "A smaller calf supply supported prices in 2022 for a $195 per cwt average. Aggressive, drought-forced cow-herd liquidation will further reduce future calf crops. U.S. average 550-pound steer values should increase $29 per cwt on average and range from $75 to $115."
Utility Cows: $100 per cwt average. "Strong lean beef trimmings demand and a lower culling rate expected should support cow prices. After averaging $80 per cwt in 2022, values should be $20 higher in 2023, with a range from $75 to $115."
Bred Cows: $2,100 per head average. "Herd contraction and calf values have pressured bred female values the past several years. The 2022 price was estimated at $1,800 per head and, on average, values should improve in 2023 by about $300, trading from $1,900 to $2,300 for load lots of quality, running-age cows."
In spite of much better price and weather outlooks, beef producers still face headwinds, Good said, including feed cost, interest cost and labor availability. But for 2023 and the next few years beyond, the outlook is indeed brighter for beef producers.