By Patti Wilson, Contributing Editor
Growing up at Durant, Okla., Ceciley Sehi spent her earliest years at the Kirkpatrick family's Texas Feed Fat Company in Hereford, Texas. "I started to file office documents as soon as I was old enough to know my ABCs," she says.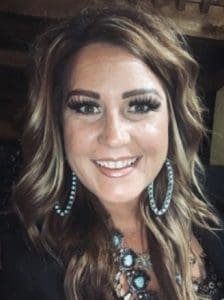 An active youth, she participated in Oklahoma High School Rodeo. In 1999, Ceciley was named Miss Oklahoma High School Rodeo. She also won the Oklahoma Girls High School Cutting Horse Championship. Horses continue to occupy the Kirkpatrick farm near Durant, where Ceciley loves to spend time.
She married Kirk Sehi and moved to West Texas for 13 years. Kirk was interested in the family business, and Ceciley's father, Ted, decided he'd be a good addition to the company.
After the Kirkpatricks retired, the Sehis took over management of Texas Feed Fat Co. They have three facilities – Durant; Hereford, Texas; and Justin, Texas. The Justin plant was recently established, growing the company and providing greater service to the cattle feeding area.
Ceciley's current project is a Merle Norman Cosmetics Studio, another recent business addition located in Durant.
Her family is completed with daughter, Cylan, 9, who likes the family business and the gym. She's a soccer goalie and softball catcher on the local Durant teams.
Ceciley loves to spend time with her family; they take their Polaris Ranger regularly for outdoor activities. She's got a brother to keep track of and will read anything that's set in front of her.
"It's nice to be busy and to be in the industry as long as I have," Ceciley says. "I don't plan to go anywhere soon."