Feeding Industry History Stands Tall in Houston
By Larry Stalcup, Contributing Editor
Two more giants in cattle feeding history had their names added to the Cattle Feeders Hall of Fame (CFHOF) during the CFHOF Banquet held at the Cattle Industry Convention & National Cattlemen's Beef Association (NCBA) Trade Show in Houston.
Established in 2009, the CFHOF recognizes men and women who have helped make cattle feeding the industry that it is today, said Randy Blach, CEO of CattleFax and emcee of the Jan. 31 banquet. The 2022 inductees are Tom Jones of Hy-Plains Feedyard LLC and Norman Timmerman of NA Timmerman, Inc. They joined the likes of Paul Engler, Kenny Montfort, W.D. Farr and 17 other members enshrined in CFHOF.
Bill Pullen of Bill's Volume Sales, Inc., and co-founder of Roto-Mix, received CFHOF's Industry Leadership Award. Dave Mestl, also of NA Timmerman, received the prized Arturo Armendariz Distinguished Service Award.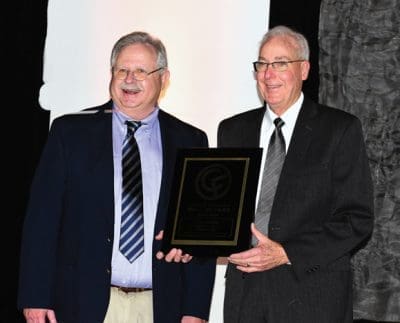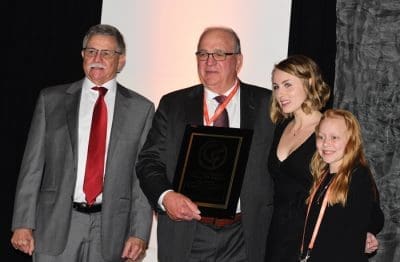 Tom Jones was raised on a farm north of Garden City, Kan., and made the most of his roots in southwest Kansas. While considering junior college, he landed a job at Brookover Feed Yards in Garden City. "It was 49 years ago that I walked onto Brookover," he remembered during his acceptance speech. "I was excited. They still had wooden bunks then. They handed me a shovel for rat control." (Old-time feedyard hands will understand that stately position.)
Earl Brookover (a 2017 CFHOF inductee) admired his ambition. He helped make sure Tom learned every area of feedyard duties. "As I neared completion of junior college, Mr. Brookover asked me, 'You're going to K-State, right?' He loaned me the money to attend," Jones said. He added, jokingly, "Mr. Brookover loaned you just enough money to hang yourself. But I can't thank that company enough for all I learned."
Jones also worked in the packing industry, namely IBP, and later Hy-Plains Dressed Beef, which is now part of the National system in Dodge City, Kan. In 1999, he put together an investment group to purchase Hy-Plains Feedyard in Montezuma, Kan. He recognized early on the need for changes in the cattle industry and enjoyed numerous successes in improving cattle performance at the feedyard and the packing plant.
In 2017, he opened the Hy-Plains Education and Research Center, which strives to educate producers and consumers on beef safety and quality. Jones was among the early feeders who experimented with the concept of crossing quality beef breed bulls with dairy breed heifers and cows.
"Seven years ago, [the late] Dean Gigot came to me with the idea to get into the dairy-cross business," he said. "He already fed cattle with me and had the resources to handle the risk. We brought in a team to improve the dairy-cross process." There were many challenges the first few years. But now, the dairy females are producing calves that grade an average of 91 percent Choice. One dairy involved in the program is producing calves that grade "20 to 30 percent Prime," Jones said.
He recognized many other beef producers, researchers and agribusiness reps. They included Gina Gigot of Thunderstruck Farms in Garden City, whose family operates a large, irrigated grain farm. Tom worked with her, utilizing center pivot corners for grazing and water conservation.
"I am humbled to accept the CFHOF award," he said. "The beef industry has faced multiple challenges. We need new methods to keep these ranches going, right at the time when we have hit our stride and reached our prime for desirability."
'Hard work will give you a lot of luck.'
Norman Timmerman and his brothers faced challenges in maintaining the success of their father, Leo, who was a 2013 CFHOF inductee. They have managed just fine, as have their children, in growing the feeding and farming company, NA Timmerman, Inc.
Norm, as many call him, lives by a saying he's fond of – "hard work will give you a lot of luck." Hard work was in his genes. As a boy, he and his brothers fed cattle with a team of horses at their family operation near Omaha. They often hauled cattle to the Omaha stockyards before attending school.
Timmerman and his brothers have spent five decades in successfully expanding into eight states. The NA Timmerman name was established in 2012. They specialize in high-quality cattle that perform well on the grid. The company includes a network of feedyards in Nebraska, Kansas and Colorado, with a one-time feeding capacity of 90,000 head. Ranches and a beef packing plant are also part of the operation.
With recognition of his parents, Timmerman and his wife, Sharon, gifted resources to his beloved University of Nebraska-Lincoln to create the Leo O. and Irene Timmerman Feedyard Management Specialization Program Fund, a permanent endowment to help fund agricultural education.
"We are pleased to be making this gift in honor of my parents, Leo and Irene, as an opportunity to forever recognize their agricultural legacy and contributions while also giving back to the state and industry that has meant so much to our entire family," he said.
He paid deep tribute to the love and support from his family. "Thanks to all who made this possible," Timmerman said. "I'm an emotional person so I've asked my granddaughters to give remarks on my behalf." They recognized all of Timmerman's children and grandchildren. They also recognized his siblings, brothers Gerald, James and Ronnie, and sister Barbara.
"I'm appreciative of my employees, past and present, and all of my business partners," Timmerman said. "There is nothing like the cattle business and the people in it."
Recognizing the Backbone of
Feedyard Operations
The success of the Timmerman operation, as with any feedyard program, depends on the caliber of employees on board. Dave Mestl spent some 38 years with the Timmerman family and did everything from driving a feed truck to managing the company's Indianola, Neb., feedyard. For his dedication to well-managed feedyard operations, Mestl was awarded the CFHOF Arturo Armendariz Distinguished Service Award.
The award honors those who excel in helping improve the cattle feeding industry and the beef that's produced. In his early days, Mestl began driving a feed truck at the Timmerman's Sterling, Colo., yard. He captained an old manual truck that required popping the clutch to keep the truck going while distributing feed.
Mestl always led by example. He stayed abreast of the latest micro-feed technology and other feeding advances to improve efficiency. He managed the Indianola yard until his retirement. But he still lends a hand where needed, just like any veteran manager who always works to achieve the best performance possible.
Industry Leadership Award
The advancement of feed truck efficiency has been on Bill Pullen's mind for decades. After growing up on a small farmer-feeder operation in central Nebraska, he sought to help bridge the gap between beef demand and quality markets.
He operates Bill's Volume Sales and co-founded the development of the Roto-Mix feeding system in 1984.
The booming automatic feeding business eventually expanded to 120 dealers supporting feed operation in nearly every state and in 35 international markets. For his leadership role in improving the beef industry, Pullen was presented the CFHOF Industry Leadership Award. To highlight Pullen's accomplishments, Blach said, "From delivering feed trucks to the islands of Sumatra, or feeding over 120,000 annually for Caren Beef in South Africa, Bill is a proven dynamic leader."
2023 Nominees
Nominees for the 2023 CFHOF are the late Dallas Horton, well-known cattle feeder and veterinarian in Colorado; Robert Rebholtz, Jr., president and CEO of Agri Beef Co.; Jerry Adams of Adams Land & Cattle in Broken Bow, Neb.; Jerry Bohn, cattle feeder from Pratt, Kan., and 2021 NCBA president; and Ed Barrett, who started Barrett-Crofoot feedyards in Hereford, Texas.
Industry Leadership nominees are Dee Likes, former Kansas Livestock Association CEO; Dr. Delbert Mills, feedlot veterinarian in Greeley, Colo., and early leader behind Beef Quality Assurance; and Temple Grandin, Ph.D., innovative designer of livestock handling facilities and animal science professor at Colorado State University.
Blach, himself a CFHOF Industry Leadership Award winner, echoed the traits of industry leaders, as well as feedyard operators and their workforce. "There are no shortcuts. You have to do the work and show up every day. That's the one common dominator that we have with all of these recipients, not only tonight, but all the folks we've honored the past 13 years. They all deserve our appreciation."