By Larry Stalcup Contributing Editor 
When the Cattle Feeders Hall of Fame (CFHOF) was launched in 2009, only about 150 people attended a small banquet in Denver. Fourteen years later, more than 500 gathered in New Orleans to honor the latest inductees into the elite group that recognizes men and women who have forever made contributions to the cattle feeding industry.
The late Ed Barrett of Barrett Crofoot Feedyards in Hereford, Texas, and Jerry Adams of Adams Land & Cattle in Broken Bow, Neb., are the newest CFHOF members. Dee Likes, former CEO of the Kansas Livestock Association (KLA) in Topeka received the CFHOF Industry Leadership Award. Terry Wegner of Drinnin West Cattle Co., in Palmer, Neb., received the Arturo Armendariz Distinguished Service Award.
Dozens of their family members and friends were among the huge CFHOF banquet crowd to help begin the 2023 Cattle Industry Convention & NCBA Trade Show, Jan. 31 through Feb. 3. Banquet emcee Randy Blach, CattleFax CEO and 2016 Industry Leadership Award recipient, said the 500-strong event illustrates how CFHOF has grown in stature within the cattle business.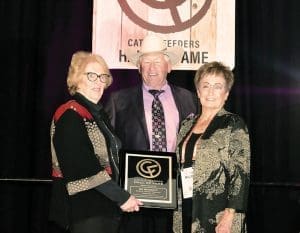 Ed Barrett
Ed Barrett, who passed away in early 2020, grew up as part of a family that was involved in the eastern Kansas cattle business in the 1950s. After venturing to Texas to run Lubbock Feedyard in the 1960s, he returned to Kansas in 1968 to help build and operate Flint Hills Feedyard in Emporia.
As the cattle feeding industry grew more active in the Texas Panhandle, Ed moved back to Texas and began working with the E.C. Crofoot family. Ed and E.C. bought their first feedyard together in Hereford in the mid-1970s, and expanded with the purchase of their East yard.
Ed's sons, Bob and Rodney, became actively involved in the East and West yards operations in the 1980s. Along with other family members, Bob and Rodney are maintaining the Barrett legacy in cattle feeding. Today, Barrett-Crofoot yards have a total feeding capacity of about 135,000 head.
"The award from the CFHOF means a lot to my family," Bob said. Ed's wife, Millie, also acknowledged how grateful her family was for the CFHOF's recognition of Ed. "On behalf of my children and I, thank you," she said.
Jerry Adams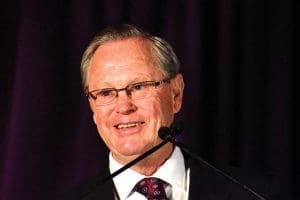 Jerry Adams followed in the footsteps of his father, Russell, when he joined the family operation in 1972. He had grown up on the Broken Bow farm that was established by his father and mother, Angenette. They had bought 320 acres to farm and raise cattle. Russell installed the first center pivot irrigation in the region.
After graduating from the University of Nebraska, Jerry worked for ConAgra in Omaha. As the family operation grew, he moved back to Broken Bow to help expand the farm and backgrounding business. He became vice president in 1972. Jerry and his brother, Bill, grew the operation to what is today – a feedyard with a 125,000-head finishing capacity. They also operate a 100,000-head backgrounding network in 85 locations.
Jerry and his wife, Linda, celebrated their 50th wedding anniversary in 2022. And this year, Adams Land & Cattle celebrated its 50th year in business. During the expansion and addition of more family members into the company, Jerry focused more on research and technology. He said the challenges facing the feeding industry and all agriculture include the enhancement of production sustainability.
"Sustainability is the continuous improvement [in agricultural production]," he said. "The consumer preference is for beef produced with less carbon from cow to plate. Sustainability means getting more from less. It means improved profitability. We need to change the negative narrative [among some consumers] to a positive narrative of beef sustainability."
Dee Likes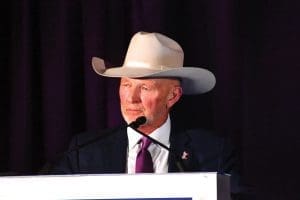 Dee Likes  has been among the most vocal proponents of beef production, marketing and the industry's care for the environment. He remains so, even after retirement from more than 30 years of involvement with KLA.
Following a tour of active duty in the U.S. Navy, Likes attended Kansas State University and graduated Magna Cum Laude with a bachelor's degree in animal science. He also served as president of the K-State rodeo team. He joined the KLA staff in 1976 after working as a CattleFax analyst.
Likes, who is still seen at NCBA Live Cattle Marketing Committee meetings and other Kansas and NCBA activities, is well-known for his work to position KLA as one of the most respected lobbying organizations in Kansas. In 2015, he was commended by proclamation from Gov. Sam Brownback and honored with a Tribute Resolution by both the Kansas Senate and House of Representatives for his dedication and leadership given to the Kansas beef industry.
Terry Wegner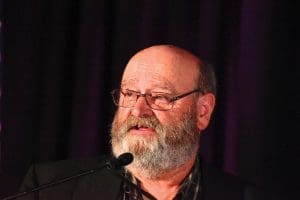 Terry Wegner is among those who Blach has often proclaimed as the unsung heroes of the cattle business. Terry was recipient of the award named after Arturo Armendariz of Poky Feeders. Arturo was an employee who went above and beyond to improve the cattle feeding industry and beef.
Terry is currently part of the Drinnin West Cattle Co., team and has served the industry for more than 45 years. He has specifically worked with dairy cattle. His wealth of knowledge, loyalty and countless hard-working hours have been devoted to the betterment of the industry.
He maintains a can-do attitude and has never steered away from any new challenges, from computers in feeding and loading equipment, micro machines and inventory tracking. Terry works directly with the consulting nutritionists and communicates with animal health crews to help ensure the feedyard is providing the utmost care and efficiency for the cattle. His devotion to his family, farming and livestock drives him daily.
2024 CFHOF nominees are Jerry Bohn, Kee Jim, Robert Rebholtz Jr., Jack Reeve and Jeff Rudolf. Industry Leadership nominees are Bob Glock, DVM, Temple Grandin, Ph.D., and Delbert Miles, DVM. The 2024 CFHOF Banquet will be held during next year's Cattle Industry Convention in Orlando, Fla. Voting is already underway for the 2024 recipients. For more on CFHOF and 2024 voting, visit https://cattlefeeders.org.