2020 Inductees Honored
By  Larry Stalcup, Contributing Editor
He was a cowboy born in Hollywood who cleaned a movie star's swimming pool – a perfect script for a fed-cattle frontiersman. Now at 102, Carl Stevenson remains a leading man in the history of serious cattle feeding in the West.
Still spry and quick-witted, Stevenson was ceremoniously elected into the Cattle Feeders Hall of Fame (CFHOF) during the prestigious group's 11th annual festivities in early February. He received the honor along with the late Don Oppliger, who died tragically in 2017.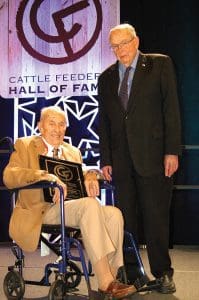 The ceremonies were part of the 2020 Cattle Industry Convention and National Cattlemen's Beef Association Trade Show in San Antonio. Robert "Bob" Hummel, DVM, founder of what would be Lextron, a giant in animal health distribution, received the CFHOF Industry Leadership Award. Dwight Doffin, who has spent 30 years with Feller & Co. feedyard in Wisner, Neb., was honored for his service to cattle feeding.
The CFHOF started in 2009 to honor exceptional visionary men and women who have made lasting contributions to the cattle-feeding industry. It celebrates the industry's rich traditions and recognizes individuals who've devoted their careers to preserving its mission and improving production practices. Randy Blach, CattleFax CEO, emceed the ceremonies and termed all CFHOF members as "trailblazers."
Carl Stevenson
Carl Stevenson certainly fits the profile. Accompanied by his children and other family members, he made the trek to The Alamo City, where he was greeted by friends, young and old. Introduced by fellow CFHOF member Bob Josserand, Stevenson remembered growing up in the San Fernando Valley of what is now greater Los Angeles.
The area was rural during his youth. But he still managed to earn extra money doing odd jobs, including swimming pool duties in Hollywood. After high school, he earned a degree in animal husbandry from the University of California-Davis.
While serving his country in the U.S. Army in World War II, he headed one of the Army's last remaining Calvary mule brigades. He served as a veterinary assistant. "Part of the time I also ran the horseshoeing school," he explained during his enjoyable reminiscence.
He returned to California's Central Valley after the war to work on the Giffen Cantura Ranch. He grew to love cattle feeding. In 1951 he moved to Continental, Ariz., to start a feeding operation for Farmers Investment Co.
His ability to formulate feeding rations was apparent while working with University of Arizona specialists to develop steamflaking. In 1964, he used this art of cooking and rolling grain to establish Red Rock Feeding Co., in Red Rock, Ariz. The 30,000-head yard still operates today, along with accompanying farmland.
Stevenson, who still resides in the Red Rock area, laughed while noting he'd lived more than a century. "When you hit a hundred, you can get by pretty good," he quipped. "But anything over than that gets tougher than hell."
Don Oppliger
Don Oppliger was a modern-day innovator in cattle feeding and farming. He learned to vertically integrate the two early in his career. Raised in Columbus, Neb., he attended the University of Nebraska before heading to Texas.
In 1980, he rented farmland in Hereford, Texas, and grew food corn for Frito-Lay. Soon after that he bought a 15,000-head feedyard at Farwell, Texas, just across from New Mexico's eastern border. His knowledge and expertise enabled the feedyard to excel.
He fine-tuned his farming irrigation systems and integrated the crop and livestock production systems. In 1991, Oppliger acquired a 35,000-head feedyard in nearby Clovis, N.M., and added more irrigated farmland to supply its feed needs. With Nebraska still in his blood, he also purchased a farm in Lincoln County. There he built a 55,000-head feedyard that later grew to 70,000-head capacity.
In the 2000s, his Oppliger Companies acquired more ranches in western Nebraska and diversified farmland in Nebraska and Texas. Two more feedyards were added, and ranch pastureland helped promote more grazing programs.
Oppliger had a passion for flying and typically flew to and from the company's network of farming and cattle operations. Tragically, he died in a helicopter crash in the Texas Panhandle in June 2017. Oppliger was survived by his wife, Joi, and son, Ben. Another son, Grant, is deceased.
Sam Jackson, part of the Oppliger Companies headquartered in Amarillo, Texas, paid tribute to his former boss during the CFHOF ceremonies. He noted that through the innovations and management practices instilled by Oppliger, the Oppliger Companies remain committed to producing quality beef and grain.
"Such practices continue to fuel the growth of the companies," he said.
Robert "Bob" Hummel, DVM
Dr. Bob Hummel decided to retire at 78 a few years ago, but only after his expertise and savvy in animal health products helped him establish and grow Lextron, a product and distribution business known worldwide.
Hummel earned bachelor's and Doctor of Veterinary Medicine degrees from Ohio State University in the early 1960s. He also completed Harvard University's owner/management course before starting his career as a technical service veterinarian with American Cyanamid Co.
With his entrepreneurial spirit, Hummel co-founded the Great Plains Chemical Co., in 1967 in Greeley, Colo. The name was later changed to Lextron, Inc., and became synonymous with animal health distribution with emphasis on the beef industry.
Numerous Lextron innovations helped feedyards computerize their feeding systems, accounting and other management needs. The company's services grew even larger when it merged with Walco International in 2011. Lextron then became Animal Health International.
Duane Klein introduced Hummel during the CFHOF banquet. He noted that under Hummel's leadership, the company provided feedyard technology to more than 65 percent of the nation's cattle on feed. In 2015 the company was sold to Patterson Companies.
Hummel and his wife, Carol, now spend much of their time with children and grandchildren. Jackson Hole, Wy., and Santa Barbara, Calif., are among their favorite spots.
Dwight Doffin
Dwight Doffin received the Arturo Armendariz Distinguished Service Award, which recognizes employees who are the heart and soul of feedyard operations. Doffin, himself, is the quintessential feedyard colleague who doesn't head home until all cattle are cared for.
He's a part of management at Feller & Co. feedyard and went on the payroll just after the yard opened in Wisner, Neb., in 1989. A graduate of Northeast Nebraska Community College, Doffin was heavy into the school's livestock judging team.
He is a member of the Mid-State Rodeo Association and has been involved with Cuming County Feeders and Stanton County Feeders, along with the Nebraska Cattlemen.
Tom Feller of Feller & Co. praised Doffin's all-around expertise at running a feedyard. Animal health, bunk reading, mill operation and cattle procurement and performance are among his specialties. Doffin has also helped lead the feeding company's expansion by overseeing yard construction.
"His leadership is respected and admired because he works alongside peers on any project in front of him," Feller said. "He understands how to connect the dots from all aspects of feedyard management. And he's good at 'management consoling.'"
Doffin and his wife, Katie, have three boys also involved in rodeoing. And when he's not managing the feedyard, he's running his own cattle and farm.
CFHOF inductees, and industry leadership and feedyard employee awards are voted on by industry members after being nominated by committees made up of CFHOF members and other industry leaders. The 2021 CFHOF ceremonies will be held during the Cattle Industry Convention and NCBA Trade Show in Nashville.
The 2021 nominees include: Tom Jones of Hy-Plains Feedyard Education and Research Center, Montezuma, Kan.; Johnny Trotter of Bar-G Feedyards in Castro County, Texas; Bill Brandt of Brandt Co., in Brawley, Calif.; Steve Gabel of Magnum Feedyard in Wiggins, Colo.; and Jack Reeve of Reeve Cattle Co. in Garden City, Kan.
Nominees for the industry leadership award include William "Bill" Pullman, who co-founded Roto-Mix feeding equipment; John Matsushima, Ph.D., who had a long career in beef nutrition research; and Gary Smith, Ph.D., nationally renowned for his expertise in meat science and food safety.
As Blach acknowledged, all of these feedyard operators and industry leaders are trailblazers. And as with this year's inductees, there's a potential Hollywood script in the making.
For more on the Cattle Feeders Hall of Fame and to vote for a nominee, visit http://cattlefeeders.org.