By Larry Stalcup, Contributing Editor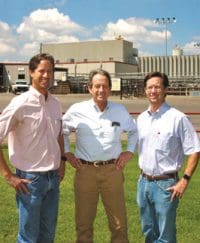 As the head cattle buyer for a regional packer in Roswell and Amarillo in the late 1950s, Pete Caviness dreamed of running his own beef-processing plant. He made it happen in 1962 when he bought a small custom-kill company in Hereford, Texas.
Caviness Beef Packers was born. And over five decades later, the family operation has grown from processing about 60 per day to one that harvests up to 1,800 head. Once a new expansion is completed next fall, it will harvest 2,600 head and employ some 1,400 people.
Located about five miles southwest of Hereford, Caviness is in its third generation of family members running the ultramodern beef-processing facility. Pete's son, Terry Caviness, is CEO. His sons, Trevor, president, and Regan, vice president, are right there with him in running a plant that currently processes approximately 1,800 cattle per day.
"We've always been primarily a cow and bull processor," Terry says. "My dad's early operation handled 60-70 head per day. The plant kept growing from there and eventually was processing about 700 head."
The company outgrew the original location located closer to Hereford. In 2005, construction was completed on its new location. "The old plant had a gravity rail on the kill floor," Terry says. "The new location had the most advanced, high-tech slaughter handling equipment available. We quickly expanded our capacity to about 950 head. It has grown from that to our current capacity."
Further advancements included the addition of a new fabrication floor. "This expansion complemented the harvest facility and allows us to efficiently produce wholesome beef products meeting or exceeding the requirements of our customers," Trevor says.
"Most plants have rebuilt their harvest floor to have the latest food safety innovations," Regan adds. "We had that in mind when we built this plant in 2005. We built the design to provide a good flow for fabrication and the ultimate in food safety."
In 2010, rendering and hide operations were added. In August of this year, Caviness announced it would increase its capacity to handle an additional 800 head. Construction is set to begin this October. The expansion will add another 600 jobs to the already strong workforce of more than 800. Completion is planned for October 2019.
The expansion will include additional carcass coolers, box coolers, freezers, a larger rendering cooker and additions to hide processing, and storage and dry storage facilities. Construction will also include facilities to enhance employee safety.
Roughly 90 percent of the cattle Caviness processes are cows and bulls. About half are Holsteins, primarily from regional dairies. Many ranchers from Texas and neighboring states sell cattle to the packer. Caviness was a key market for ranchers who were forced to liquidate all or part of their herds during the drought years of 2011 through 2014.
Ground beef is a major product coming out of Caviness, which also operates a beef patty plant in Amarillo. That facility processes more than 900,000 pounds of beef chub and patties per week. "We provide beef for several food service and retail customers," Terry says.
Branded beef 
With about 10 percent of their cattle supply coming from cattle with 30 months of age and with high-quality carcasses, Caviness has developed a branded program to diversify and expand its customer base.
Branded products include those designed to fit any consumer preference for beef. They include Caviness Farm Fresh Regional Beef, Top Shelf Grain-Fed Beef and Grass-Fed Beef. The Caviness source-verified beef program is well received by beef retailers, restaurants and consumers.
"We see expanding our branded program because there are good growth opportunities to process more fed cattle in this region," Terry says.
Regan adds that the Hereford plant also processes cattle from registered breed programs. "We custom process cattle for HeartBrand® Beef and 44 Farms," he says.
Reversing a trend 
The Caviness expansion programs have bucked the trend of slaughter capacity reductions by other packers, large and small. In early 2015, CS Beef Packers LLC was formed as a partnership between Caviness and the JR Simplot Company in Kuna, Idaho. It also can process up to 1,800 head per day.
The plant was designed and built similar to the Caviness plant in Hereford. The Simplot company was started in 1929 and grew from a one-man farming operation into a food and agribusiness empire. Before Simplot entered the packing business, its vertical integration included seed production, farming, ranching, cattle feeding, fertilizer manufacturing, frozen-food processing and food brands and distribution.
Both plants operate with food safety and animal welfare in mind. "As progressive beef packers, we are dedicated to producing safe and wholesome beef products," Trevor says. "We focus on maintaining an environment for live cattle that meets or exceeds the highest humane livestock handling standards, whether set by our industry, our customers or by governmental regulation. Our cattle handling facilities were designed with help from [animal behaviorist] Dr. Temple Grandin.
"We have rigorous protocols and employee training on humane livestock handling for all personnel handling livestock."
Trevor notes that with the extra attention given to food processors and manufacturers, "we frequently get audited by a third party. There are customer audits, federal audits and many more."
In addition, he says the Caviness and CS Beef Packers facilities follow a documented quality control program. This ensures that all cattle and beef products comply with these written programs: Domestic Origin, Humane Handling, Non-Ambulatory/Disabled Cattle, Spinal Cord Removal, Pathogen Intervention Steps (multi-step system) and Carcass/Product Testing.
Giving back
The Caviness family recognizes how much the Panhandle area community has helped their plant become and remain a vibrant agribusiness operation, and they have long been active in giving back to the regional community.
On Sept. 7, the Caviness Beef Packers Meat Science and Innovation Center was opened inside the new Paul Engler College of Agriculture and Natural Sciences Complex on the campus of West Texas A&M University in Canyon (see separate story in this issue of CALF News). The lab contains the nation's most advanced university meat processing facilities to help educate students on beef and beef by-product processing, testing and research.
On Sept. 11, Caviness made a substantial contribution toward the proposed Texas Tech University veterinary school at the Texas Tech University Health Sciences Center in Amarillo.
"We are behind education initiatives because we know how important ag education is to our region," Trevor says. "It's important to the sustainability of dairies, feedyards and cattle ranchers, as well as other species that deal with production issues. They all need more support in order to have an efficient, sustainable business.
"If we can grow talent here, and when kids come into the region, the more the talent stays in the region, the more vibrant the region becomes."
Of course, Hereford, Texas, is rightly branded as the Beef Capital of the World. With the major contributions by Caviness to serve as a major market for cattle, as a major employer and a major food distributor, and its efforts to support area agriculture to the limit,  the family-owned company is vital to keeping that "beef capital" title chiseled in stone.