By Larry Stalcup, Contributing Editor
A city on the Missouri River north of Omaha is a far cry from Oklahoma's largest mesa. But with cattle feeding on his mind, Scott Anderson made the transition easily from Blair, Neb., to outside Guymon in the middle of the Oklahoma Panhandle.
The Husker-to-Okie move wasn't just temporary. Anderson is now in his 32nd year at CRI Feeders, where he is manager. He's also the 2021 chairman of the Texas Cattle Feeders Association, which includes some 175 member feedyards in Texas, Oklahoma and New Mexico. Those yards range from small yards with fewer than 20,000-head capacity to mega brands like Cactus Feeders and Friona Industries.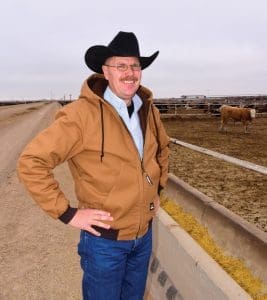 "Our feeding capacity is from 42,000 to 45,000," Anderson says. "Most cattle are customer cattle owned by producers, stocker operators and backgrounders from California to the Carolinas and the Southeast. We feed a lot of cattle from South Texas and Mexico, which perform well in our typically dry climate."
A Culture of Care
CRI is located in the region once known as No Man's Land. In its early days, some quipped that CRI stood for "cowboys, renegades and Indians." Anderson is quick to note that description "doesn't come close to depicting the culture we're working to develop and maintain here. CRI stands for 'care' of our customer's cattle, 'respect' for our customers and our employees, and a staff with 'integrity.'"
He learned those "CRI" traits while growing up on a crop and livestock farm at Blair. "We grew corn and soybeans, had a cow-calf program and also a farrow-to-finish hog operation," he says.
Anderson earned a bachelor's degree in animal science and a master's in ruminant nutrition from the University of Nebraska at Lincoln. He finished those studies in 1986 and headed to Garden City, Kan., for a job at the Kansas State University research feedyard, and then with Farr Better Feeds. "That's when Doug Schmidt [now CRI general manager] talked me into coming down here," he says. "I joined CRI in 1989 and have been here ever since."
CRI was reorganized in 2004 and began operating as an LLC. It created a relationship with Midwest Feeders, Inc. of Ingalls, Kan.
"Midwest Feeders was considered one of the premier feeding facilities on the High Plains and still is," Anderson says. "We had a lot of common customers, so it made sense to link with them. This alliance with a respected organization like Midwest enables the leveraging of our collective strengths and to better serve our respective customers."
Even though CRI normally doesn't handle All-Natural or age- and source-verified cattle, many are marketed through the U.S. Premium Beef program and sold to National Beef Packers in nearby Liberal, Kan. With tight cattle markets, CRI is seeing more retained ownership.
"Stocker operators and backgrounders are our biggest share of customers," Anderson says. "There is more market pressure on them. More of them are feeding out their cattle. They're working to lock in a breakeven price to protect what they have made at their operation as well as potential grid premiums.
"We can help with price risk management for these and other customers. We can also help with feed and cattle financing or procurement. On occasion, we partner with customers on a portion of their cattle. Everyone has a different risk tolerance, but some type of price protection is needed in today's feeding environment."
Meeting Consumer Demand 
Anderson believes consumer demand for higher quality beef provides producers and feeders with promising opportunities. "After COVID-19 caused the lockdown of restaurants and other food service businesses, consumers turned to retailers for most of their beef and other proteins," he says. "The supply chain to retailers was slow at first, but when supplies of higher quality beef cuts hit the meat case, consumers responded with strong purchases."
Consumers have been willing to pay more for Choice and Prime cuts, even in poor economic conditions. Anderson is an opponent of issues that would reduce the availability of high quality beef. "We need to be responsive to our consumer customers," he says. "I believe we have more opportunities to grow domestic demand and export demand. Everything hinges on those."
He believes proposals to create government-mandated negotiated cash trade levels could reduce the ability to market higher quality cattle at a premium. "A better means of price or value discovery is needed, absolutely," Anderson contends. "But I've never been a big fan of government programs of any kind to control our industry.
"There are differences in regional production and feeding and different business models. We need to keep our freedom to operate. We need to keep government from mandating how we operate and sell our product.
"We need the opportunity to work on this ourselves. This will take trial and error efforts. We need to be granted that latitude to learn and grow through voluntary negotiated cash trade. We're serving a customer that wants a quality product. We need a marketing structure that promotes creating that quality product."
Giving Back 
Anderson says it's the duty of producers and feeders to support their local, regional and national cattle associations. And he encourages crop and livestock producers to tell their stories.
"The average consumer is three generations removed from production agriculture," he says. "People have questions about their food. We need them to be aware of all of the good elements of the beef story – how it's produced, how safe it is and how it is a quality protein.
"We as an industry do a good job of educating consumers, but it's a continuing effort. We need to tell our stories and inform consumers of how our product is produced in a sustainable manner that promotes good animal welfare. BQA helps us answer those questions."
Anderson knows one must never stop learning. When there was an opportunity to enter an Oklahoma State University Ph.D. program to focus on organizational behavior, he took it. "I was the only one in the program from production agriculture," he says. "I used that time to tell a few of my own stories."
That's an admirable philosophy that all in the beef industry should practice, even in No Man's Land.