But Will Newer Plants Survive?
By Larry Stalcup, Contributing Editor
Feedyards and large-scale packers have depended on one another since the 1950s. They have faced challenges together and strived to give consumers what they want – tasty, tender beef that is safe and healthy. Despite controversies that occur more often than not, it's a partnership that's important to all segments of the beef supply chain.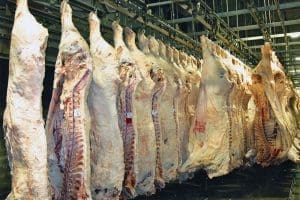 For many, it remains a miracle that modern-day packers manage to harvest more than 33 million cattle and calves annually. But numbers have been near that or higher since the mid-1960s when more feedyard expansion took off. The 21st-century packing industry, however, is much more consolidated and specialized.
With branded products to meet consumer demand for All-Natural/no antibiotics, certified high-quality cuts and other domestic and export markets, packers depend on producers and feeders to supply consumers with what they want from the meat case and foodservice outlets.
The Big Four – Tyson, JBS, National and Cargill – along with many medium-sized and smaller packers nationwide, are part of U.S. meatpacking plants that employ several hundred thousand people. Beef packers and their vital employees processed roughly 27 billion pounds of beef in 2020, according to U.S. Department of Agriculture and CattleFax projections. It was projected as the highest beef production ever for the U.S., another example of the powerful partnership between producers, feeders and packers.
Packers regularly harvest nearly 650,000 head a week. Tyson can harvest about 155,000 head per six-day week from six plants located in Amarillo, Texas, Holcomb Kan., Lexington and Dakota City, Neb., Joslin, Ill., and Pasco, Wash.
JBS also handles about 150,000 head or more per week through its plants in Cactus, Texas; Greeley, Colo.; Hyrum, Utah; Tolleson, Ariz.; Grand Island and Omaha, Neb.; Green Bay, Wisc.; Plainwell, Mich.; Souderton, Pa.; and Brooks, Alberta, Canada.
National Beef harvests cattle at its Dodge City and Liberal, Kan., plants, which handle tens of thousands of cattle per week. Cargill Protein (formerly Cargill Meat Solutions), with major plants like the ones in Friona, Texas, and Dodge City, also handles large numbers of cattle from feedyards across the High Plains.
These primary companies, along with smaller packers, are chief employers and strong backers of their communities, through taxes paid to school districts, municipalities and other entities, as well as an outpouring of charitable contributions. Colleges like West Texas A&M University in Canyon have grown partially because of financial support from packers, such as Caviness Beef Packers in Hereford, Texas.
Paying for Quality
Since 1998, U.S. consumer demand has increased thanks to better quality beef. The result has been an increase in formula and grid markets for producers and feeders through packers. "Our formula/grid pricing rewards producers for supplying the quality of cattle that our customers need to meet consumer demand," says Liz Croston, spokesperson for Tyson.
Production of high-quality cattle, thanks to better genetics and production methods, was apparent in 2020 through Certified Angus Beef (CAB). A record 35.9 percent of Angus-influenced cattle met the CAB brand's quality specs, CAB reports. Those numbers enabled producers to take advantage of price premiums over and above the Choice-Select spread.
Packers are willing to pay more for quality cattle, whether it's for carcasses to supply beef brands like Cargill's Ranchers Reserve, Tyson's Star Ranch Angus, National's value-added Certified Hereford Beef, or 5 Star Beef from JBS. But as anyone trading cattle knows, formula and grid-type pricing for value-added programs have been in the middle of friction between packers and producers and feeders. The premiums are welcome – but the demand for better packer price transparency through negotiated cash trade has boiled into 2021.
The COVID-19 impact on beef processing last spring fanned the flames of already burning questions about price transparency. The Tyson plant fire at Holcomb hurt prices paid for fed cattle, yet wholesale prices weren't as bearish. Many cattle groups, including the National Cattlemen's Beef Association, sought a U.S. Justice Department inquiry of the major packers.
When COVID forced the shutdown of restaurants and other foodservice operations nationwide, consumers rushed to retail meat cases for beef. Demand was huge for packers. However, processing lines slowed down due to sick employees sent home with the virus. Cutout prices rose dramatically. Conversely, packer bids for live cattle were slashed considerably. That caused more turmoil.
Packer captive supply of fed cattle numbers remains an issue. Congressional action was taken to propose mandatory negotiated cash trade on up to 50 percent of cattle purchased by packers. That question is still being argued among cattle groups. Some are for it and some fear that further government involvement in cattle marketing will hurt in the long run.
Packer Expansion … Is It Needed?
Tight packer capacity is part of the problem. Capacity was dramatically cut when Cargill closed its Plainview, Texas, plant in 2013 due to drought that caused a reduction in cattle numbers.
Kevin Buse of Champion Feeders in Hereford would welcome more slaughter capacity. "There are several smaller start-up facilities under construction or soon to be going in the next year or so," he says, discussing new plants in Idaho, Missouri and Wisconsin.
"The expansion of beef-processing capacity at any size is a good thing. However, long term, the issue of economic scale and operating cost will continue to focus on the larger size plants. In our region, STX Beef [formerly Sam Kane] is coming into new ownership in South Texas. Our local Caviness Beef Packers plant is expanding and adding 30 percent to capacity over the next several months."
Small packers with specialty markets in mind are also online. The former Brawley Beef plant in Brawley, Calif., was transformed into One World Beef packers in 2016. But financial obligations for such facilities are huge. And state and federal permits to operate a meat packing facility can be back breaking. Help could come from Congress through the Requiring Assistance to Meat Processors for Upgrading Plants (RAMP UP) Act, which provides federal incentives to improve beef processing capacity.
Justin Benavidez, Texas A&M AgriLife Extension economist, says the beef industry should consider the cattle cycle and overall economic factors before spending hundreds of millions of dollars on a new packing plant.
"I see no problem with the desire to expand capacity," he says. "It's an obvious market response, given the challenges over the last year. If it's profitable for the new packer, I'm all for it and it would provide an alternative location in times of stressed capacity.
"However, I see new plants facing several challenges that may be
insurmountable and make the risk exceedingly high. Large packing plants take advantage of the principle of economies of scale. They're able to distribute their significantly fixed costs over thousands of head per day. The capacity is also what leads to their negotiating power. A smaller plant does not have the same capacity to distribute its fixed costs.
"A second challenge is the status of the cattle market. The 2020 cowherd was smaller than the 2019 cowherd. We can expect that trend to continue for three to seven years, depending on this run of the cattle cycle. Fewer cows mean fewer calves, which means that, on an annual basis, we expect increasing prices for feeder and fed calves until we reach the next peak of the cattle cycle."
What does this mean for a new packer? "Each year, potentially for the next seven, their input prices will continue to rise as all packers compete for fewer calves," Benavidez says. "The economics won't improve for them any time soon. These are the same conditions that eventually led to the shuttering of the Cargill Excel Plant in Plainview in 2013."
Issues facing large-scale packers will continue. They need to recognize how their business dealings impact producers and feeders, and vice versa. After all, when cattle numbers were tight and producer profits were $100, $200 and even nearly $500 per head five years ago, packers were squeezed.
Other industries can learn from packers when dealing with mega issues like COVID-19. The North American Meat Institute reports that infection rates among meat and poultry workers were five times lower in December 2020 than in May, while rates in the general population rocketed up by nine times in the same period.
The institute states the meat and poultry sector averaged about 19 new reported cases per 100,000 workers per day in December. That compares to a new case rate for the U.S. population of about 63 cases per 100,000 people per day. This data shows how the packing industry "is protecting the selfless men and women who have kept Americans' refrigerators full and our farm economy working throughout this crisis," the institute states.
They are essential workers for an industry that completes the supply chain from pasture to plate. And packers, producers and feeders are essential to each other, even if one is cussed more often than not.