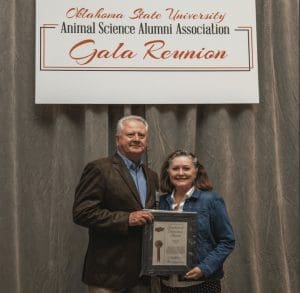 ON APRIL 2, CALF's own Jim Whitt received the Graduate of Distinction Award from Oklahoma State University (OSU) in recognition of his professional and personal accomplishments,"and especially for motivating excellence in agribusiness management and marketing for commercial cattle feeders."
A native of Osage County in Oklahoma, Whitt grew up working on farms and ranches. After graduating high school, Whitt enlisted in the Army but flunked his physical. He then enrolled in Northern Oklahoma College as an art major but dropped out after three semesters. After a series of jobs that included riding pens in a feedyard and working in a farrow- to-finish hog operation, he was hired as foreman of the Oklahoma Methodist Boys Ranch but was fired after only four months on the job.
Whitt says he asked himself,"What do you do after you've been rejected by the Army and the Methodists?" The answer? "OSU accepted me!"
Whitt says being fired was one of the best things that ever happened to him. It proved to be a life-changing experience. OSU and changed his major from art to animal science.
As a student, Whitt worked in the meat laboratory and for Milton Wells, Ph.D., professor of animal reproduction. He was a member of the 1976 International Champion Meats Judging team and served as Block & Bridle president. Whitt interned with Ralston Purina's Summer Agribusiness Management program between his junior and senior years. Upon graduation, he spent 10 years in sales with Purina, working with commercial cattle feeding operations and managing dealer networks in Kansas, Oklahoma and Texas. After leaving Purina, Whitt became national cattle product marketing manager for Central Soya in their Fort Wayne, Ind., headquarters.
In 1988, Whitt launched a contract marketing company representing commercial cattle feeders. That venture evolved into a management consulting partnership with his wife, Sondra, who earned a bachelor's degree in psychology from OSU and a master's degree in industrial/organizational psychology from the University of Tulsa.
Clients have described Whitt as a professional provoker and a blue-collar consultant. He provokes people and organizations to venture outside the boundaries of their comfort zones and learn how to reach their full potential. Whitt has worked with organizations in many industries, but his background has served him well as a speaker and consultant with agribusinesses and ag trade associations.
In the early years of the National Cattlemen's Beef Association Cattlemen-to-Cattlemen television program, Whitt served as both narrator and reporter for many segments. He later ventured into film production, serving as associate producer of Thirsty Land, a documentary that chronicles the ongoing water crisis and how it impacts agriculture, communities and the environment. In 2013, Kansas Gov. Sam Brownback challenged his administration to develop a 50-year vision for the future of water in Kansas. Whitt worked with several clients and state agencies to implement initiatives developed from that plan. In 2016, he was selected by the Kansas Water Office and the Kansas Department of Agriculture to produce a film that documented the success of that vision.
Whitt's articles have been featured in publications as diverse as the Animal Health Digest and the California Political Review. His column, Whitt & Wisdom, has been a regular feature in CALF News magazine since 1997.
As a keynote speaker, Whitt has spoken at conferences and meetings around the world for clients such as Cargill, Chick- Fil-A, ConocoPhillips, Sonic Drive-Ins, Pfizer and Southwest Airlines. His presentations are thought provoking and always served with a large helping of humor.
It was the discovery of his purpose in life — to help people reach their full potential — that led Whitt to develop his purpose-based approach to personal and organizational development. That approach is documented in two of his books, The Transformational Power of Purpose: Finding & Fulfilling your Purpose in Life and Riding for the Brand: The Power of Purposeful Leadership.