By Micky Burch, Contributing Editor
In an unassuming building on the main street of Templeton, Calif., is a gem of a restaurant, humble enough to call itself a grill, but good enough to be declared No. 1 of 17 restaurants in Templeton on tripadvisor.com.
"McPhee's Grill … American fare in a country setting." That's certainly the sense one gets walking through the front doors of what feels like an old movie setting, hearing the wooden floorboards creaking underfoot and admiring the unique artwork of early animal agriculture on the walls (I wanted to take most of it home with me).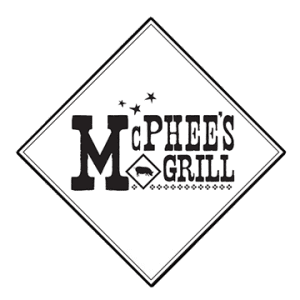 That was the vision Chef Ian McPhee and his wife, June, had when they opened the restaurant in 1994, after purchasing and renovating the oldest building in Templeton."That's my wife – who has very good taste," McPhee explains of the bucolic interior. "She had the vision of the materials."
A native of Pico Rivera just outside Los Angeles, McPhee found his way to San Luis Obispo on a college football scholarship at Cal Poly State University in 1969. While he was an engineering major, he spent his college years working in restaurants, waiting tables, hosting and managing.
One night at work, a cook didn't show up and McPhee stepped in."That just sent me over the edge. That's when I got excited about cooking and about food," he says."It was like,'Oh, I'm supposed to cook food. This is my calling,'" he says genuinely."And I still feel that way. I've never taken a cooking class – I taught myself everything."
For years, McPhee worked in the Cambria area. Looking for a change, he had a gut feeling the Templeton-Paso Robles area was going to grow. He
was right, too. In the mid-'90s, there were twenty-some wineries in the area; today, there are more than 300 wineries attracting regular tourists and visitors to the Central Coast town.
Though he often works locally to source ingredients, McPhee's long-standing relationships with multiple suppliers has provided the highest quality products year-round. He has worked with Newport Beef Co. in Los Angeles since 1984 to source Midwest beef products."They handle beef the right way," he asserts.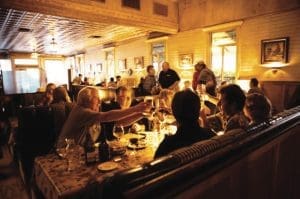 The only time in the last 28 years McPhee's has been closed was during the 2020 pandemic, when they completely shut down for 50 weeks. Post-pandemic, they stopped serving lunch and nightly meals on Monday and Tuesday."That's [actually] been a great thing for us," McPhee explains."It's made it a more efficient restaurant."
Ian and June have four children; their daughter Holly manages the books for the restaurant. Son Max is working at McPhee's, but is also managing a second restaurant, McPhee's Canteen in Tin City, learning the restaurant business. "All of our kids have worked for us at one time or another,"
For a few days off the farm, my husband, Kolby, arranged for my friend Ashley and me to visit other friends of ours, Lori Madden and her husband, Tom, who live outside Templeton. They also happen to be investors in McPhee's Grill. setting." That's certainly the sense one gets walking "One of the words that through the front doors of the oldest building in comes to mind with Ian is relationships – his suppliers are long term, his diners are long term. It's generational, and Ian is a huge contributor as far as giving back to the community," Tom says.
Our first night in town, we ate at McPhee's, where Max was serving as host. We enjoyed tempura shrimp with spicy peanut sauce for a starter alongside each of our choice wines, mine a farm rosé. At the recommendation of our hosts, I strayed from my standard top sirloin and sprung for the filet mignon, topped with smoked blue cheese and accompanied with garlic mashed potatoes and snow peas. I ate every bite of filet and potatoes and had a little help finishing off the peas. We girls wrapped up the evening sharing June's Famous Crème Brûlée. As in everything in life, it's the company one keeps that's make it most enjoyable. But eating great food is a close second. Both are worth going to Templeton for.