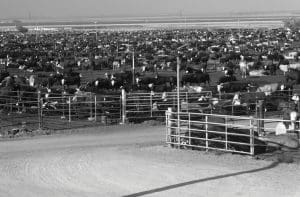 By LaRayne Topp Contributing Editor
In 2023, the Cattle Feeders Hall of Fame (CFHOF) carried out a decades-old tradition, sorting out from the rest of the herd a cattle feeder well-known for his innovation and love for agriculture. The Cattle Feeders Hall of Fame inducted award winner Jerry Adams from Adams Land and Cattle near the small town of Broken Bow, Neb. He was one of 28 to be recognized since the Cattle Feeders Hall of Fame was established in 2009.
Honoring the exceptional, visionary men and women who've made lasting contributions to the cattle feeding industry, the Hall of Fame recognizes those who have devoted their careers to improving production practices and championing the mission of the Cattle Feeders Hall of Fame.
Recognized during the annual Cattle Industry Convention and National Cattlemen's Beef Association Trade Show, the honorees are selected by a five-member nomination committee. These five compile the ballot, which is then voted on by industry members searching out the nominee who brings the most value and integrity to the industry.
Currently, the nomination committee includes Betty Jo Gigot, CALF News publisher, Dr. Del Miles, veterinarian and consultant, and industry consultants Bill Dicke and Shawn Walter.
"I am so proud of the growth and acceptance of the Cattle Feeders Hall of Fame by the industry," Gigot says. "It has become an integral part of reflecting on the history of cattle feeding from an individual view, one person at a time."
The Cattle Feeders Hall of Famers were spotlighted this year at the annual Cattlemen's Ball of Nebraska. Held at the Weborg family's feedlot at Pender, volunteer Mary Smith set up a display illustrating the history of cattle feeding in Nebraska and spotlighting people instrumental in the cattle feeding industry. While researching the biographies of the 28 CFHOF recipients, Smith noted that nine have ties to Nebraska.
That's not surprising, given that Nebraska boasts a cattle to person ratio of 3.29. In rural areas of Nebraska, excluding Omaha and Lincoln, the ratio adds up even higher – to 6.5 head per person. It's little wonder so many Nebraskans made it into the Cattle Feeders Hall of Fame.
Past CFHOF Inductees From Nebraska
2023 – Jerry Adams of Adams Land and Cattle, Broken Bow
From its beginnings in 1972, the Adams operation expanded from an initial 5,000 calves on feed and 3,000 acres of farmland. Adams and his brother, Bill, grew the operation to a finishing capacity of 125,000 head, with a backgrounding network up to 100,000 head in more than 85 locations. Today, Adams Land and Cattle is known for its technology, innovation and data-driven model of cattle production.
2022 – Norman Timmerman, NA Timmerman, Inc., Indianola
Norm and three brothers expanded their family business over a 50-year span into eight states, including a network of feedyards with a capacity of 90,000 head, along with ranches and a beef packing plant. In 2023, NA Timmerman, Inc. was formed. Today, the operation includes a third generation, building on the Timmerman family legacy. Feedlot locations in Nebraska, Colorado and Kansas have a one-time feeding capacity of about 100,000 head.
2019 – Bill Foxley, Foxley Cattle Company, Omaha
Bill Foxley's Foxley Cattle Company originated in 1962 with a 15,000-head feedlot south of Omaha. By 1980, the company-owned inventory was a quarter of a million head in five feedlots in Nebraska, Colorado, Texas and Washington. In an inventive and resourceful measure, Foxley built the 65,000-head Bartlett feedlot with half-mile-long sheds over waste pits emptied to fertilize 10,000 acres of irrigated Sandhills corn.
2017 – Jeff Biegert, Midwest PMS, Shickley
Jeff Biegert established a liquid feed manufacturing and cattle feeding company, Biegert Feeds, now known as Midwest PMS. The business has expanded into 10 manufacturing sites across Kansas, Nebraska, Colorado, Texas, Iowa and South Dakota. Biegert, owning extensive ranching properties throughout the Midwest, maintains ownership in Fort Kearney Feeders, a 58,000-head operation, and North Platte Feeders, an 82,000-head operation.
2016 – Bob Gottsch, Gottsch Cattle Company
Bob Gottsch and his brother began feeding cattle on a leased lot, with Gottsch feeding other people's cattle until he could afford to feed his own. He expanded his Elkhorn feedlot through the years and added a location in Red Cloud, where he eventually had 42,000 head. He partnered with Ken Morrison in a 40,000-head feedyard at Juniata, followed with a Kansas feedyard exceeding 50,000 head.
2014 – Roy Dinsdale, Dinsdale Brothers, Inc., Palmer
Roy Dinsdale joined the family's cattle operation at Palmer in 1948. Since that time, Roy has nurtured Dinsdale Brothers into a diverse company involved in cattle feeding, ranching, farming, banking and other ag-related businesses. Third- and fourth-generation Dinsdales now oversee the 75,000-head cattle operations in Colorado and Nebraska, while Roy continues a watchful eye on the Palmer feedyard.
2013 – Leo Timmerman, Timmerman & Sons Feeding Co., Inc., Springfield
Leo Timmerman started farming with three milk cows and two dozen chickens, as Timmerman and his wife lived off the money from eggs and cream. During this time, he bought two or three head of cattle, then six more, then 25, eventually expanding into a successful career in the cattle feeding business. In 1945, he quit raising milk cows and chickens to purchase a feedyard in Omaha, serving as the foundation for his business.
2012 – Louis Dinklage, Louis Dinklage, Inc., Cuming County
Louis Dinklage's vision for the cattle feeding industry led him to become one of the most well-respected cattle feeders in America. Born in 1902, Dinklage never could have imagined that by the late 1960s, he would be considered the country's largest cattle feeder. He influenced both the cattle feeding industry and the community as he mentored many young cattle feeders, setting them on the road to success.
2011 – Dave Wood, Harris Feeding Company, Coalinga, Calif.; feedlot in North Platte
Dave Wood began as a pen rider at Harris Feeding Company in California, moving up to feedyard manager in 1978, then the company's chief operating officer and chairman of beef operations. In 1982, Harris Ranch established one of the first branded beef programs in the United States. Wood owned extensive cow-calf and stocker operations in six western states, as well as serving as a partner in a 70,000-head feedlot in North Platte.