By Larry Stalcup, Contributing Editor
From recent victories for cattlemen in Washington, D.C., to the need for more checkoff dollars for beef research and promotion, the Oklahoma Cattlemen's Association annual convention corralled a lot of information into its two-day event this summer.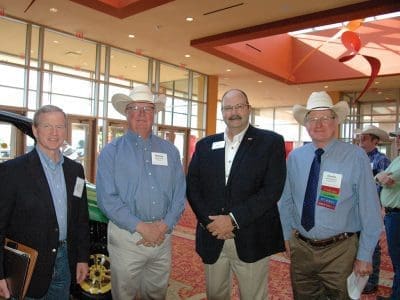 Held at the Embassy Suites in Norman, the convention attracted producers, feeders, their families and others from across Oklahoma and other areas with an interest in cattle production and the ranching way of life. Headline speaker was Colin Woodall, NCBA vice president of governmental affairs. He reviewed good things – yes, good things – coming out of D.C.
"We got more things done in six months than we did in the last eight years in the Obama Administration," Woodall said, in acknowledging how President Donald Trump has appointed ag-friendly people to his cabinet.
"For one, cattlemen don't have to live in fear of the EPA anymore. Thank you, Oklahoma, for giving us Scott Pruitt (new EPA administrator). He realizes that in order to have clean water, soil and air, they need us in agriculture. He is making good decisions. Like Trump, Pruitt isn't distracted by those throwing rocks at him."
Woodall also praised new Ag. Sec. Sonny Perdue. "He's a veterinarian. He knows agriculture and he knows politics," Woodall said. "Also, the appointment of new Supreme Court Justice Neil Gorsuch by President Trump keeps a conservative court, which is good for us in agriculture."
Many Trump appointees are people involved in business. "They are people who sign the front of the check, not the back of a check," Woodall said.
He noted several Washington priorities that will benefit agriculture. "We need to finally repeal the 'death tax' as part of overall tax reform," he explained. "That is a priority of House Speaker Paul Ryan."
Farm Bill hearings have been conducted the past summer, with many addressing issues like efforts to prevent foot and mouth disease (FMD) from entering the U.S. "FMD could be used in terrorism," Woodall warned, which could cripple much of the cattle industry.
The Waters of the U.S. proposal that has been a cloud over producers and feeders for several years appears doomed under the revised EPA, but isn't yet off the table. "We hope WOTUS is dead by Christmas," Woodall said. "But the government will need a replacement rule to clarify where EPA and the Army Corps Engineers will govern."
Issues dealing with livestock transportation, efforts to label ammonia from animal waste as hazardous waste and continued support of expanding U.S. beef sales abroad will be high on NCBA's agenda, he said. He added that the beef industry will continue to provide truth about beef production and animal welfare to counter anti-beef activists led by the Humane Society of the United States.
"HSUS head Wayne Pacelle and his followers come after us one bill at a time," he said, pointing to a picture of Pacelle and a pig. "He is our public enemy No. 1. HSUS is coming after us, our way of life and our food supply."
Beef, it's what's for dinner worldwide
National Cattlemen's Beef Board Chairman Brett Morris of Ninnekah thanked his fellow Oklahomans for backing the national Beef Checkoff. He was part of a CBB, NCBA, U.S. Meat Export Federation and USDA trade teams that visited the Far East to promote U.S. beef this summer.
The Pacific Rim visits helped open more markets for beef in Japan, South Korea and especially China.
"In many countries, we can't keep up with the demand for our beef," Morris said.
Something to replace the Trans-Pacific Partnership is still needed to reduce tariffs on U.S. beef in Japan and other countries, they said, which will help open even more markets for all cuts. Consumers in those countries enjoy beef hearts, kidneys, tongues and other parts of a carcass that typically aren't on U.S. menus.
Are you ready for a Hurricane Harvey-type catastrophe?
Many Texas farmers and ranchers are still measuring losses suffered when Hurricane Harvey slammed the Gulf Coast and dumped several feet of rain over a four-day span in late August. It was a disaster of the worst magnitude. The fierce wildfires in March also were examples of a crisis that can kill people and cattle and devastate rangeland, fencing, barns and homes.
An OCA convention seminar looked at such catastrophes and how producers can be somewhat prepared for a crisis. It was led by David Pelzer, former communications director for the National LiveStock and Meat Board and ag journalist, who now specializes in helping farmers and ranchers develop crisis management plans.
"By nature, crisis is an undeniable event," Pelzer said, and should be prepared for before the unfortunate happens.
He listed several potential crisis situations that can disrupt or halt a farm or ranch operation:
employee injuries
weather damage
unexpected animal safety or health concerns
real or perceived danger in consuming meat (BSE scare as an example)
sudden lack of community trust
sudden death of senior management
"How you manage these issues or crisis will make or break you," Pelzer explained, suggesting that producers established a crisis management plan to be ready for the worst.
The plan should involve putting together a crisis team, identifying stakeholders (family members, landowners, vets, lenders, etc.), identifying potential devastating scenarios, developing a public relations plan and public statements for use in the event of a crisis, identifying a spokesperson, developing social media presence and updating the plan when changes are needed.
"A written document is vital in the event of a crisis," Pelzer said. The document should include directions to your ranch for emergency first responders, as well as a summary of your animal welfare program.
A close connection with your state or regional cattle association is a must. This can be valuable in the event of a problem that can impact the public health-wise, or have another negative impact.
OCA President Charlie Swanson completed his term as head cowboy for the association. He was replaced by Weston Givens of Arnett. Other new volunteer leaders on the OCA Executive Committee are: President-Elect Mike Weeks of Stuart; Northwest District Vice President Darrel Shepard of Custer; and Southwest District Vice President Harold Gillenwaters of Chickasha.