Diversified California Packer Expands Markets, Branded Products
By Larry Stalcup, Contributing Editor
Many considered it a long shot at best. There were too many local and state regulations to overcome. Two previous efforts to operate a successful packing plant had failed. Eric Brandt thought differently. Five years later, One World Beef (OWB) Packers has nearly 400 employees and is harvesting more than 2,000 cattle per week.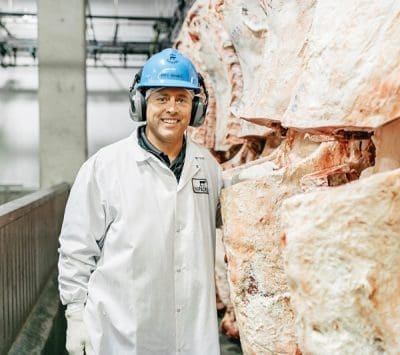 CALF News has followed the progress of Brandt and his family's efforts to buy, refurbish and eventually get the necessary permits to operate the Brawley, Calif., facility. After clearing one hurdle after another (and the state of California has plenty), the facility is helping support the regional cattle feeding industry and boost the regional economy by bringing back desperately needed jobs to the area, which has historically suffered the highest unemployment rate.
"It was a huge feat getting this plant back on line," Brandt says. "We're blessed with the team we have. Our employee numbers are growing. We're starting to get more cattle from other feedyards down here. We have the plant and we have the capacity for many more cattle."
Brandt and his family have been in Imperial Valley since the 1930s and feeding cattle since the 1960s. His father, Bill Brandt, a pioneer in the industry, still runs the Brandt Cattle Co. feedyard that currently has about 125,000 head on feed. Eric's brother, Mark, manages the family farming and ranching operations, which provide many feedstuffs for the feedyard.
They ventured into natural, no-hormone beef in the 1990s and have continuously sought the most feasible harvest and marketing opportunities for those cattle. Those opportunities now include OWB Packers.
Brawley Beef
The history of the packing facility goes back to 2001 when the Brandts were among several regional cattle feeders who established what was then Brawley Beef.
They wanted a better market for their cattle after smaller packers halted operations in the Los Angeles area. But too many state environmental requirements, along with stagnant cattle markets, forced the feeder owners to sell to a larger company, National Beef, in 2006.
National eventually gave up on the operation and the plant sat idle for several years. That cleared the way for Brandt to buy the plant in 2014 and establish OWB Packers the same year. It took more than three years to obtain state and local permits to operate what was still one of the newest packing plants in the United States.
Now, OWB Packers is an operating facility that takes a different approach to the cattle they buy and the markets they service. Source verification, sometimes for each animal, is documented. That has helped lead to greater sales to China, Japan and, more recently, the European Union.
Brandt notes that another of his entities, One World Beef, is the sales and marketing platform and is independent of the packing plant itself.
"We sell and market various brands we believe in, whether they are our own or other brands," he says.
"Brandt Beef, consisting of the brands we own, is the flagship of the operation. It is strictly a no-hormone, beta-agonist-free, all-natural program. Another brand, Imperial Valley Ranches, involves cattle from other area ranches that are also hormone- and beta-agonist-free. We think the future is more in all-natural cattle and have the plant to process those cattle."
The company's Brawley Beef brand is for conventional Holsteins and is a tribute to the original cattle feeders who helped create the original packing facility. Another brand is Baja Beef, which features desert Southwest or Mexican cattle. One World Beef acts as the exclusive agent to export all of these products to restaurants, chefs and distributors throughout the world.
In addition, One World Beef markets products from its Kagoshima Beef program – Japanese Wagyu beef – which enjoys niche markets. OWB also markets high-quality veal products from Peter's Farm and Apeldoorn, both out of Holland. And Brandt Beef Jerky is becoming a hot item.
"One World Beef is a channel for our brands and any brand to get products from the producer to the consumer the best possible way," Brandt says. "It operates entirely under the philosophy that transparency in everything we do is crucial to maintaining strong relationships with clients, customers and partners. We pride ourselves on a level of transparency not often observed in the meat industry."
Brandt notes that most cattle fed in Imperial Valley yards are processed through JBS in Tolleson, Ariz. But One World Beef and the plant are also seeing more local cattle harvested. "We have cattle coming in from the Moiola Bros. Cattle Feeders and Mesquite Cattle Feeders in Brawley, and have had some from El Toro and other feedyards," Brandt says.
"But we have to earn our way into the market. We think it's important that there is continuous competition down here. JBS is a healthy market, and we must chip away at getting more supply."
Community involvement
"I'm proud that we have proven we can be a good partner to the community," Brandt says. "We do things right. We're highly involved in the community. The tax dollars that go back into the community and jobs created speak volumes themselves.
"There's nothing more important to an ag community than to have ag manufacturing jobs that are tied to being part of the community.
"I'm thankful for all the people involved in helping get this facility back in operation. No. 1 is my family, and a lot effort put forth by the managers here. Kudos to our CFO, Armand Nicholi, who helped navigate the deal and put our financial structure in place, and to the community supervisors who awarded us some favorable financing in exchange for us creating new jobs.
"The Imperial Valley Economic Development Corporation was really instrumental in helping us identify California state programs that were enormously helpful in getting the deal done."
The monumental steps Brandt and his team have taken illustrate the dedication they had to bringing an idled packing plant back to life in a community that needed the jobs. Their efforts also magnified their drive to diversify beef production and processing measures to provide better markets for producers and better products for their customers.