By Burt Rutherford Contributing Editor
We're getting better. A lot better, in fact. But much like a football coach who, even when the team wins, isn't satisfied with the performance, the 2022 National Beef Quality Audit (NBQA) not only documented where beef producers are winning, but where their performance still can be improved.
The NBQA began in 1991 and is conducted periodically to determine how the beef business is improving over time. These audits have delivered a set of guideposts and measurements for everyone in the beef business, especially beef producers, to determine quality conformance of the U.S. beef supply. Prior to the 2022 audit, the previous audit was conducted in 2016.
First, the caveat: The 2022 NBQA, with results released earlier this year, was conducted under extraordinary circumstances, primarily drought and supply backlogs because of COVID-19. Because of the remarkable disruptions those two factors produced, the data are more a snapshot at a particular point in time than part of a continuum.
Nonetheless, the data are important and instructive as beef producers continue to produce a safe, nutritious product that consumers demand.
"Looking at the data collected from this National Beef Quality Audit, I think the quality of beef being produced today and the efficiency by which it's being done has improved markedly," says Trey Patterson, CEO of the Padlock Ranch and chair of the Beef Quality Assurance (BQA) Advisory Group. "I think that shows that the efforts that have been put in place in the past to make strides in these areas has yielded positive results for the industry."
Another pearl of knowledge the audit revealed is that beef chain market segments no longer consider food safety as a purchasing criterion. "It is a basic expectation," Patterson says.
"So we've really set a new bar for ourselves that the beef will not only be high quality, but it'll be safe," Patterson says. "I see that as a real positive."
Market Cows and Bulls
Just like fed cattle, the quality of beef harvested from cull cows and bulls has improved, Patterson says. "The efforts we've put into that in the past, a lot of that through Beef Quality Assurance (BQA), have yielded results. We're getting better."
Generally, cull cows and bulls mainly produce ground beef. However, the beef supply chain has realized some market cows and bulls can yield valuable primals that can be fabricated and sold as retail cuts to restaurants, which increases the value of those animals.
What's more, a very large majority of cattle and carcasses surveyed had no instances of knots (98.2 percent) or injection-site lesions (97.1 percent) visible on the exterior carcass surface. That indicates great strides in the number of producers who are trained in BQA practices and are administering injections properly, according to an NBQA fact sheet.
And, Patterson says, "Transportation is getting better," something he attributes to the addition of Transportation BQA (BQAT) to the program. In fact, nearly 93 percent of livestock haulers interviewed were familiar with the BQAT program, and 91 percent were BQAT certified, according to audit results.
That's reflected in the increased number of trailer loads that allot sufficient space as outlined in the industry's Animal Handling Guidelines, according to an NBQA summary.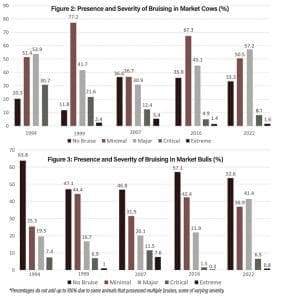 Then there's this: "We also saw that the incidence of foreign objects are still a problem in beef," Patterson says. While that's something that the industry may not want to talk about, he thinks the issue needs to be addressed, particularly when it comes to birdshot.
In fact, 100 percent of the cull cow and bull packing plants that participated in the audit reported finding birdshot and buckshot, not just in the hides, but in the muscle as well. Other foreign objects, such as broken needles, wire and darts, all came in at almost 19 percent each.
What's more, 53.3 percent of surveyed plants reported instances of supply chain segments finding foreign objects in their products. While plants have installed metal detectors and x-rays to catch and remove foreign objects before products leave the plant, this remains an issue throughout the supply chain, according to an NBQA summary.
"We should not have any tolerance for that," Patterson says. "That creates added waste in our industry." While he's not sure zero is possible, he thinks more BQA training and education can reduce the incidence of all foreign objects in beef, particularly birdshot. "There is no reason for it."
Another finding and an indicator of how drought affects every part of
the beef business was the highest percentage of light-muscled cull cows and bulls across all audits for the past 27 years. The 2022 audit found an increase in the percentage of cattle categorized as too thin, according to body condition scores. "Producers should consider market cows and bulls and their eligibility for feeding prior to harvest in order to increase their muscling and finish, thus returning more revenue," according to an NBQA factsheet.
Cull cows and bulls represent a significant part of an operation's cash flow. Managed and marketed correctly, they can be a profit center. While the 2022 NBQA highlighted a number of areas where the beef business has made positive strides, it also identified some lost opportunities.
"Declines in market cow and bull quality such as live animal defects, carcass defects, and the market or sale of animals unfit for consumption leave dollars on the table for cattle producers," reports an NBQA summary. "In order to capture these lost opportunities for economic return, producers should abide by the 'Three Ms' – manage cattle to minimize defects, monitor the health and condition of their cattle, and mar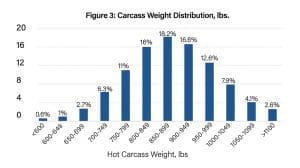 ket their cattle in a timely manner."
Fed Cattle
Another takeaway from the 2022 NBQA is the increased use of electronic identification (EID) ear tags in cattle entering the fed cattle marketing chain, Patterson says. That's another positive.
"One thing as an industry we need to continue to work on is traceability. What I think we all saw, going through COVID in human beings, is not only how fast infectious diseases spread, but how fast regulations follow," he says. "Let's get on top of this as an industry and get traceability figured out."
Traceability, however, is only part of the larger picture. Patterson also sees a need to focus on the biosecurity associated with containing a disease outbreak "so that we can be able to thwart having a situation like humans went through with COVID-19," he says.
In fact, cattle health across the board is an issue. "The health of feedlot cattle has got to continue to be a focus," Patterson says. "Preventative health strategies that set us up for success, continued efforts in research and in practice to improve feedlot health needs to be addressed."
While that has been a focus for a long time, the beef business can't take its foot off the accelerator "because it continues to be a challenge in the feedlot industry."
The 2022 NBQA showed the highest percentage of Prime and Choice fed-cattle carcasses since the audit began. In the 2022 audit, 76 percent of carcasses hit Prime or Choice, compared with 71 percent in 2016 and 61 percent in 2011.
While that can partly be attributed to better genetics, it also was the result of heavier carcass weights. That had a number of drawbacks.
"One of the things we saw in this audit is that mobility scores were down some in fed cattle," Patterson says. According to audit data, nearly 92 percent of cattle received a mobility score of 1, with the animal walking easily and normally with no apparent lameness. That is down from 97 percent in 2016 and is attributed to larger cattle and longer time in transport.
There was an increase in the number of Yield Grade 4 and 5 fed-cattle carcasses, according to audit results, as well as an increase in the incidence of carcass bruising in both fed cattle and cull cows and bulls. In fact, the 2022 audit showed the highest frequency of carcass bruising, at 52.3 percent, since the audits began. Since heavy carcass weights result from bigger live animals, this issue will likely need to be addressed through facility and trailer design as well as cattle handler training, according to an NBQA fact sheet.
Where Do We Go From Here?
"I think, No. 1, getting involved with Beef Quality Assurance," Patterson advises. He believes that's the path that beef producers will take to continued progress.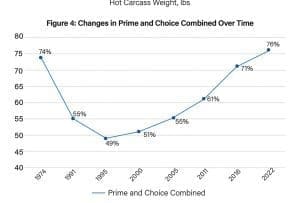 "Remember back to the early audits where injection-site lesions were such a problem and there were quality issues? Look at what we've done with those," he says. "We've improved quality. Carcass defects continue to go down."
But there's always room for improvement. "There's always going to be a bar somewhere we need to raise," he says. "You never can say that we have arrived. And I think BQA has been successful in the past in raising those bars and getting above those bars on a lot of issues."
Editor's Note: For more information on the 2022 NBQA, visit bqa.org