Questions Whether Republicans Can Rely on Sen. Joe Manchin to Break the Tie
By Larry Stalcup, Contributing Editor
Amarillo, Texas (August 26) – Many feel cattle producers and feeders have an ally in Sen. Joe Manchin (D-West Virginia). They believe he'll back Republicans opposed to Democratic moves to end the Senate filibuster and impose massive tax hikes on individuals, ranches and other small businesses and estates. But don't bet the farm on Manchin's vote, warned Sen. Ted Cruz (R-Texas).
Cruz spoke to leaders in agriculture, banking, other agribusiness, and the oil and gas industries during stops in Amarillo and Lubbock. In roundtable discussions, he said the Democratic spending bill, headed by Sen. Bernie Sanders, (I-Vermont) – a Democratic Socialist and chairman of the Senate Budget Committee – approaches more than $4 trillion, including mammoth increases in every tax imaginable and tons of pork.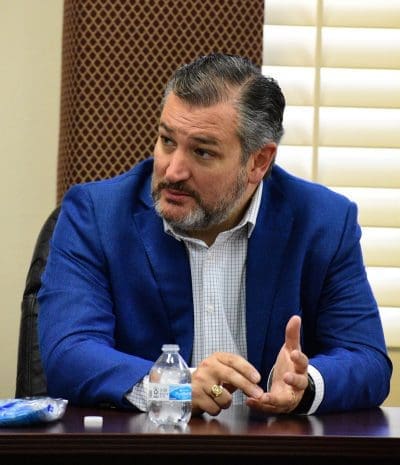 "It's going to be massive and painful (including elimination of stepped-up basis)," Cruz said. "That would be one of the most devastating things for farms, ranches and small businesses. I'm among those leading the fight against that. It could drop out of the bill, with more pressure from the ag community and others. But more and more, Washington Democrats have written off agriculture."
Manchin's vote could be needed to defeat the bill. And that's no guarantee, Cruz said, because Manchin has often been a disappointment in critical Democratic-led votes. "In the nine years I've served with Joe in the Senate, he has never once stood up to Chuck Schumer [Senate majority leader] on any issue that mattered when he was the deciding vote." Cruz charged.
"If we had 51 votes [on the Republican side] he'd give you the 52nd to be bipartisan. But he has never been willing to be the deciding vote."
In measures that would provide billions in tax relief only to minority farmers, as well as undocumented immigrants, Cruz said his amendment to prevent paying illegal aliens taxpayer stimulus funds was voted down by every Democratic Senator.
"It failed by one vote. Joe didn't vote with us on that," Cruz said. "I had another amendment that said we shouldn't send taxpayer stimulus funds to criminals in prison. Every Democrat voted no. So Joe's history doesn't give you a lot of encouragement."
The biggest Democratic issue is eliminating the Senate filibuster and allow for a majority rule instead of a 60-vote majority. With a 50-50 Republican-Democrat spit in the Senate, Vice President Kamala Harris would break the tie in favor of Dems.
Ending the filibuster could move the Senate to pack the Supreme Court. It would likely need a vote from either Manchin or another moderate Democrat, Kyrsten Sinema of Arizona. "Joe and Kyrsten are getting the living daylights pounded out of them," Cruz said. "Schumer is coming at them hard. The left is demonizing them."
So far the targeted senators are preaching against ending the filibuster, "and I'm praising them for it, to not destroy the institution of the Senate and not undermine our rights," Cruz said. However, "Joe has never held out with Schumer leaning on him before. I've very worried."
Cruz said Arizona and West Virginia constituents are warning Engel and Manchin against voting to end the filibuster. They would face strong opposition back home. But the damage would be done.
"I don't know how the country comes back," Cruz said. "The fate of the Republic rests on their shoulders."
With the labor shortage in agriculture and other industries, Cruz also called for an end to continued unemployment stimulus payments that are often more than than what people would make at their jobs. That has created little incentive for them to go back to work, he said.
The border crisis and what could be 2 million illegal aliens crossing into the U.S. this year were also on his radar. Cruz noted that border-area farmers and ranchers fear for their lives, equipment and other assets.
Biden's Afghanistan Plan
Just before Cruz spoke to the Amarillo roundtable, news broke of the suicide bombs at the Kabul Airport in Afghanistan. At least 13 U.S. servicemen were killed and others injured.
"The disaster we're seeing play out abroad is heartbreaking. Every one of us is horrified by what is happening in Afghanistan right now," he said. "It keeps getting worse and worse.
"As disastrous as the domestic policy has been, foreign policy has been worse. The Biden administration, from the beginning, has had no plan for Afghanistan, no plan to evacuate Americans, no plan to evacuate Afghans who assisted us and no plan to stand against the terrorists that now have control of Afghanistan."
Cruz contended that the "radical ideology" of the Biden administration is part of the problem. When the administration said it is seeking ways to help the Taliban become welcomed and embraced in the world community of civilized nations, "I laughed out loud," Cruz said.
"They don't want to be welcomed. They are terrorists who hate us and want to kill us. Enemies of America have to be dealt with strength and not weakness."
Nevertheless, Cruz said the policy coming out of Washington "is waking up a whole lot of people. I have a sense of optimism in the election of 2022 and 2024," he said, pointing out that even Texas has a bullseye on it by those wanting to flip the state blue.
"But the country will make it through this. If we [Republican Party] continue to be the party of jobs and fighting for working men and women, that is a winning position."