By Betty Jo Gigot, Publisher
Being an eyewitness as well as a participant in many of the most momentous events in the cattle community's last 40 years, Dee Likes considers himself a very lucky man. What he treasures most are the friendships he's formed through the years, not only in Kansas but also across the nation.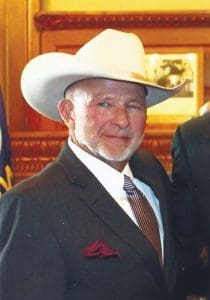 "They are wonderful friendships and I try to be sure they continue," Likes says, visiting in the Likes family living room in Colorado. His wife, Terry, got to pick the location of their retirement home, and she had always wanted to live near the mountains. That works great for Dee since his retirement is really just a new chapter in a long and varied career. His home's close proximity to the National Cattlemen's Beef Association (NCBA) headquarters, the Beef Board and the Meat Export Federation allows Likes to continue to contribute to the industry he loves.
A complicated business
Born in Emporia, Kan., Likes was a rodeo cowboy (bareback bronc rider) and a ranch cowboy before doing a stint in the U.S. Navy. Returning to Kansas, Likes graduated magna cum laude from Kansas State University before going to work for CattleFax. He credits the time he spent as a market analyst there with a strong learning curve, as does anyone who worked with Topper Thorpe.
"That is where I began benefiting from the mentoring from Topper and other industry icons," Likes says. He joined the Kansas Livestock Association (KLA) in 1976 and became executive vice president and CEO in 1984.
"For 125 years, KLA has maintained a progressive operating philosophy, valuing the traditions of the past while having the wisdom to embrace the future and the changes the free market brings to keep beef relevant to consumers," Likes says.
Looking back on major advances the association made, Likes credits the Riding for the Brand author and consultant, Jim Whitt (a CALF New contributor), with helping KLA define their mission and purpose. "Those were some of the cheapest dollars we ever spent," Likes says.
"This is a complicated, interpersonal business," he says. "It almost never is just black and white, but rather shades of grey. You have to respect everyone's opinion but, at the same time, use a fact-based process. You have to use tried-and-true principles. Principled decisions often aren't popular at the time, but that isn't an excuse not to make them."
And there were tough decisions to be made. "Beginning in 1991, KLA was one of the originators of the merger concept and, thus, KLA became the earliest state association that actively promoted the merger [of the National Cattlemen's Association and the Beef Industry Council of the Meat Board] and was instrumental in achieving its ratification in 1996 to create the National Cattlemen's Beef Association.
"During the industry's internal conflict about fed cattle marketing, KLA was actually neutral on formula/captive supply, not promoting it or opposing it either," he said. "Instead, KLA was instrumental in defending and protecting producers' individual freedom of choice to decide their business model and how to sell their cattle … an important distinction."
Likes emphasizes that KLA, with the help from other feeding states, influenced the national industry policy to protect members from proposals to create government regulation of cattle marketing.
"During my tenure as CEO, the two top priorities were to build a strong, committed, professional staff team and to help build a strong NCBA," he says. "No state affiliate can fully optimize representing the membership without NCBA and its Washington lobbying team.
"We were able to lay the foundation that, today, has made KLA the largest state affiliate of NCBA, both in membership numbers and dues revenue. KLA's current staff and officers were honored in 2018 for becoming the first state organization to reach $1 million in annual dues revenues to NCBA.
"I am proud of KLA's influence and success, and remain committed to contributing whatever I can toward maintaining a strong NCBA," Likes concludes. He continues mentoring as he was mentored to help the beef industry thrive, grow and provide food to the consuming public