Marketers, Trade Reps Ponder Better Ways to Market Beef Abroad
By Larry Stalcup, Contributing Editor
The Japanese are craving U.S. beef. So are consumers in Korea, China, the United Kingdom (UK) and dozens of other countries and regions. And with spot-on social media from the U.S. Meat Export Federation (USMEF), they're receiving sizzling recipes and cooking tips for sirloin, short ribs, and even tripe and beef livers to satisfy an array of appetites worldwide.
The significance of social media in reaching international consumers was emphasized during November's virtual USMEF Strategic Planning Conference. The agenda featured reports from the federation's representatives in key foreign markets. They served heaping helpings of information on marketing programs that are adding value to American producers and feeders.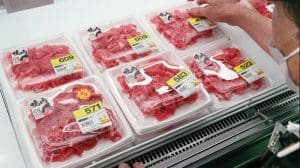 Conference presenters also looked at ways to conquer COVID-19's negative impact on beef sales. "The U.S. meat industry is not only weathering the COVID storm, but it's also laying the groundwork for further success," said Cevin Jones, outgoing USMEF chairman. "USMEF has been versatile and prepared at all times by making better use of technology to show consumers the value of U.S. red meat."
Social media messaging remains a "very efficient way" to promote U.S. beef to people from all geographical and economic environments, he said, and has jumpstarted numerous commerce platforms.
The long-awaited U.S.-Japan Trade Agreement that began last January reduced tariff provisions for both countries. It opened up more opportunities for beef. However, due to COVID, food-oriented trade shows were suspended, along with other public activities. This included popular tasting demonstrations.
It was social media to the rescue, as USMEF developed an Instagram campaign aimed at consumers – young and old – during the COVID quarantine. Tazuko Hijikata, a federation representative in Japan, said the campaign's "American Burger Challenge" presented quarantined school children a contest for making the best burger.
"We are trying to engrave American beef into the Japanese consumer's mind," Hijikata said, noting that the Instagram message showed more than 120,000 youngsters how to mold ground beef into burger patties. Instagram live cooking seminars had a "Japanese-style Martha Stewart" theme using different chefs.
"USMEF was the only one conducting virtual seminars; not the Aussies, not Canada," Hijikata said, adding that another campaign using the Beef Checkoff-funded "sizzling beef" video enticed viewers to enter online sweepstakes to win American beef. "It had over 12 million entries.
"2021 is the Japanese Zodiac Year of the Ox. But our campaign is calling it the 'Year of American Beef – think beef, think American'."
The Asian aspiration for more U.S. beef is also growing in Vietnam, and of course, Korea and China. Although U.S. ag product sales to China have not been what was expected in Phase 1 of the China trade agreement, Travis Arp, senior director of USMEF beef export services, said beef exports to China "have taken off."
He added that USMEF "is crossing its fingers to eliminate" China requirements to keep beef from cattle treated with the beta-agonist ractopamine out of the country.
A major market for U.S. beef is Mexico, where social media is also helping USMEF reach consumers. Federation representative Letica Flores, "Zooming" from Mexico City, said there are about 62 million smartphone users in Mexico. Through cooperation with Walmart, HEB and other stores, USMEF is running ads on WhatsApp, a hugely popular app in Mexico. "Prepackaged meals and recipes are being promoted," she said.
Dan Halstrom, USMEF president in Denver, said about "80 federation team members work diligently in 18 locations around the world to represent beef, pork and lamb. They're on the ground to represent you [producers and feeders] every day."
Halstrom said the China factor involving meet exports "is always disruptive," adding that African Swine Flu (ASF) and its impact on pork producing countries will potentially create more markets for U.S. pork and beef.
Halstrom said that after the United Kingdom's Brexit from the European Union, expect to see more U.S. trade negotiations with the UK. That should put even more teeth in U.S. beef exports, which add more than $320 to the value of one fed steer.
Pat Binger was elected USMEF chairman for 2021. The 33-year veteran of red meat trade for Cargill Animal Protein said USMEF is well-positioned going forward. "We have to be nimble and manage through continued disruption and possible change [from COVID-caused issues]," he said.
"About 90 percent of our export beef goes to seven countries. We need to defend our core business there," along with making new headway into emerging markets in Southeast Asia, Central America, South America and elsewhere. Binger said the industry's the utilization of the entire beef carcass needs to expand through more product mixes. "We use 100 percent of what we produce but need to see an increased value for those cuts," he said.
Trade Under Biden
The tariff wars, created mainly by industrial trade policies between China and the U.S., caused painful Chinese retaliation against American ag products. Farmers were often the fall guys after China set high tariffs against soybeans and other products. Major farm subsidies helped ease the blow from the crash in grain and meat prices.
But there are concerns among foreign trade groups, according to two international marketing authorities who spoke during the USMEF sessions. Sharon Bomer Lauritsen, a long-time U.S. agricultural trade policy consultant, said the World Trade Organization (WTO) has complained about the excessive market assistance programs for farmers.
"The U.S. continues to support less [foreign] export subsidies, but will continue to receive criticism for increased market support and COVID payments to farmers," she said.
The China Phase 1 program resulted partly because President Trump "got China to the table," Bomer Lauritsen said, when he applied pressure to China's handling of technology transfer and international property.
"Hard-nose China-U.S. foreign policy from Trump was supported by Democrats and Republicans alike. Biden says he will review them, but don't expect any Phase 2 negotiations."
Anja Manuel, a partner in a strategic consulting firm, said she sees a slow rolling back of tariffs under a Biden administration. "With a divided Congress [assuming the Senate retains a Republican majority] it is unlikely [Biden] will have trade enforcement authority," she said. "Biden will have a complicated coalition to manage. Many advisors are internationalists."
Bomer Lauritsen stressed that the U.S. ag industry "will need to speak up with the new administration on its priorities, and we need to strengthen the bipartisan nature of American agriculture.
"Over the past 30 years, I've seen it, to a small degree, falling apart. There has never been a more important time to maintain a strong and unified agriculture and agribusiness voice at the state level and in Washington, D.C., to balance the industrial voices.
"U.S. agriculture will need to defend and advance its interests – make sure they are heard over the non-ag voices – and keep the rules of trade strong and enforced to ensure that American agricultural exports continue to thrive."
Concerning COVID recovery, Manuel said Asian countries "have the experience of SARS and MERS, so they've been through a pandemic before. Their health systems are nationalized, so it's easier than here to get everybody on the same page. They're going to come back faster economically than the rest of us."
Lauritsen noted that President Obama started trade talks with Japan, "but Japan came to the table after Trump threatened auto tariffs."
Those talks and many more are needed. From efforts to get beta-agonist restrictions lifted in Taiwan and other countries, to finding new ways to prepare sirloin, livers or tripe sought by foreign consumers, USMEF sees an expansion of export sales opportunities – even if it's through Instagram or WhatsApp.
And in Japan, "the Year of American Beef" sounds much better than the Year of the Ox.