Lessons Learned from 2020
By Walt Barnhart, Contributing Editor
Hindsight is 20/20, and most people are thankful hindsight is where 2020 has gone. Few would challenge the idea that the year would best be viewed as a distant point in our rear-view mirrors.
But as we shift to look forward out the windshield, we're faced with some questions: Where do we go from here? How do we use the lessons learned in 2020 as we chart a course for the industry? And what changes do we need to make to assure success for those in it?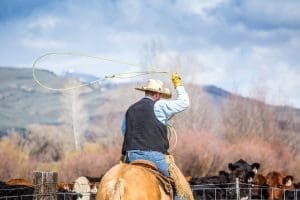 Conversations with top executives of three leading industry organizations show that although the road ahead looks promising, there are still significant potholes that must be navigated. First, the good news.
"While it's been a tough year for producers, we're starting to see things bounce back," says Greg Hanes, CEO of the Cattlemen's Beef Promotion and Research Board (CBB). "There are so many positive signs out there."
"As we look at 2021 and beyond, I'm very optimistic about where we're headed," says Colin Woodall, CEO of the National Cattlemen's Beef Association (NCBA).
"There are a lot of positives out there, a lot of reasons to be confident going forward," says Dan Halstrom, president and CEO of the U.S. Meat Export Federation (USMEF). "Things are headed in the right direction."
The Horizon
A focus on exports is one of the particularly bright spots on the beef industry's horizon. Although beef exports were down 8 percent over the first six months, it's estimated that by the end of the year, losses will be slimmed to 3 to 4 percent.
"Chilled beef exports went through the roof in August," Halstrom says. Beef exports increased to Taiwan 7,400 metric tons, to Korea 27,000 metric tons and to China – which while huge is still an enigmatic market – 3,900 metric tons.
Some trade agreements, such as the United States – Korea Free Trade Agreement (KORUS) and the new U.S.-Japan Trade Agreement, have helped.
"Now we're on the same playing field with Australia in the Japanese market," Halstrom says. "We're getting a lot of the market share back now." November and December beef exports are expected to be significantly higher.
Halstrom says what's really exciting, though, is what is still to come. "The real rebound will take place in 2021," he says. "We're projecting a 10 percent increase in beef exports for the year over 2020 – and it will approach a new record [which was achieved in 2018].
"We have the supply, so things are aligned well," Halstrom adds. "Some of our competitors [particularly Australia] aren't in the same shape."
Digital platforms, which are booming in some countries like Korea, Japan and China, are helping in the improvements. "I think it's a trend we're going to see going forward," Halstrom says.
Because many of USMEF's efforts were previously based on in-person demonstrations, their focus with meat buyers has shifted to online platforms – such as Zoom and Microsoft Teams – where possible. "It's really jump-started our efforts," he says.
Halstrom is even seeing potential in some of the previously untapped markets, such as Africa. Last year, Africa purchased $25 million of U.S. beef, mostly in variety meats. That may seem minimal, but "these kinds of emerging markets add value to and help maximize the profitability of the U.S. beef carcass," he says.
Some efforts to boost U.S. beef internationally are supported by the Beef Checkoff. CBB's Greg Hanes says tapping all of the possible export markets will make a huge difference to U.S. cattle producers. About 96 percent of the world's consumers live outside U.S. borders, he points out, and the middle class in many of those markets is increasing rapidly.
"They can't grow the beef they certainly want," he says. "The taste and quality of our beef can compete, and win, in any market."
The Home Front
Closer to home there is more good news: U.S. consumers still love beef. "Retail beef sales have probably increased more than any other protein," Hanes says.
In March and April, as COVID-19 was in its infancy, empty meat shelves were demonstrating beef's staying power.
"It's been a huge shift for everyone, but the beef industry has probably fared better than some," he says.
Modifying Beef Checkoff efforts to keep consumer attention have also been successful, Hanes says. "Our contractors have done an amazing job in shifting to this new reality," he says. "Eight months ago, most people might not have known what Zoom was. Now we've actually been able to increase our reach significantly with these new tools. Before, presentations might have been able to provide information to a hundred people. Now, we can potentially reach thousands."
Another tool the Beef Checkoff is using is its Beef. It's What's For Dinner. campaign. "Beef. It's What's For Dinner. has been such a huge success," Hanes says. "It's what sets us apart."
Hanes says the campaign will be back on broadcast television during the Christmas season, appearing on the Hallmark Channel.
NCBA's Woodall says he's excited about a new energy in the beef industry. "As I travel throughout this country I'm very excited about the number of young people who are getting involved," Woodall says. "That's great news."
According to Woodall, it's important the industry find ways to give those producers assistance down the road. "It's incumbent on NCBA and others to extend avenues for these young producers," he says. "There are NCBA producer education programs out there that can help enhance chances of their success."
Woodall says a direct-to-consumer marketing trend is also a good sign – and is going to provide "some opportunities for young producers to build their operations a little faster."
Woodall says increasing packing options through these kinds of initiatives is a plus.
He contends there are even silver linings to the COVID cloud. "COVID helped sharpen our ability to be prepared," he says. "It has provided an opportunity to reconnect to consumers. That's something we need to take advantage of by filling the information void."
Finding ways to continue to build the improved beef demand is essential, he says. "It's an opportunity to tell our story to consumers, to be more direct in our marketing to them We were able to show that even as beef production increased, greenhouse gases in cities decreased, demonstrating that beef is not the culprit.
"Some of the things we learned from COVID-19 benefited beef and can also help consumers better understand beef production concerns," he says
CBB's Hanes agrees. "People don't always know how sustainable we are, our carbon neutral nature, the way we fit into the carbon cycle," he says. "We're not really adding greenhouse gases, and with research and outreach we can show it."
That suggests there is a larger issue on the consumer front. "Few of our consumers have any link to production agriculture anymore. They don't know how beef is produced or gets to the table," Hanes says. "It's a huge problem when it comes to countering challenges to our product."
Obstacles Remain
Woodall says while there continues to be strong beef demand, "it's been a mixed bag. The situation is much better than it was, but it's still tempered by COVID and other issues."
Preparing for other unexpected "black swan events" such as COVID or the Tyson fire is one of the things the industry should do. That means more than just having a crisis plan, Woodall says; the industry should also make the most of learning from the negative events that take place.
"There are no certainties," he says. "We need to be prepared for more bad news."
Wildfires and drought will also continue to be problems, and the industry should have plans in place to assist those producers affected, he says. NCBA helped get permanent disaster relief in the 2014 Farm Bill, but there will have to be ongoing efforts to increase protection from the effects of natural disasters.
There also need to be plans to defend the industry from those who wish it harm, either for animal rights reasons or envious business interests. "We need a better way to manage the activists," Woodall says.
CBB's Hanes says defending the industry is crucial. "There's a lot of messaging out there that runs counter to what we know to be true," he says. "And beef always seems to be the target."
For this reason, producers must keep working to stand up to the challengers. "We need more research to counter the negative, whether it's in the area of nutrition or sustainability," Hanes says. "And there's no question outreach to consumers is critical."
Government Changes
Changes in government will also play a role in the industry's future, but that's to be expected, Woodall says. "It's a fairly normal cycle that we've been through before," he says.
That doesn't mean the industry should be less vigilant, however. "We need to be prepared for changes within the administration and Congress, but it's the reason NCBA has a strong defense in Washington, D.C.," Woodall says. "We should be prepared for issues like Waters of the United States [WOTUS] to return. However, we have friends on both sides of the aisle, so we'll be ready."
Woodall says there's "no question" the last four years have been mostly friendly for the industry. In addition to the advances on WOTUS, there have been advances on the National Environmental Policy Act (NEPA) process and Dietary Guidelines. Still, the issues keep coming, whether it's in the Green New Deal, regulations on fake meats or others. "That's why we never closed our D.C. office during the pandemic," he says. "Regulations and other government intrusion don't just go away, and NCBA needs to be on top of them."
On the international front, USMEF's Halstrom says the last four years have seen some positive trade advances, and the Trump administration took some positive steps in providing help to the U.S. beef industry. However, he believes there are longer term factors in play.
"While I worry a little about possible government changes, the importance of agricultural exports is a unifying issue that draws broad support," he says. "Although administrations change, a lot of institutional knowledge remains at the [U.S. Trade Representative] and [U.S. Department of Agriculture], and the staff at these agencies is very receptive to industry input on trade issues. Even as administrations come and go, these relationships remain."
Finding Funds
Hanes says among the biggest challenges facing CBB will be finding funds to address the industry's promotion, research and education needs. The Beef Checkoff was created by Congress in 1985, assessing those selling cattle $1 per head for these kinds of efforts, and it hasn't changed since.
"Our biggest challenge is the lack of resources," Hanes says. "There are several anti-beef groups out there that have very deep pockets. Today, we have fewer cattle making more beef. Plus, we're facing inflation – the dollar just doesn't go as far as it did when the checkoff was created."
Hanes says the Beef Checkoff is becoming more and more efficient, but "at some point we're going to need more investment in these programs."
He notes that only the Beef Checkoff is doing this kind of industry-supporting work and has reacted by being as careful as possible in program spending. "The decision-making process has become more and more important," with evaluation of ongoing programs and committee deliberations crucial to the process.
The evaluation process and committees are run by volunteer producers, Hanes says, so they are reflective of producer interests. "The checkoff is run by producers, for producers," he says. "So, it's in good hands."
Producer Roles
In addition to their involvement in checkoff leadership, cattle producers should also stay engaged in every way possible to enhance their industry. That involvement benefits both individuals and the industry as a whole. "It's an industry that's changing daily," Woodall says. "We really can't afford to get left behind."
Woodall says key to that involvement is membership in local, state and national cattlemen organizations. Not only does this give the industry input into government action and increase outreach with key audiences, but it gives producers access to the most current insight and analyses on industry issues.
Cattle producers should also keep current on up-to-date production information. "Producer education can help individual producers be more effective, but just as important, it can make the industry stronger" by showing consumers that producers are committed to doing the right things, according to Woodall.
Above all, Hanes says, producers should keep doing what they're doing. "There's a lot of high-quality beef out there," he says. "Producers should keep that focus to meet the consumer demand for high-quality beef at a reasonable price."
He notes U.S. producers are not just providing for a U.S. beef market, but are competing in a global market, as well.
"This crisis is all going to clear out," Hanes says. "Our cattle producers are the best at what they do. That will keep us the leader in the global market."