Castle Rock, Colo.
By James Coope, Contributing Editor
After arriving at the Culinary Institute of America in Hyde Park, New York, It didn't take long for 21-year-old Paul Epstein to finally discover his passion and talent. For this Ann Arbor, Mich., native, becoming a chef was more than the experience of simply learning how to cook; rather, it was the enlightenment in the art of experimentation, expression and responsibility with food. Fast forward almost 35 years later and Chef Epstein's journey has taken him all over the United States, but has come full circle at his newest creation, Vista Vino in Castle Rock, Colo.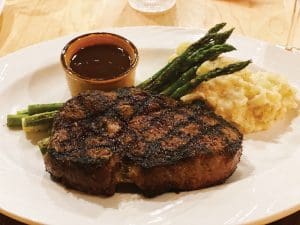 Chef Epstein quickly realized that cooking allowed him to "channel what he wanted to do," creating a "passion for finding out what would happen with experimentation." That mindset has served Epstein well throughout his career and goes far beyond the plate – in fact, he helped transform many of the fundamental ways the foodservice industry works.
Epstein has a particular passion for meats, and beef in particular. "I'm in love with the meat industry," Epstein says. He sees his role as a chef as "a responsibility to educate guests and deliver the highest quality possible."
At his first job as the banquet chef at the Phoenician in Arizona, Epstein says he "realized I didn't know everything." He discovered that the ultimate success of the final product on a plate is not the creation of the chef, but actually starts with the animal itself and those who nurture it. Epstein gained an appreciation for the art of sourcing and hand-picking selections to ensure the highest quality.
While vendors would call on him for business, he would often ask to visit their facilities to see how their operations worked. This experience enlightened Epstein to the importance of animal husbandry and how proper sourcing and quality controls could translate into a better end product for the customer, along with greater yields and cost factors for the business. Not to mention, "it's the right thing to do," Epstein says.
It was this passion that led Epstein out of the kitchen and into a corporate role with Shamrock Foods as corporate chef for the meat plant. He was hired to help Shamrock sell meat, but in a transformative way. Leveraging his experience as a chef, he helped the company sell more higher quality beef to customers by teaching them how a differentiated product can improve customer satisfaction, enhance quality and generate more revenue per plate, which is a critical element of success in the restaurant business. Not only did his approach win customers, it supercharged Shamrock's meat sales. Epstein was selling the value of quality and sustainability up and down the supply chain, and he was helping his clients see the return on investment of promoting quality products and sustainable business practices.
Epstein's success was noticed by the operators of the Paris Hotel and Casino in Las Vegas and, in 1999, Epstein was recruited to build a meat program for the resort's restaurants. He changed the prioritization of quality over cost – a big sell, in particular to the organization's bean counters. He streamlined their purchasing and cutting operations, eventually consolidating the functions in a single warehouse for the entire Caesars franchise in Las Vegas. That's no small feat – Epstein estimates that he was managing more than 100,000 pounds of protein a week, including more than 60,000 pounds of beef (more than 30,000 pounds of ribeye alone!). His passion for procuring and delivering the finest meats was a winning combination for Caesars and in later years, MGM.
Years into his career in Las Vegas, Epstein reconnected with his high school flame, Peg. Peg was living outside of Denver, and they dated for six months before becoming engaged. Epstein's passion had pivoted to Colorado, where he and Peg now live. Together Paul and Peg have five children; their youngest is now in college. Epstein's move also required that he make a career change, and he followed his passion back into the kitchen.
A few years after moving to Colorado, Epstein bought Vista Vino, a small, upscale restaurant on the idyllic main street in Castle Rock. He's brought his passion for quality and sustainability to Vista Vino, where he pays special attention to where his beef comes from and how it is raised.
Just like in his early days at the Phoenician and throughout his career, Epstein is meticulous in his sourcing. He works with HyPlains Heritage out of Kansas, and he's one of the only restaurants in Colorado serving their beef. Epstein's "Farm to Fork" philosophy at Vista Vino is reinforced by two key principles – 1) doing the right thing; and 2) educating his customers about what to look for in quality and taste. This is demonstrated through going above and beyond, such as aging his beef for 90 days onsite. Epstein has made numerous updates and upgrades to the restaurant. He used downtime during quarantine to make some great capital improvements that will help Vista Vino grow and evolve in the years ahead.
Experiencing Vista Vino isn't just going out for a meal – it is a food adventure! Customers love Chef Epstein's passion for freshness, sustainability and creativity. Vista Vino is also the culmination of Epstein's incredible journey, lifelong advocacy for animal husbandry and doing the right thing – and you can tell the difference. Thanks to people and brand ambassadors who sell the value of quality like Chef Paul Epstein, the future of the beef industry is in good hands.