By Riley Hadwiger, Contributing Editor
Living on my family's farm in central Nebraska, I have learned many aspects of raising cattle and crops. My name is Riley Hadwiger and I am 15 years old. My father, a fourth-generation farmer, runs a cow-calf operation and grows corn, soybeans and alfalfa near Pleasanton, Neb. I plan to carry on the farming tradition in my family.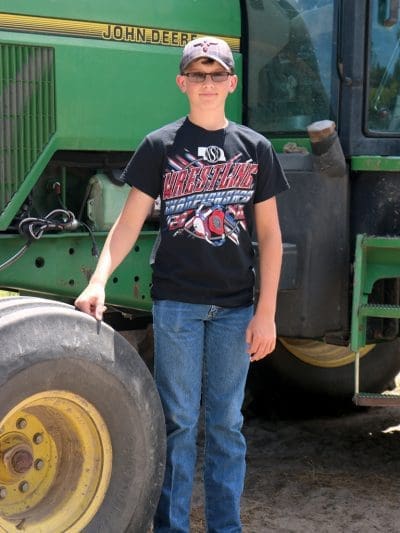 Growing up in a farm family, everyone has a role, including me. Although the majority of work is done by my dad, he also relies on my brother and me, as well as my grandpa, to help get everything done. Farm work started by following my dad around and riding in the tractor during chores. As I got older, my responsibilities increased. Now, I'm in charge of preparing feed and feeding the bucket calves. I also feed the 4-H steers and break them to lead. During the summer, I help with fencing, and checking cows, fields and irrigation pivots.
When I was five years old, my brother enrolled in 4-H. One of his first projects was market sheep, which got me interested in showing my own livestock. I started showing sheep and steers when I was eight years old. By showing, I have learned how to properly feed and care for my animals and how to pick animals that have the best qualities. These lessons continue to help me as I choose my steers for future 4-H projects and help my dad manage and expand our cattle herd.
Through 4-H, I was accepted to a program called Big Red Ag Growers (BRAG). BRAG's mission is to create advocates for agriculture. As part of the class, my group toured different agricultural businesses within the state and learned how these businesses are a part of Nebraska's biggest industry. I enjoyed being a part of this 18-month program. It introduced me to other career opportunities within the field and allowed me to understand how diverse agriculture is. It also helped prepare me to educate others about agriculture.
Living on a farm means knowing how to work hard and learning responsibility. These life lessons I've learned will help me succeed in the future and prepare me for becoming a part of one of America's greatest industries – agriculture.