By Betty Go Gigot, Publisher
From the ridiculous to the sublime is the only way to look at the cattle industry news right now. No need to vote on the ridiculous with the introduction of a bill by Sen. Cory Booker (D-N.J.) and U.S. Rep. Ro Khanna (D-Calif.) that aims to end "factory farming." The Farm System Reform Act supposedly addresses consolidation and unfair practices in animal agriculture. The act would force feedyards of more than 1,000 head to close by Jan. 1, 2040. It would authorize $100 billion over 10 years to buy out those offending feedyards. It also would restore mandatory country-of-origin labeling of beef and pork. I can see all of you lining up right now for your share of the $100 billion.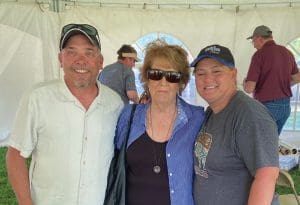 Also on the government agenda was President Biden's newest executive order to promote competition in the American economy. I just have to quote Yogi Berra's "It's like deja vu all over again," when I see the industry revisiting the 2010 GIPSA rule that, in my opinion then and now, takes us back to "all beef is the same," and if I don't get the same price with my cutter cow as you do for your Prime steer, I'll just call my attorney. The removal of the harm-to-competition requirement, as a Kansas Livestock Association newsletter put it, "is an attempt to ensure equal outcomes instead of equal opportunities."
As the newsletter points out, "it is questionable whether the USDA can make such a proposal, as eight federal circuit courts of appeal have held that the [Packers and Stockyards Act] requires a finding of harm to competition, and Congress has rejected amendments to make such a change to the act in the past."
On the bright side, the U.S. District Court in South Carolina dismissed a challenge to the Navigable Waters Protection Rule. I don't know how you guys feel, but the "one step forward, two steps back" on those two issues is distressing. Onward is the word for the year here at my house, not cleaning out the back of the closet.
Reports show that progress is being made on the National Cattlemen's Beef Association voluntary industry plan to increase negotiated trade and price discovery. The four major packers have agreed to have their negotiated trade data analyzed weekly, which is good news in moving toward solutions that do not involve government mandates.
Finally back on the road again, I had a delightful time revisiting Beef Empire Days in Garden City, Kan. I have been joining the fine cattle feeders of Kansas since the mid-1990s at this old-fashioned celebration of feeding the world the best beef possible. An addition this year was the cook-off competition, and the photo is of me with son Marc and daughter-in-law Jackie, who were proud judges of the event. With all of the issues we face every day, how fun to just enjoy what Big Earl Brookover visualized all those years ago … honoring the people of agriculture, personally.
My quote for this issue came from an amazing putt one of the golfers at the U.S. Open just made. The announcer said, "He's got the guts of a burglar." Kind of a requirement in this post-COVID period. Probably not politically correct, but I'm past caring.
Last, on a very personal note, CALF News copy editor and best friend for decades, Larisa Willrett, is facing a life event head on. Her recent Facebook announcement read: "Over the years my family has supported the race for the cure for breast cancer in honor of my mother, a friend and so many others. Now I join that fight. I was recently diagnosed with breast cancer, caught by my annual mammogram, and will undergo a partial mastectomy and radiation. My prognosis is very good. I'm sharing this not for attention but to ask you ladies to please stay diligent about getting your annual mammogram. It could save your life."
When asked if I could publish her post in CALF News, Larisa replied that if only one woman goes in and is diagnosed early, she has made a difference. Our prayers and best wishes go with Larisa, and we here at CALF encourage you to be sure your loved ones take her advice. Be brave Sunshine. Be brave.