By Betty Go Gigot, Publisher
Oh my, where to begin? The five critters in the photo have been my lone companions for most of the last eight weeks. The herd of giraffes – Patrick, Bubba, Deano, Bonnie and Kyle – are my neighbors, and I think they are as bored as I am with the stay-at-home orders here in Arizona. I just reread my comments in last issue's Gypsy where I quoted Winston Churchill explaining the inability to foresee or to predict the future, and boy was he right. My daily life is exactly the same as it was two months ago, which most know, for me, isn't normal. Who would have believed that?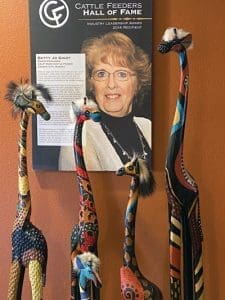 It is a bit spooky to think that eight months ago, our CALF staff decided the topic for the June/July issue should be "Government." We don't use tarot cards, but we certainly hit it on the head this time. The columnists in this issue all asked for extra space because they had so much to say about the topic. I am sure you will enjoy the different perspectives, and Will Verboven's comments on Canada's response to the virus are a must read. We've attempted to provide a balanced look at the issues, hoping to provoke thought and response in this difficult time.
Meanwhile, the beef business hit the press in spades. I'm sure all of you have tried to answer multiple questions about packing plants and the availability of protein. Never have so many known so little while thinking they know it all. What people haven't experienced is what it is like to have thousands of cattle ready for harvest and no place to go with them. In all my years, I had never heard of cattle trucks full of finished cattle returning to feedyards. Or what it is like to dump thousand of gallons of milk or plow under fresh vegetables. Food producers' dependence on the foodservice industry has suddenly became quite visible – right food, wrong place or packaging. Flexibility has become the key for all kinds of industries.
The ramifications of all of this will be far reaching. None of us can predict what long-lasting changes will happen. I think there will be many changes to the production lines in packing plants, and we are hearing loud calls for anti-trust investigations, government pricing  mandates and mandatory COOL. Time will tell when the dust clears.
We welcome new columnist Megan Webb, Ph.D., a fourth-generation beef producer from Burlington, W.V., and a 2012 graduate of Texas A&M with a degree in animal science and certificate in meat science. She earned her master's degree from Colorado State University and received her doctorate in meat science at South Dakota State University. Her column, Prime Points, will round out our distinguished groups of writers. We are proud to present a story on John Matsushima, Ph.D., one of the industry's nutrition pioneers, and in Recollections, I share memories of Willard Wall of WALCO fame. We also are delighted to present a profile on Ranchin' Vets, a very worthwhile endeavor.
Here at home, no one I know has been hit by COVID directly but, with a favorite cousin-in-law taking a fall and ending up in the hospital, the inability of his 84-year-old wife of 64 years to be with him was gut wrenching. Ditto for the five sons and 14 grandchildren who could not travel to be with her as we lost Mr. Joe. The same for the obvious strain on the caregivers who are dealing with the situation at hand. What can you say but, "Be brave, Sunshine, and please let this get solved."
My plans are to "blow this popsicle stand" after this issue is published and, hopefully, see some of you as I take my yearly trip across the country. Only time will tell if that can happen, so wish me luck. Our next issue is titled "The State of the Industry." By then we may have a clue what our "new normal" looks like. Be safe out there.