By Betty Go Gigot, Publisher
Eight months and four issues of CALF News later, who would have believed I would still be writing about COVID or posing for a photo of me with a mask around my neck? It wasn't supposed to be this way. As it turns out, I have evolved and so has the world.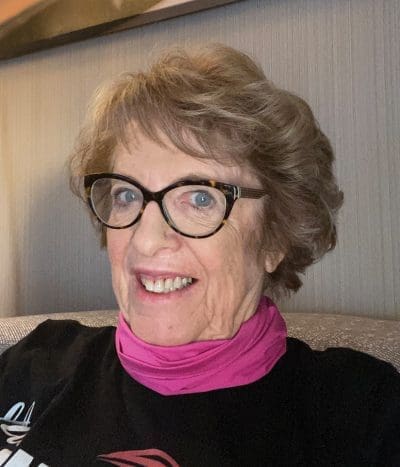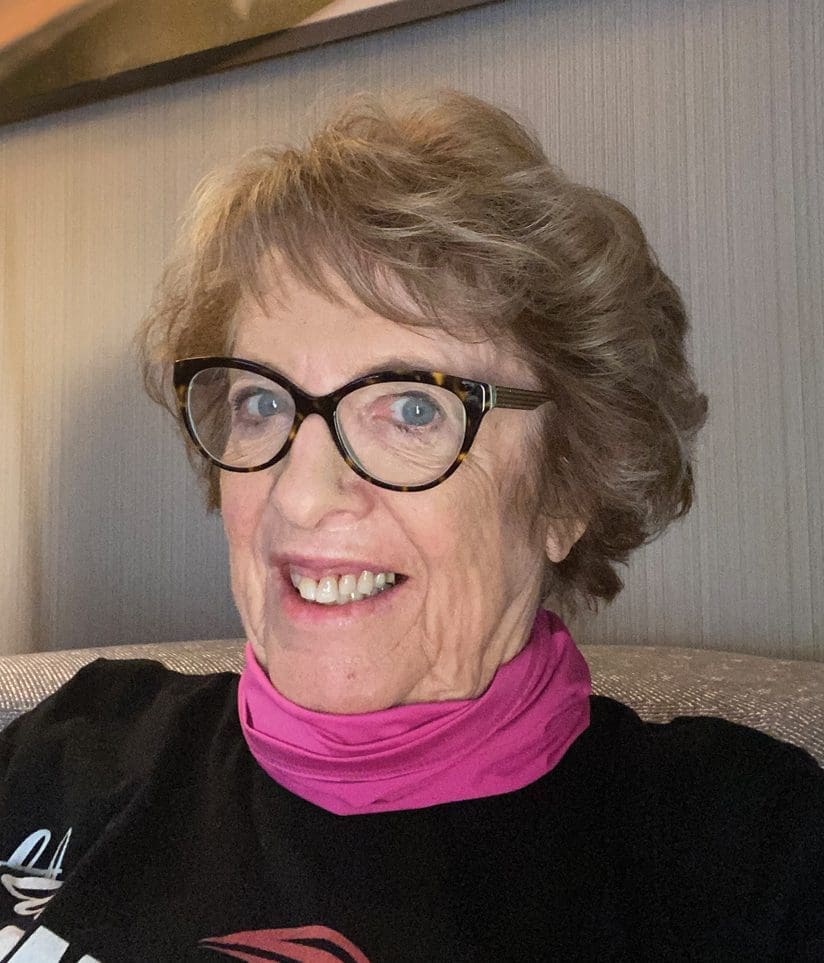 From February through May, I stayed in the casa in Arizona, and every two days, drove my car around the parking lot. I had promised the Nissen dealer I would put 15 miles a week on the tires, in the hot weather, to keep them round. I drove around the parking lot because there wasn't any place to go. By June, I had escaped to Colorado, just ahead of the edict in New Mexico stating if you stayed in a hotel there you had to stay 14 days. Whew.
Anyway, after a lot of consideration and coaxing from my northern family, I found a new home just outside of Denver, had my few belongings boxed and sent from Phoenix and started anew. The new condo is bright, airy and, after a few adventures furnishing it, I disproved my own declaration that I would "never own another toaster." My forever home in Colorado has already been snowed on and it's going to be fine.
I've commented often in the last years that "there are very few firsts at my age," but this monumental event has certainly offered some different observations. The suffering from the pandemic is heartbreaking. The number of deaths is stunning, and the damage from isolation and the inability of relatives to attend funerals or weddings or even visit those in nursing homes or far away is tragic.
The event has also brought about some monumental life-changing trends that, I am starting to believe, may be permanent. Are you rethinking the use of office space, the way you house or feed your staff, how you schedule your activities? You and everyone else. Are you re-examining your input suppliers and your company health coverage? Are you wondering how the packing plants will rework their spaces and their use of staff? Are you thinking of how you would handle things differently if this happened again? You and everyone else.
I am glad that I don't own lots of office space downtown anywhere. I am also glad I don't have to do business in downtown Portland, Seattle, Minneapolis or other cities we all can name. I'm glad I'm not the mother of a 2-year old on a Southwest flight who got removed from the plane because her child was eating a snack without a mask during takeoff. And I'm glad I'm not a working parent with children who need help with their virtual learning needs. That is a real hard one for the parents and the children who need a good education and people to relate to.
I'm encouraged and amused at some of the work arounds. My oldest son and his family all ended up at home for the duration. He works out of the guest room with the two small dogs as companions since they bark up a storm at any noise in the house. His wife works out of their bedroom doing training sessions on Zoom – and she doesn't need the barking. The junior in high school goes to school two days a week and works virtually three days. After all of them being tested a zillion times, the college freshman, who just started school in Connecticut, has just finished his 14 days of isolation so he can attend two classes a week in person and the rest virtually. His parents had to drop him off on the driveway to his dorm and drive away.
One of the most inventive was my cousin whose granddaughter was being married in a faraway state. Not wanting to chance the trip, she and her son, daughter-in-law and grandson dressed in their wedding finery, including a tux, took pictures, had life-sized cutouts made and shipped them to the event so they could be represented. I thought they should have sent one of Buzz, the dog, too.
And so it goes. By the next issue we will have an election, there will snow on the ground here in Colorado and, with any kind of luck, God willing, we and the country will be well again. Fingers crossed.