By Betty Go Gigot, Publisher
If you missed the Cattle Industry Convention & NCBA Trade Show in Nashville, we will catch you up. CALF News was there in spades and had a great time reconnecting with everyone. After a postponement of seven months, more than 6,000 of you finally had a chance to get together and share your opinions and concerns. Acres of trade show had serious traffic, and venders of all sorts showed that they had spent their time in isolation producing new ideas, products and sales tools.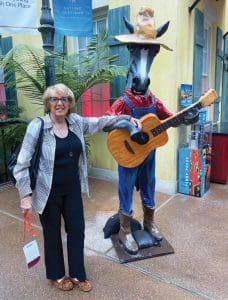 One of the obvious vestiges of COVID-19 was the shortage of staff at the event hotel. Many of the restaurants closed early, buffets replaced table service and guests had to submit an order to get their rooms cleaned. As usual, it took me three days to get to my room gracefully without having to consult my map or, worse, ask for directions.
One of my pet projects went well when more than 350 people attended the Cattle Feeders Hall of Fame (CFHOF) banquet the evening before the convention. Steve Gable and Johnny Trotter joined 24 previous hall of fame inductees. Old friend and premier meat scientist Gary Smith gave credit for his success to everyone but himself in an inspiring acceptance of his Leadership Award. Maybe the proudest were the Arturo Armendariz Distinguished Service Award winners, Gaspar Martinez and George Eckert. Be sure to vote for this year's nominees on the Cattle Feeders Hall of Fame website, www.cattlefeeders.org, and plan to join us for the 2022 induction ceremony.
Speaking of CFHOF inductees, I was terribly sad to hear that Carl Stevenson, 103, passed away. Inducted into the hall of fame in 2020, Stevenson's life history was one to be admired. He spent World War II crossing Europe with horses and mules, treasured his years sailing off the California coast, told wonderful stories about vising Antarctica and the rest of the world, and he fed cattle with the best. I was proud to be called his friend.
We all know we desperately need to get current on harvesting cattle, but CattleFax reported that the industry outlook, as a whole, is positive. Business itself has problems, though, with the inability to get parts, terrible price increases on fuel and fertilizer, and a lingering threat of COVID-19 and its variants. All of that, coupled with recent world events, tends to make one wonder about the entire "state of the world." (You can tell I've been in my own company for too long).
Always the Pollyanna, my solution is to go back and watch a couple of The History Guy videos, produced by my son Lance on YouTube. Looking back at civilization as a whole, today's events seem somewhat simple. Millions upon millions have perished through the centuries in much worse problems than we face today. So, for my old readers, be brave, Sunshine, be brave. It does get better.
On the fun side, one of the photos in Gatherings this time was taken at the Ball Center in Denver when my niece Lawrie and her husband, James, took me to see Blake Shelton. I had not been to a concert for years but would not have missed that one for the world. Blake opened the show himself, singing for 45 minutes by himself, and Kelly Clarkson joined him on stage for a duet.
Also, while in a short COVID isolation last weekend, University of Colorado almost pulled off a win against No. 5 ranked Texas A&M, Martin Truex won the NASCAR race at Richmond, and the Broncos looked fierce in their win. Life is good.