By Larry Stalcup, Contributing Editor
No matter where one lives, the locals claim to have the best barbecue in the country. Whether it's around Kansas City, Memphis, the Carolinas or Texas, the bragging never ends.
This writer has tried many a BBQ plates. My aunt Margie could compete with the best when she served up her cafe's BBQ lunch special in the early '60s in Paoli, Okla., on old U.S. 77. But I must admit that even her brisket – or any others I've chowed down – couldn't top that which is smoked, carved and served by Black's Barbecue in historic Lockhart, Texas.
Debby and I lunched there earlier this year. It was worth the drive from Amarillo. Black's is located less than an hour's drive from sprawling Austin. It has been in Lockhart since 1932 and is Texas' oldest family-owned BBQ restaurant.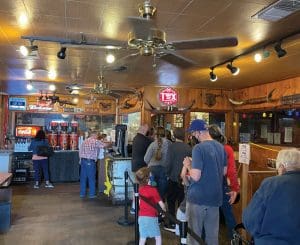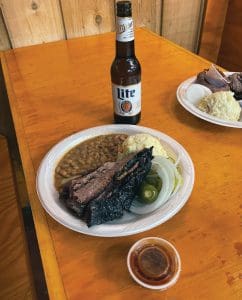 Edgar and Norma Jean Black started the Texas treasure, which is now in its third generation. Their son, Kent Black, is the pitmaster. His smoking magic has helped keep Black's rated as one of the world's 50 best BBQ joints, according to Texas Monthly magazine's annual BBQ edition.
The magazine notes that Kent uses the same smoking methodology developed by his parents. Briskets are cooked for eight hours in a Southern Pride rotisserie using only wood (leave the gas at home). This leaves them partially smoked. Briskets are then stored for a couple of days in a cooler, smoked again for four hours in their old brick pits. Tender beef is surround by a thick crust that is mouthwatering.
Black's serves up nine different meat cuts. Along with sliced and chopped brisket, their giant beef ribs fall off the bone. The menu also includes pork spareribs, smoked turkey breast, pork baby back ribs, barbecue chicken, pork chops and homemade sausage.
The restaurant itself features several large rooms. As Austin has become one of the nation's fastest growing cities, "new Texans," business travelers and tourists often head to Black's. Lines form outside and even around the corner at the busiest times. Locals are known to order online or by phone, pick up their orders, then dine at an open table.
Black's also has locations in Austin, New Braunfels and San Marcos. But Lockhart is likely the favorite of the four venues. Lockhart is also home to other rib joints, part of the Texas BBQ trail that leaves no one hungry at day's end.
Brag about your state's BBQ if you want, but my vote goes to Texas, with Black's smokin' with the best of them.