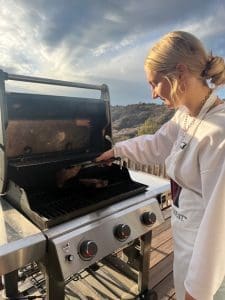 By James Coope Contributing Editor 
One of my fondest childhood memories was helping my dad grill steaks in the backyard. We had a simple hibachi-style cooker, and we used charcoal briquets that were ignited by a portable heating element plugged into the wall. I remember the unique smell of the coals burning and the smoke that, at least for a moment, drove away mosquitoes. We only grilled steaks – that was about the only thing my dad ever cooked – and they were delicious.
Aside from the great childhood memories, I learned a lot about grilling from my dad. There was a fair amount of planning and prep work involved and, unlike an oven that can regulate temperature, cooking with fire requires a bit more attention and patience.
My daughter Ripley was home for a few days for her spring break at the University of Arizona recently, and I realized that while she had seen me cook on the grill, she had never really done it herself. As a college student she doesn't have the time, equipment or resources to cook much beyond mac and cheese, so this was going to be a welcome change for her. She was up for learning, so we took a few hours on a Sunday afternoon to plan out our family dinner for that night.
Our first project was to source our steaks, and for that we visited our local butcher, Tony's Meats, in Castle Rock, Colo. Tony's is a family-run business that has been a staple in the Denver community for decades. For Ripley, a steak was a steak, so it was eye-opening for her to see all of the different cuts of meat and to learn about what they are best used for.
"There are a ton of different cuts of meat with different amounts of fat, so you have to keep that in mind when you are preparing your meal," Ripley observed.
We ended up buying a couple of really nice New York Strip steaks. On the way home from Tony's Meats we discussed how we would prepare them. My go-to is pretty simple – rub some olive oil on them, add some salt from the salt grinder, and let them sit for about an hour at room temperature. We discussed how people like their meat cooked and how that was really a function of temperature.
"Meat has an ideal temperature to be cooked at, and it depends on the cut and preparation," Ripley later recalled.
We worked together to orchestrate the meal (we also had twice-baked potatoes and a pasta salad). We discussed the differences between cooking with indirect vs. direct heat on the grill, and how you need to factor in "rest" time for the steaks after you have taken them off the grill. We did make some compound butter (butter, garlic, rosemary and thyme) to add to the steaks a few minutes before we took them off the grill. Ripley turned the steaks, took the temperature and, when the time was right, pulled the steaks off the grill.
There's a lot to learn in a short amount of time, especially with everything else going on in the kitchen. I asked Ripley what she learned. "There are so many ways to customize your food with preparation and cooking style," she replied. "It's important to understand the meat you are using so it can be made the best it can."
When we grilled it was a slightly windy, cool March evening in Colorado, so we also discussed how the outdoors can impact the grill's performance and, of course, our ability/desire to stand outside and monitor everything. It does take a bit more planning and preparation than just cooking in the kitchen, and we all know how good a grilled steak is.
We got to enjoy a very nice family dinner on the night before she was to return to college – the last home-cooked meal she would have for a couple of months. She learned a lot and while she may be a few years away from having a grill of her own, I know she will be ready when she does. According to Ripley, her favorite part about grilling was "getting to enjoy a wonderful meal with my family."
With that, another generation of our family has completed Grilling 101, and I'm sure it was a memorable experience for Ripley. And since I'm on the other side, I'll note that it was a memorable experience for me, too.