The Charcoal House, St. Louis, Mo.
By Betty Jo Gigot, Publisher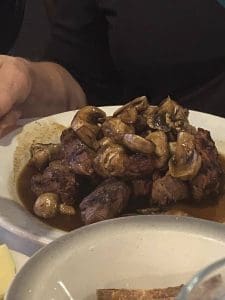 The promotion for The Charcoal House says, "In an intimate, yet vibrant setting that has prevailed since 1906, you will find the service to be both impeccable and charming. As the original Saint Louis steakhouse, it is our promise to provide you with an exceptional fine-dining experience." George and Steve Angelos mean what they say about their family-owned and managed establishment. It checked all of the boxes and more.
Charming on the outside, the Charcoal House had the warm and friendly feel of a local white-tablecloth steakhouse, starting with Patti, our server who couldn't have been more accommodating. When I gave her my card and explained we would like not only to dine there but also do a story, she made a beeline for George who was visiting with diners at a nearby table. Yes, it was George Angelos, one of the owners, who immediately came to welcome us and agreed to let us write about his establishment. As it turned out, George was one of those owners who knows how to work a room. He personally visited with every guest, and it was clear that many of the guests eat there often. It was like "old home" week.
Originally called the Ten Mile House, the restaurant is 10 miles west of the Mississippi River and was a place to stop while riding west in the pioneering days. The story is that, built in 1906, the place was a bar and a nightclub that was well-known for its draw of famous people. Steve and George, Greek immigrants, bought the business in 1980. The chef and staff at The Charcoal House have been with the brothers for more than 15 years, and the meal and service showed their dedication to detail, providing a fine dining experience.
The brothers specialize in fresh, wholesome fish, lamb and side dishes along with excellent beef, purchased from local farms in Iowa and Nebraska. Another specialty is the homegrown Kalamata olive oil that comes from their family olive groves in Kalamata, Greece. Used in place of butter in their food preparation, the oil comes from trees that are more than 500 years old and has a strong and complex flavor, according to their website.
Serving USDA Certified Black Angus Beef that is wet aged 28 days, their steaks consist of hand cut 7-, 9- and 11-ounce filet mignons (the 9 ounce is called Steak by George) and 12- or 16-ounce strip steaks. The steaks are topped with either onion rings or sautéed mushrooms. Our choice was something different: smothered with toasted Roquefort cheese. Another beef choice was the tenderloin tips topped with mushrooms. That dish turned out to be 15 ounces and served two in our party. My 9-ounce filet was perfect (every steak should be topped with Roquefort cheese as far as I'm concerned).
For a real celebration, you can order their Chateaubriand gourmet dinner for two, which is a double-thick, center cut beef tenderloin surrounded by vegetables and garnished with onion rings. It is served with your choice of potato or vegetable and a dinner salad or small Caesar – maybe next time.
If you happen to have a trip planned to St. Louis, be sure to put The Charcoal House on your list and have a visit and a steak with George and his crew.