By Lance Geiger, Contributing Editor
Ask anyone on the south end of St. Louis and they'll tell you that Tucker's Place is the place for steaks. Only a mile or so from downtown in the Soulard neighborhood – the oldest established neighborhood in St. Louis – Tucker's is an unassuming establishment with a warm atmosphere in a circa-1890s brick building. But don't let the relaxed atmosphere and reasonable prices fool you; Tucker's serves a first-rate steak.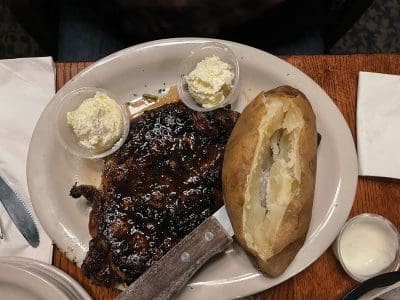 Featuring a menu little changed since the restaurant opened in 1982, Tucker's focuses on the basics – good food comes from quality ingredients. This is not a restaurant that follows fads, but a local favorite that has stacked up an impressive number of awards on the basic philosophy of great food at great prices, most especially their steaks.
My in-laws, daughter, Willow, and I decided to celebrate one of her last nights of winter break at a restaurant near where my father-in-law works. I grew up in a steak-loving home (CALF News Owner/Publisher Betty Jo Gigot is my mother) and was excited to try the steaks at the restaurant my father-in-law had raved so much about. I was not disappointed.
Serving three St. Louis-area locations, Tucker's sources its steaks from Kuna Foodservice, a family-owned business that started as a St. Louis butcher shop. Restaurant owner Tom Struharik developed his own beef specifications and sought out a supplier who could deliver the best. The steaks come from the Omaha area, where the restaurant proudly proclaims, "the richest cattle are raised." Sirloin and strip cuts (I had the 16-oz. strip) are exclusively Omaha Black Angus USDA Choice or higher and 40-day aged.
The regular menu includes five steaks – an 8-oz. filet, 10-oz. top sirloin, 16-oz. New York strip or bone-in ribeye, and a 20-oz. porterhouse. The night we visited, there was also a special featuring a 14-oz. boneless ribeye. The menu also includes chicken, shrimp, salmon, tilapia and a thick-cut, 20-oz. pork chop. A salad and baked potato or vegetables is included with your entree. The menu also includes a selection of sandwiches, appetizers and pizzas cooked to order.
I ordered my New York Strip rare and it came cooked to perfection with the restaurant's signature steak sauce. My mother-in-law, Allyn, had a combo filet and shrimp and, uncharacteristic for her, had nothing left on her plate to take home. My father-in-law, Ken, opted for the boneless ribeye and also cleaned his plate. "I intended to take some home," he said, "but it was so good."
Tucker's also sports an impressive wine list and an excellent collection of local craft beers, in addition to, of course, Budweiser, being just a stone's throw from the historic St. Louis Anheuser Busch brewery.
Tucker's isn't what you'd call fancy, but the historic building and antique photographs offer a rustic style and comfortable atmosphere. If what you want is a truly great steak from people who know their beef, served in an unassuming establishment with great service, at a prices so affordable you'll look twice when you get your bill because it just doesn't seem that anything could be this good for that price, then you'd be hard pressed to find a better meal than Tucker's Place.
I asked our server, Vinnie, how Tucker's Place came by the slogan "The Place for Steaks in St. Louis," and he answered, "It's our thing." Indeed it is.