By Patti Wilson Contributing Editor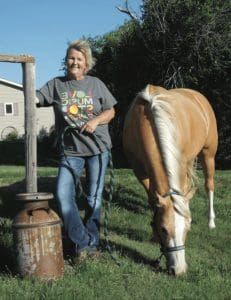 Carol Jarzynka is a beacon of hope in her community. The lifelong cattle producer is cancer free for 14 years, after battling an aggressive breast malignancy. She has beaten the odds and is showing us all what a good attitude looks like.
Raised on Carl Dethlefs and Sons Angus Ranch, the Sherman County, Nebraska native grew up in 4-H and FFA. She showed plenty of cattle, but found her comfort zone in the horse arena. Her love of equines spilled into the remainder of life. Jarzynka and her husband, Jerry, enjoy traveling to various state and private parks, horses in tow. Most adventures are taken in the company of like-minded neighbors, outings are most often planned on Nebraska and South Dakota trails.
Jarzynka's horsemanship skills and photogenic looks did not go unnoticed by her medical staff at St. Francis Medical Center in Grand Island, Nebraska. Her treatment was so cheerfully tolerated, she became a spokesperson for the hospital's cancer treatment center, featured in a television ad on her beloved horse.
Although Carol still runs some registered Angus cows, the couple's farm is home to 135 commercial cows. She drives a school bus early in the morning and navigates a rural mail route after delivering her little passengers. She's in charge of daytime calving when her husband is at work, and conveys students back home from school in the evening. She helps as needed at the family's bull sale, where Jarzynka has many great memories. Trips taken with her dad, Jerry Dethlefs, to other bull sales, provide fond memories, too.
She has two children, Ashley and Brandon, and a granddaughter, Mackenzie, 18 months. Seven nieces and nephews are cherished, as well. Carol's husband, Jerry, has eight grandchildren. Jarzynka's final thought is,"Live life to the fullest, you never know what's going to happen. Family is everything."