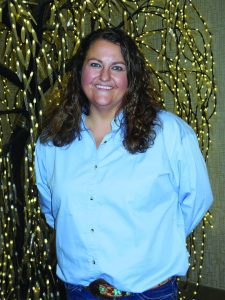 By Patti Wilson Contributing Editor 
Iowa native Kayla Jesse has traveled several paths on her way to becoming a district supervisor for the Nebraska Brand Committee. 
The former Sac County Fair Queen grew up on a grain farm with her parents and three brothers (she is a triplet with two of them). Having no livestock on their farm, Jesse describes herself as a "little girl who wanted a horse." Her efforts in horse procurement were, instead, rewarded with a bottle calf. The compromise ignited a love of livestock; 4-H and FFA became a major part of her life.  
She headed to Curtis, Neb., in 2005 and earned a vet tech degree from the Nebraska College of Technical Agriculture. Heading to Bozeman, Mont., she spent two years in a large veterinary hospital. Jesse relates that the work was agreeable but the pay was short, so she later accepted a position in communications with the Nebraska State Patrol, working an area between North Platte and Grand Island. Six years with the patrol gave her a love for law enforcement.  
A job opening at the Nebraska Brand Committee (NBC) got her sharp attention in 2013, when she realized "Wow! Livestock and law enforcement came together!" After training, Jesse became an in-charge inspector in Sidney for two years. 
Life intervened when she married and moved to Bruning to be with her husband, Cole. A job in the York County District Court provided a sabbatical from brand work until the NBC asked her to please return for an inspector position in the Sandhills. The couple packed their belongings and moved north. Later, they offered her a district supervisor post in Cherry County. This has worked well for the couple; Cole is on board, employed as a rancher. Their residence is at Springview. 
The couple is thriving there after four years. Jesse is in charge of 14 inspectors in Cherry and Knox counties. Duties include training new employees, keeping track of hours and vouchers and helping when needed at all area livestock markets.  
Jessie audits the 18 registered feedlots in her area, providing travel time and contact with producers. "The livestock industry makes the world go 'round," she says. She is proud to be with an agency that protects producers and their livelihood.