By Patti Wilson Contributing Editor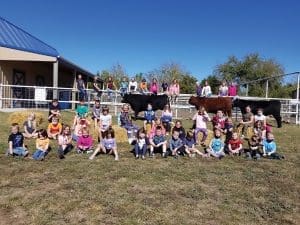 Words of wisdom from CALF News columnist Jim Witt remind us repeatedly that we must have a purpose in life to be happy and relevant. Few people I've met have had the drive or purpose of Barbara McCaffree, elementary teacher from Leon, Kan.  
The ranch-raised educator spent her youth on the family spread near Rexford, Kan., rodeoing in high school and college. Pursuing her calling as a teacher, she's a 37-year veteran of the elementary classroom. 
McCaffree married her husband, J.R., and lives near Leon. They have four grown children and six grandchildren. J.R. has retired from Phillips Petroleum Company. 
Bluestem Schools
Bluestem Elementary is the lucky recipient of McCaffree's enthusiasm. Ten years ago, the institution's principle encouraged her and her co-teacher, Angie Smith, to develop an ag education program for the youngsters. They began by visiting a nearby town with established agricultural classes. It was all the spark they needed to go home and develop what has turned into a growing educational program for kids from preschool through sixth grade.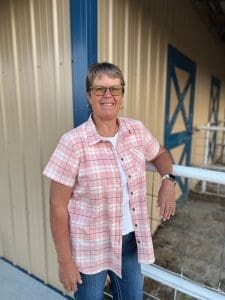 Starting Small
It's important to recognize the school system and community support that enabled McCaffree to run with her dream. Imagine the hurdles: Where was this project to be located? How was it going to be funded? What about sticky issues such as liability insurance? 
The farm is located just north of the elementary building. In fact, the chicken coop and goat/sheep barn is located right on the playground. The Leon community came through for the program magnificently. A local grain elevator and feed store provided a five-acre farmstead close to Leon so they could host Butler County Ag Day every fall. This event helps to educate other students across the area about agriculture. This year they are expecting 470 kids. The Bluestem School Board is also very supportive of the program; they provided the initial funds for startup, and continues to be a backbone for the department. 
With a site and funds secured, McCaffree started her school farm with chickens, housed in a new coop. Baby calves followed, along with a new, two-stall barn. A greenhouse and outdoor gardens were included early in the program. 
An Explosion of Enthusiasm
At this point, popularity of the ag class was exploding. The school board hadn't flinched an inch on funding and word was out among students that this was a great place to be. 
McCaffree lobbied the school system to "bundle" her Ag Academy with music, art and physical education. In this arrangement, students attend two bundled classes daily for 30 minutes each. Bad weather is no problem for the students; when difficult days arise, there is a regular classroom and greenhouse available on the school site to use as needed. 
To maintain current and professional relevance, McCaffree attended Kansas Ag in the Classroom conventions. She credits Farm Bureau for supplying students' books. National and Kansas Ag in the Classroom also provides lesson plans that cover all agriculture topics needed.  
Her program has become the recipient of an endowment, and various local support often comes forth with hay, grain and the many needed supplies. 
McCaffree is diligent in running thank you ads in the school newspaper. She says it's the right thing to do and spurs additional interest in the program from the community. 
A Burgeoning Undertaking
The farm continues to grow. She says vegetables and flowers at the farm's greenhouse are sold each fall and spring. Eggs and salsa are peddled, and the aforementioned bucket calves are fed to maturity and sold at the school's grocery store. Raffles are held each year for half a beef and donated pork, adding to the farm's income.  
The Most Important Element
McCaffree's life calling is her 180 students. Admittedly, the farm program makes her as much a business manager as a teacher, but the most important aspect is the children. She says she "won't have her students thinking that their food comes from a grocery store; it is produced first by farmers and ranchers!" 
The farm has grown to include chickens, cattle, sheep and goats. Young stock is weighed weekly. An important element is that farm life's every aspect is never masked or hidden. Birth, death, health protocol and castration are on the table for all to see; kids learn they are raising food, not pets. All the same, the students are allowed to enjoy the livestock. Touching, petting and brushing are as routine there as they are on any farm. Correct terminology is learned quickly and always required. Steers and heifers are not "cows," as many of our uneducated non-ag population call cattle. 
A favorite time is when ewes and does give birth during the school year. She says it's a comfort to the children and fuels their hunger for information. 
Reactions
Farms, we all know, can be dangerous places. McCaffree says that, four years into the project, there have been no incidents, save a Band-Aid or two.  
Neither have there been any negative reactions by students to the real-life and sometimes unpleasant aspects of livestock production. Kids take home positive and realistic reports to their evening dinner tables; parents are happy. 
Growing the Program
The school now runs its own store. The elementary school sells their beef, salsa and eggs at the Bluestem Mercantile. The Bluestem School District owns the business and manages the building. High school business classes, teachers, bus drivers and other school staff are available to help, as well. McCaffree is responsible for care of the livestock, this means weekends and holidays, just like every other farm. Fortunately, she lives only 2½ miles from the facility but also has help from kids and farm families to do chores if needed. 
Although only preschool through sixth grade are currently enrolled in the Ag Academy, high school students seem eager to add the curriculum to their schedules. The Bluestem High School FFA instructor notes that McCaffree's elementary graduates come into high school classes "ag savvy" and easy to teach. 
McCaffree's next planned expansion is providing additional buildings to house livestock and improving the existing facilities. A hydraulic squeeze chute, alley and tub are on the way this fall.  
A major event is the aforementioned Butler County Ag Day, with 23 classes or stations. Groups rotate through the exhibits that include, for example, Kansas Crops, livestock production, bee keeping and machinery. It requires great organizational skills and the ability to mobilize their ag community. 
Why?
McCaffree's motivation to tackle this is intrinsic. "That's in my heart, it's what's important," she says. "We are all affected by agriculture. You do not get food from a grocery store, farmers and ranchers come first! 
"God's blessed me with a wonderful community and school. It wouldn't work just anywhere."