By LaRayne Topp Contributing Editor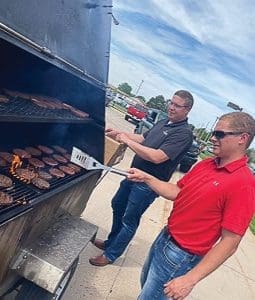 The first blizzard hit the Northern Plains in November of 1948, bringing with it heavy snow, frosted with ice, and winds of 50 to 70 miles an hour. The next struck in December; then in January, March and April. By the end of that winter, some areas measured 100 inches of snow with banks towering 25 to 35 feet high.  
Trains were stalled for days and roads were impassable. Folks in rural areas could hardly catch their breath as livestock – and even wild animals – became trapped in the snow. U.S. Army bulldozers and weasels orchestrated Operation Snowbound, dynamiting icy snowdrifts while dropping groceries from the doors of ski-planes and hay to stranded cattle, and ferrying out the sick.  
Left without electricity, farmers and ranchers used snowbanks to keep milk and cream cold; when coal and fuel ran out, they burned their furniture to keep warm. With no way to get anywhere beyond a team and wagon, feed supplies for livestock ran out as well. Although Operation Snowbound saved more than 4 million cattle from starving to death, the massive storm caused the deaths of tens of thousands of head of livestock in one of the most severe blizzards on record. 
One of the reasons given for the massive loss of lives, crops and livestock was a lack of timely news and weather for the rural community. As a result, the Nebraska Rural Radio Association was formed with the goal of bringing vital information to farmers and ranchers in the state, including daily grain and livestock markets, weather and farm reports. By Feb. 1, 1951, more than 4,000 shares had been sold to ag producers at $10 apiece.  
The first station, KRVN (AM), began broadcasting with 10,000 watts. By 1972, the station had moved to its current frequency – 880 on the dial – and boosted its transmitting power to 50,000 watts, enabling it to serve more customers.  
The move was a genuine grassroots effort, with the endorsement of ag-related organizations such as the Nebraska Cooperative Council, Nebraska Farm Bureau, Nebraska Farmers Union and the state's Grange. This arrangement continues today; the station is still owned predominantly by farmers and ranchers, the only one like it in the United States. 
Amy Biehl-Owens serves as general manager of the Lexington-based, flagship station. Biehl-Owens classifies KVRN as the first and biggest of its kind in the United States, covering three-fourths of Nebraska and the upper two-thirds of Kansas. Agricultural news programming during the day is followed with the sounds of classic country at night. In addition, KRVN is Nebraska's primary entry point station for the Emergency Alert System. 
Today, 14 Rural Radio Network stations broadcast from one end of Nebraska to the other, with 85 employees keeping the airwaves humming. In addition to the three AM and FM stations at Lexington, others include one at Holdrege, two at both York and West Point, and six at Scottsbluff.  
The sales team works hard to be able to offer such coverage, Biehl-Owens says, and to expand the network's coverage area. Today, a radio audience is found in seven states. 
"We hear from listeners all the time," she says. They depend on the Rural Radio Network to provide valuable information they can't find elsewhere. 
Rural Radio Network's Facebook page and air coverage are not limited to ag markets, news and weather, however. From Husker football,  University of Nebraska-Lincoln homecoming and 4-H news to the more serious legislative budgetary issues and other pertinent information, rural families are kept abreast of what's going on across the nation. The coverage of regular and world ag news works to fulfill the mission of Rural Radio Network: To serve the ag producer in the rural community. 
News teams head out to cover special events such as Husker Harvest Days in Grand Island and daily coverage of the Nebraska State Fair, plus 75 county fairs and community events throughout the year. The Nebraska Rural Radio Association has teamed with the Nebraska Cattlemen (NC) to host important events, including a senatorial debate. They also partner with NC to stage Meat and Greets in the spring, with the cattlemen serving free beef lunches at participating businesses.  
"It's a cooperative effort," Biehl-Owens says. "That's how you get things done."