By Larry Stalcup Contributing Editor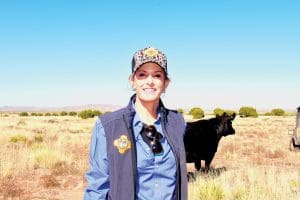 Heidi Humphries has handled rowdy herds regularly for more than 20 years. Whether it's right after processing or assuring there's plenty to drink and graze on, she's a pro at wrangling even the most stubborn in her care. 
Except, we're not referencing working cattle on her family's cow-calf operation south of Tucumcari, N.M. Her regular herding skills are tested as soon as Southwest Airlines (SWA) passengers reach the terminal gate after "processing" through TSA security.  
Humphries is a SWA flight attendant based out of Las Vegas, the one not in New Mexico. From Honolulu beaches to New York's Broadway, she's worlds away from the ranch in the Land of Enchantment. But the neon cities don't keep her from preg-checking one week or taking in a rodeo the next. 
"I love rural living," she says. "I try to arrange my flight schedules around my family and what's needed to keep our herd moving and to celebrate the cattle industry." 
The ranch is the Mesa Redonda. Her parents, Bill and Carol, bought it about 18 years after raising their family in northwest New Mexico in Rio Arriba County.  
"Our ranch was near Cuba and bordered the Jicarilla Apache Reservation," Humphries says. "I attended a two-room schoolhouse from K-6, then rode a bus to Gallina for high school." 
After graduating as valedictorian, she attended New Mexico State University (NMSU) in Las Cruces. She studied agriculture and was involved in NMSU ag school activities. Between studies, Humphries returned home to help with branding and other ranch chores. She earned her bachelor's degree in ag economics and a master's in ag education and Extension. 
"In the mid-1990s I returned to teach at Gallina where I attended school," she remembers. "I knew the kids and their families. And I could spend more time at the ranch." 
But there was another adventure in her sites. She applied to become a SWA flight attendant and was accepted. Following training in Dallas in late 1998, she was assigned her home-base airport – Chicago Midway Airport.  
"I was based there for 10 years," she says. "My schedule took me to most airports served by Southwest. I watched our airline expand into more metropolitan areas back east." 
She even met SWA founder, the late Herb Kelleher. He turned the small Texas regional airline into one that stands toe to toe with American, United, Delta and other major airlines.  
"He was a phenomenal man," Humphries recalls. "You never knew when he would show up on a flight." She admired his mindset and attitude toward business. (Do Southwest "peanut fares" ring a bell?) 
Humphries transferred to Las Vegas McCarran Airport 14 years ago. Although it was one of the world's wildest cities, she liked being stationed out West. It was an easy flight to Amarillo, which is a short drive to Tucumcari. 
"There are about 1,700 Southwest flight attendants out of Vegas. Most are young," she says. "I usually work six days on, one off, then six days on again. I have enough seniority that I can plan my schedule to be off more and have extra time at the ranch." 
The Mesa Redonda is mainly rugged, rolling plains, mesas and a few peaks scattered on the horizon. It's heaven to Humphries. "My parents wanted a place with more growth potential," Humphries says. "The old ranch was too bound by the reservation and more government land run by the Bureau of Land Management. The elevation was over 7,200 feet. We were all tired of dealing with that." 
They sold the ranch and their bid on the Tucumcari spread was accepted. When they moved eastward, they also switched from running Herefords to Angus. "We had friends in Santa Rosa that had Angus and liked their success," Humphries says. "The market for black cattle also guided us. We've bought some of our replacements from them." 
Humphries' sister, Cheryl, her husband, Justin, and their sons, Kyle and Jason, are also part owners of the ranch. Cheryl and Justin live on their farm near Logan. Jason is a student at Oklahoma State University. Kyle also studied there and is on staff at the O RO Ranch near Prescott, Ariz.  
"We did a lot of refurbishing," Humphries says. "The original ranch headquarters was nice, but we needed more room." They built small houses for Heidi and Bill and Carol. They also upgraded corrals, wells, made road improvements and added fencing to facilitate more rotational grazing.  
When Humphries's mother passed away in 2021, she was thankful her SWA job provided the opportunity to spend more time at the ranch and help her father and sister's family. "We usually start calving in February," she says, noting that much hay for the ranch comes from Cheryl and Justin's farm. "We preg-checked in mid-August and had 95 percent breed up. Calves are on a Bovi-Shield vaccination program. 
"The recent drought, one of the worst ever, meant there was little grass for 2022. We had to wean early. Dad does most of the marketing, and the calves were sold through our regular buyer. Thankfully, a wetter fall has improved the land, but more winter moisture is needed for 2023."  
Humphries is involved in the New Mexico Cattle Growers Association (NMCGA). She's chair of the NMCGA Membership Committee and serves on local boards, including the Quay County Fair Board and the Canadian River Soil and Water Conservation District. 
After an SWA stretch that kept her away much of October and early November, she made it home in time for one performance of the World Championship Ranch Rodeo in Amarillo. "We prefer the WRCA over the NFR [Wrangler National Finals Rodeo in Las Vegas in December]," she says.  
She notes that morning flights departing Vegas are often calmer. "Many of our guests are tired and some are hungover. They sleep most of the way," she jokes. 
During COVID's worst times, passenger patience was thin. Flight crews faced back talk. "Masks caused much uneasiness," Humphries says. "It is much more pleasant now." 
SWA has forever been no-frills. No first class. No assigned seats. No meal service. It's pretzels or peanuts. That service is illustrated in one of Kelleher's many famous quotes: "You can have parties without spending enormous sums of money." 
Hopefully, there's minimum downtime, but maintenance issues happen. "Southwest has always flown only 737s," Humphries says. "Mechanics don't have to worry about additional aircraft systems and keep costs down. But planes are like cars. If there's a mechanical problem, they won't work." 
She's grateful those 20-minute flight turnarounds are gone. Cabin cleanup is more efficient. But SWA still believes in timeliness. "You don't make any money on the ground," she says. 
Among her memorable trips are SWA's Honor Flights. Veterans of World II, Korea, Viet Nam and their escorts are flown on charter flights to Washington, D.C., to tour war memorials. 
"I've made three honor flights," she says. "It's such a blessing to serve those men and women who served. Many were from the Greatest Generation." 
Her approaches to her role at the ranch and in the air go back to another Kelleher quote: "You don't hire for skills, you hire for attitude. You can always teach skills." 
And Heidi Humphries has both, whether it's keeping the herd calm in the pasture – or at 35,000 feet.