By Patti Wilson Contributing Editor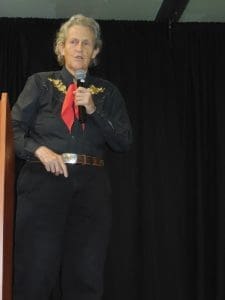 Temple Grandin, Ph.D., explained at a Broken Bow, Neb., presentation in late September that she wasn't able to "hop up and down off catwalks like she used to." It was a statement that much of the crowd humorously identified with.  
The 75-year-old college professor, author and world-acclaimed animal scientist and animal behaviorist hopped around plenty well on the stage. Keeping the crowd of nearly 400 people alert to her next comment, she delivered a rousing program about cattle handling, sprinkled with commonsense observations about human nature.  
It is safe to say that most of us are aware of, as well as already practicing, Grandin's methods of livestock handling. Many smaller operations have adopted her designs when refurbishing working pens. It is estimated that 50 percent of the cattle in the United States are handled in facilities she has designed, specifically, large feeding operations and packing plants. They have eased the handling and bolstered the safety of both cattle and cattlemen. 
Even though we are well schooled on Grandin's procedures, there are always new pearls of wisdom to pick up from the Colorado State University professor.  
Important Points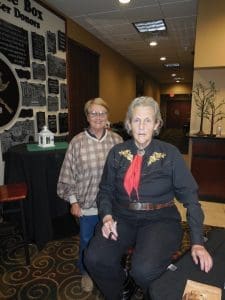 She explained relevant and more recent developments. Of interesting note is the problem of dealing with increasingly larger cattle. Starting with genetics, the trend follows through with larger birthweights and heifers retained for breeding that make larger cows. Offspring steers and heifers are fed to gain faster, and become bigger than their feet and legs can handle. They sometimes don't fit well in an alleyway or chute (neither do their mothers).  
Pulmonary problems are on the rise, causing death from internal organs that cannot handle these heavier weights. When cattle go to the packing plant, they are sometimes dealing with infrastructure that may be inadequately small. All these factors create stress and need to be addressed for the benefit of cattle as well as people. 
Her assessment of what causes the greatest welfare issues are mud and heat. She reminded us that we should never over-select for any single trait; doing so has caused grief in every specie of meat animal in the United States, including poultry. Animals live in a sensory-based world, making slippery flooring, dark shadows, loud people and strange dogs absolute liabilities. 
Most notable was the question and answer session at the end of Grandin's presentation. It is widely known that she is autistic and has been a beacon of hope for thousands of individuals and families dealing with the same issue. When the lights went on for questions, we found as many people in the crowd there to pick her brain about autistic children as there were about cattle. Graciously handling each question thoroughly, she still had the ability to make everyone relax and laugh. 
Her many books were on sale after the program, signed personally by Grandin for a long line of appreciative people. In Custer County, one might say she was mobbed by fans.  
Mid-Plains Community College's Student Life and Business and Community Education Departments assembled a partnership sponsoring her visit to Nebraska. Other sponsors, all with Broken Bow connections, helped bring her to town, including a stop in North Platte. They were Custer Federal State Bank, Adams Land & Cattle, Co., Beckton Dickenson and Company and Bruning Bank. 
It was a pretty darn good way to spend a Sunday evening in Nebraska.