By Larry Stalcup, Contributing Editor
When winter's wrath had many digging out of snow and battling blizzards, the Arizona desert was a welcome treat for some 7,600 producers, feeders and others with beef industry roots. And host city Phoenix couldn't have been more hospitable to the Cattle Industry Convention and National Cattlemen's Association (NCBA) Trade Show, Jan. 31-Feb. 2.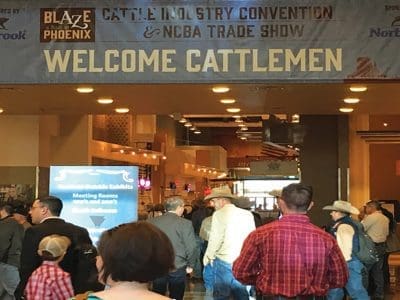 The annual celebration of all things beef featured more than 350 exhibitors at the industry's mammoth trade show. Everything from fencing to feed trucks and Western fashion were on display.
Two convention general sessions featured industry leaders as speakers. NCBA President Craig Uden noted that the still-large cowherd means beef exports are essential to cattle markets. Brett Morris, Cattlemen's Beef Board (CBB) chairman, said the U.S. is gaining access to more countries eager to receive American beef for a growing middle class.
Penny Zimmerman, American National CattleWomen President, discussed how ANCW and its huge social media network are helping keep consumes informed about the value of beef in their diets. Allied industry sponsors did their part in welcoming convention visitors with information on their latest products and services.
One keynote speaker was Ree "The Pioneer Woman" Drummond. She was a major draw to thousands eager to get an autographed book from arguably the most popular chef on the Food Network. Drummond, whose husband, Ladd, is from a longtime Oklahoma ranch family at Pawhuska, has rock star credentials with her cooking show and famous blog. But she's also a rancher who believes in the cattle business.
"The one thing I learned right away is how much cattlemen care about the animals they raise," said Drummond, who grew up in Chicago before settling on the Tallgrass Prairie. "Raise your hands if you've ever held a new calf in front of your fireplace."
Another inspirational speaker was Jim Abbott, former Major League baseball player. His miraculous story centered around his ability to pitch in the big leagues for 10 years – after being born with no right hand. He pitched for the New York Yankees and three other teams before retiring in 1999.
The 25th annual Cattlemen's College brought "students" up to speed on production, animal health and ranch management techniques. In opening the Cattlemen's College, Jim Taylor, chief marketing officer for Arby's, stressed his company's love for beef and the success of the Arby's "We Have the Meats" campaign. Instead of "Meatless Monday, I want to do a More Meat Monday," Taylor said to loud applause. "Beef will remain the heart and soul of Arby's."
The popular Environmental Stewardship Award Program (ESAP) selected the Jim O'Haco Cattle Company of Winslow, Ariz., as the 2017 winner. Established in 1898, the ranch is owned by Jim and Jeanne O'Haco and encompasses about 60,000 acres in eastern Arizona.
After his year as NCBA president, Uden turned over the reins to Kevin Kester, a fifth-generation California rancher whose family has ranched in the Parkfield area of Monterey County for more than 125 years. Jennifer Houston of Sweetwater, Tenn., was voted in as NCBA president-elect. She has been active in the beef industry for over 30 years. Houston and her husband, Mark, own and operate East Tennessee Livestock Center in Sweetwater.
Kester discussed some of the good things that happened for beef in 2017 and what must continue in NCBA policy this year. "With tax reform, regulatory rollbacks and new access to the Chinese market, we had some big victories in Washington last year, but this is no time to take a break. 2018 promises a mix of new and familiar challenges," he said.
"We're going to continue to ensure fair access to foreign markets, fight against unnecessary regulation, make sure the Farm Bill addresses our needs, and guarantee that consumers have the ability to purchase a safe, healthy and accurately labeled protein source."
Joan Ruskamp of Dodge, Neb., is the newly elected CBB chair. She and her husband, Steve, operate a feedlot and row-crop farm. The new vice chairman is Chuck Coffey, a fifth-generation rancher from southern Oklahoma near Springer.
Last fall, CBB launched a revised "Beef, It's What's For Dinner" campaign. In February, a new producer-directed advertising campaign called "Open Doors" launched for the beef checkoff. Expect to see more about this beef promotion campaign.
Of course, the convention featured headliner entertainment. Corona Ranch hosted the "Phoenix Fiesta," which featured a rodeo, hot air balloon lift, great food and drink, and country artist Paul Bogart. (There was a lot of Texas two-steppin' in Arizona that night.) The "Cowboy Comedy Club" on closing night included Bill Engvall of Blue Collar Comedy Tour fame, along with comedians Colin Mochrie and Brad Sherwood from the television show Whose Line Is It Anyway?
For more convention coverage, browse through this issue of CALF News.