2020 National Golden Spur Award Winner
By Larry Stalcup, Contributing Editor
When one joins the company of Bill Farr, Kenny Monfort, Bob Josserand and Nolan Ryan, that's a prime position in the beef business. All are past recipients of the National Golden Spur Award – an honor Monte Dean Cluck will receive this fall.
Cluck is CEO of Dean Cluck Feedyard, Inc. The longtime beef industry leader is part of the fourth generation in a family that has been a pillar in crop and livestock production in the Texas Panhandle since the 1950s. The Golden Spur will be presented to him on Oct. 10 in Lubbock at the National Western Heritage Center.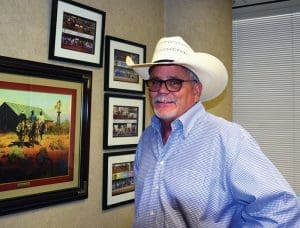 "It was humbling when I learned I was nominated for the award," he tells CALF News. "I never thought of myself as being a nominee for a Golden Spur. I know people who deserve it. When I received the call, it was very emotional; I look forward to receiving the award in October."
Established in 1978, the Golden Spur is the most prestigious honor given by the ranching and livestock industries in recognition of an individual's accomplishments. "It has been awarded to iconic industry leaders whose unparalleled devotion to land and livestock has earned them notable respect and admiration from their peers," according to the Ranching Heritage Association (RHA), which presents the award.
"The award also emphasizes the humanistic, scientific and technological contributions of the ranching and livestock industries to society," RHA states.
Six Texas and national ranching and livestock organizations sponsor the award. They include RHA, the American Quarter Horse Association, National Cattlemen's Foundation, Texas and Southwestern Cattle Raisers Association, Texas Cattle Feeders Association (TCFA) and Texas Farm Bureau.
Panhandle legacy
Although he grew up in Gruver, Texas, Cluck and his wife, Katsy, live in Boerne, Texas, near San Antonio. They have four children – Kaysha Sparling, Kallie Hauschild, Monte II, the late Colt Cluck and four grandchildren.
His parents, Dean and Rita Cluck of Gruver, were early pioneers of the cattle feeding industry. Cluck's great-grandfather homesteaded in Hansford County in the northern Texas Panhandle in the 1920s. He and his wife had 12 children. One of their grandchildren was Dean, who continued the operations.
They raised wheat and ran cattle. "In 1961, my dad lost the lease on a farm," Cluck remembers. "He said he had enough money to either buy four sections of land to farm in New Mexico or start a Panhandle feeding operation. He chose feeding cattle and invested in a 930 Case tractor and a tub grinder, and built five pens in Gruver.
In the late 1960s, Cluck family members built what were then called Caprock 1 and Caprock 2 feedyards near Gruver. In the 1970s, they began expanding farm ground and feedyards. "Dad loved farm ground," Cluck says. "He passed away in 1999. Shortly after that I picked a couple of people I had a lot of respect for. We started what is now Dean Cluck Feedyard, Inc.
"With those partners, my wife and my family's support, we have grown it into what we are today."
As the family operation expanded in the 1990s and 2000s, it leased ranches in Texas, Oklahoma and New Mexico. In 2014, it acquired Dimmitt Feedyard in Dimmitt, Texas, as well as additional farm and ranch land. Total company feeding capacity exceeds 100,000 head.
"Our feedyards are surrounded by farmland that is typically planted in wheat for winter grazing," Cluck says. "We can often just use horses to drive cattle from wheat pasture to the feedyards. This
provides huge savings in shipping costs, and cattle are less stressed.
"We also grow wheatlage and corn silage that provide from 50 to 75 percent of our silage needs at the feedyards."
The company also operates Jacoby Cattle Co., in Cuero, Texas, an order-buying business, to help handle cattle bought in South Texas, as well as provide hauling services for others. This company includes semi-trucks and cattle trailers that transport cattle to feedyards and provide custom hauls for others.
Cluck and his partners also created Tadmor Trading, a commodity brokerage company in Dallas, to help coordinate risk management services for feed and livestock marketing.
The combined companies employ more than 100 people and have annual sales of $160 million. One thing that is high on Cluck's list is the fact that Dean Cluck Feedyard is an Employee Stock Ownership Program (ESOP), in which employees, after meeting employment requirements, are owners in the company and share in the profits.
The company has employed generations of families and employees who have worked an entire lifetime with his operations. Scholarship programs are available to children of employees.
"We have employees who were involved in the company before I was," Cluck says. "We respect them and consider our team as the best in the cattle feeding business."
Service to the industry
Throughout his career, Cluck has known the importance of giving back to the beef industry. He was a member of the TCFA Board of Directors for 11 years, including six years on the executive committee and as chairman in 2009.
He served on the TCFA Budget and Audit Committee and was both a trustee and 2010 chairman of BEEF-PAC, the TCFA political action committee. In addition, Cluck served on the Texas Water Development Board in 2008.
Ross Wilson, TCFA President and CEO, has seen Cluck's dedication to the industry. "Monte holds a heartfelt appreciation and respect for the traditions, wisdom, values and integrity that come from being involved in this industry," he says. "He takes pride in keeping many time-honored traditions alive while never losing sight of the future and opportunities that innovation provides to improve a mature industry."
TCFA, the National Cattlemen's Beef Association (NCBA) and other trade organizations are important for cattle producers and feeders, Cluck says. "I'm prejudiced, but I believe TCFA is the best beef organization in the country. NCBA and other beef groups also do a good job. Overall, the large majority of the nation's livestock organizations have the industry's best interests in mind. We all want what is best for beef."
During the heart of the COVID-19 pandemic, the beef industry was key in acknowledging the need for federal financial assistance to producers and feeders economically damaged by forced closers of restaurants and other food service outlets.
"Actions by Congress in forming legislation to assist agriculture and other industries showed the divisiveness of senators and representatives," he says. "It was a travesty, especially when House democrats were not in Washington much of the summer to advance further stimulus legislation. They should be deemed essential and should be at work."
Cattle feeders need more leverage
With the continuous increase in production costs, competition from other proteins and price volatility, cattle production and feeding has become more margin driven.
"We have too few choices to market our cattle. Cattle feeders and producers need more leverage," Cluck says. "There needs to be more investment into the processing side of beef. But I do not believe the major packers should be broken up.
"Those of us left in the industry have developed relationships with packers and even wholesalers and retailers. I don't want to do anything that is mandated by the government that will destroy the work we have done to enhance our product the consumer.
"The most important thing is that we produce a product American consumers want and the export markets want. We just have to keep working, be honest and do business with honest people."
With that attitude and determination, Cluck and his team have been able to maintain and expand the success of Dean Cluck Feedyard, Inc. He has risen to and remained as an industry leader, and deserving of the Golden Spur Award.
"Again, I am humbled by this honor," he says. "But this award was made possible by the support of my family and our tremendous staff and employees who make up the Dean Cluck Feedyard team.
"We all love the beef industry and what it means to us and our nation."