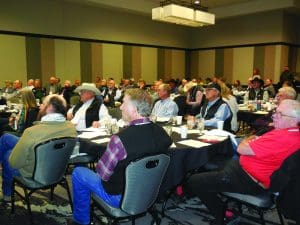 The NC Annual Business Meeting on Dec. 9 was concise and well attended. Everyone enjoyed a good visit at the conclusion; it was clear NC members enjoy one another's company. 
By Patti Wilson Contributing Editor 
A group of visibly happy cattle producers, glad to see their cohorts, drove in drizzle and skated on ice to the Younes Convention Center, Dec. 7-9, 2022.  
A nasty ice storm Dec. 8 provided plenty of stress for folks coming in to attend the Nebraska Cattlemen (NC) Annual Banquet that evening. There was little relief for those making it safely to the parking lot; one unfortunate fellow related falling down four times before reaching the door to his hotel. Nonetheless, all were smiling upon arrival. 
Business was conducted efficiently. There were fewer people in attendance this year, yet plenty of lively discussion in council and committee meetings.  
Seedstock Council 
Mark Goes led a discussion about feeder calves being priced on genetic makeup. The increased use of genetic merit in the pricing of calves is becoming a possibility with ample EPDs and EID technology. 
Feedlot Council 
The annual conversation on Nebraska brand law and needed changes to their rules took top priority. It seems hopelessly hung up in the control of the Nebraska Legislature. Since the majority of state senators are from urban eastern Nebraska, there seems little interest on the part of the legislative body to take up the topic. Feeders are clearly frustrated. Labor shortages are also crippling feedlots; training and recruitment are needed. 
Farmer-Stockman Council 
NC President-Elect Jerry Kuenning headed the Farmer-Stockman Council meeting. They discussed third-party verification of calves and value-added programs. Doug Stanton of IMI Global explained the importance of traceability and dealing with the consumer. He introduced the Low Carbon Beef Enrolled Program, a signal to buyers and suppliers that cattle were raised with reduced greenhouse gas emissions. It is a process-verified program with supporting documentation and recordkeeping certification. It ensures your sustainable herd management practices are monitored, measured and verified. 
Opening General Session 
Keynote speaker Gregg Doud, Aimpoint Research, commented on grain and cattle markets. He predicted that technology will save agriculture and feed 9 billion people in the future. Doud also gave a popular overview of the fading La Niña, giving us a glimmer of hope for adequate rain in the spring. 
Brand Committee 
The Nebraska Brand Committee meeting was headed up by several Nebraska brand officers. They outlined laws that service the movement of cattle from ranches utilizing grazing permits. There are thousands of grassers that move across state lines and out of the Nebraska brand area each. The complications in tracking these cattle abound, and are regulated by a long list of requirements.  
Beef Industry Infrastructure Meeting 
This gathering hosted a great crowd. NC's Vice President of Marketing Jeff Stolle gave a market outlook report. His charts and graphs are always popular, as witnessed by a packed house. 
Education and Research Committee 
University of Nebraska-Lincoln Professor Matt Kreifels related that there are more than 300 career opportunities tied to agriculture, foods and natural resources. FFA programs are tuned in to holistic career development, and the need for ag teachers in Nebraska is mushrooming. 
Other meetings included the Cow/Calf Council, Taxation Committee and Animal Health and Nutrition meetings, all featuring educational speakers.  
Major Awards 
Thursday's agenda always includes the NC Foundation Luncheon. Bill and Kathy Rhea of Arlington were honored with the Friend of the Foundation Award. The NC Annual Banquet, a well-attended event, provided Gov. Pete Ricketts an opportunity to take a bow at the end of his term. He was honored with the Industry Service Award. The highest honor of the evening, the Nebraska Cattlemen Hall of Fame Award, was given to George and Barb Cooksley of Anselmo. They are each former NC presidents. 
Annual Business Meeting 
The convention closed with the Annual Business Meeting, Dec.9. Jeff Stolle presented his market outlook again, this time to the whole membership. It was worth watching twice. He pointed to continued bullish markets due to drought conditions having a decimating, long-term effect on our nation's cow herd.  
Stolle's report was followed by election of the 2023 leadership team. They are President Steve Hanson of Elsie, President-Elect Jerry Kuenning of Imperial, Vice President Dick Pierce of Miller and Past President Brenda Masek of Purdum.