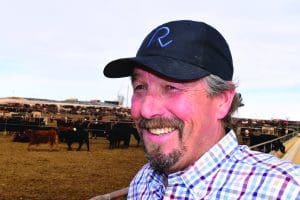 New TCFA Chairman Michael Bezner enjoys the challenges of running an independent feedyard and representing Texas, Oklahoma and New Mexico yards in state and national policy and regulatory matters. 
By Larry Stalcup Contributing Editor 
Michael Bezner had just finished reading bunks on Christmas morning. The worst of Blue Northers had passed, but not before wind chills hit -35° F. As he walked past his feedyard's hospital, he heard an unnerving noise – water gushing from a pipe that had frozen.  
So go the unanticipated chores of running a feedyard. That same attitude toward keeping the yard online is one Bezner shows in his new role as chairman of the Texas Cattle Feeders Association (TCFA). Elected chairman last October, he assumed responsibilities that had been inherited by past chairs, which have ranged from the leader of corporate feeding companies to those from other small, independent feedyards. 
He and his family own and operate Bezner Beef, a third-generation, 20,000-head capacity feedyard near Texline in the far northwest corner of the Texas Panhandle. The feedyard is part of Bezner Cattle & Grain, Co., a farm/cattle operation that includes a cow-calf and stocker program. 
He has served on TCFA committees since 2006 when he first served on its board of directors through 2008. After again being named to the board, he was elected as 2021 vice chairman, then chairman-elect for 2022.  
"TCFA has been valuable to our feedyard. It works for both independent feeders and corporate feeding companies," Bezner says. "The association's guidance in the Beef Quality Assurance Program (BQA), environmental regulations and safety training is tremendous. Without TCFA's expert staff, our feedyard would have had to hire more employees to do those jobs. 
"Perhaps the biggest service TCFA provides is helping the National Cattlemen's Beef Association (NCBA) maintain a business climate that benefits us by having excellent working relationships with legislators, government agencies and their staffs in Washington, D.C. and Austin." 
Those relationships are vital for issues such as the Biden administration's efforts to revise the Waters of the United States (WOTUS) regulations that will tread on private property rights for farmers and livestock producers and feeders. "Surely we can have some common sense in Congress and the administration on this and other regulatory issues that can hurt agriculture," Bezner contends.  
Other issues include traceability and fake meat. "We need to prevent a total debacle in animal disease outbreaks. Better traceability through U.S. CattleTrace and other programs will help," Bezner says.  
"Also, we have to get the labeling corrected on fake meat, plant-based products. We can't let them get away with calling it beef or meat, and we need to push back on cell-cultured or lab-grown meat. We can put up a strong front for not letting those compete for our market share. 
"These are all areas we can be united on, whether it's producers and feeders in northern or southern production areas."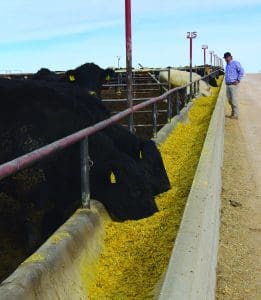 Bezner stresses that the industry needs to support the Beef Checkoff. "The checkoff has helped improve demand for our product," he says. "The checkoff has helped open new markets through research into developing new beef cuts and promoting nutritional facts and other benefits of having beef in a healthy diet. Even in the pandemic, and now in inflationary times, demand for quality beef has remained high among consumers." 
Bezner reminds producers and feeders that with Republicans controlling the House and Democrats controlling the Senate, TCFA and NCBA must work out policy problems with both sides of the aisle to iron out issues that impact the cattle industry. 
"The staff at TCFA is highly effective in representing our cattle feeding region in regulatory issues and agricultural policy," he says. "Our Texas, Oklahoma and New Mexico area markets about 28 percent of the nation's fed-beef production, or about 6 million head annually.  
"The staff has had tremendous leadership, from Charlie Ball to Richard McDonald, Ross Wilson and our current CEO, Ben Weinheimer. The support team of market analysts, government affairs, environmental, safety, BQA, communications, issues management and other programs are impeccable." 
Among those on the staff is Bezner's daughter, Director of Communications Madeleine Bezner, who has been part of the association's public relations team for more than five years. Bezner and his wife, Camille, have two other daughters, Hattie-Carole and Georgia.  
The Bezner family has farmed and run cattle in the Texline region since the early 1960s. "My dad, Jody, moved up here from the Hereford area in 1964 after he graduated from Texas Tech University," Bezner says. "He farmed and ran stockers and was a pioneer in pivot irrigation agriculture. My grandfather, A.J., decided to leave Hereford and join Dad in the late 1960s." 
Along with Michael, Jody and his wife, Kay, had two other sons, Stephen and Mitchel. Michael attended Texas A&M University to major in animal science. He was part of the meat judging team for two years, then the livestock judging team another two. Ag economics was also part of his curriculum.  
"I took risk management classes under Dr. Bill Mies. After graduating, I worked for a clearinghouse in Chicago," he says. "I learned a lot from Bob Price at the former Cargill Investor Services. But I always thought I would end up in production agriculture." 
Bezner returned to the family farm and cattle operation in 1991. In the 90s, he commuted to Texas Tech University in Lubbock a few days a week to earn a master's in business management. As the cattle operation grew the family decided to expand and add a feedyard. 
"We broke ground on the feedyard in 1997," Bezner remembers. "I was fulltime feedyard once we started building this thing. The first cattle were finished in February 1998." 
He notes that his grandfather's nickname was "Doc." He wasn't a vet, but was a self-taught "cowboy chiropractor." In the early 1970s, Doc and Jody were among the groups that started the XIT Feedyard near Dalhart. With market savvy and a little luck, they sold the yard before the 1974 market crash.  
Michael was always interested in the farm and cattle operation. In the days before DTN and eventually the internet and smartphones, he kept up with TCFA through the mail. "My childhood includes learning much about TCFA," he says. "I was always the first one to the mailbox on Saturday to get the printed TCFA newsletter." 
These days, Stephen works with Michael on the feedyard and cattle side, while Mitchel and Jody handle the farming end of the operation. Their loyal employees help them run a smooth operation.  
The feedyard handles both company and custom-fed cattle. "It's typically 50-50 on company and customer cattle," Bezner says," but it can run from 40 to 65 percent customer cattle. About 80 percent of the company cattle are sold on a value-added grid. Buyers from all four major packers come here nearly every week." 
Bezner favors the proposed Producer Owned Beef packing plant that was officially announced last August. "It will take a while to get the packing facility built, but it will be beneficial to Texas producers and feeders," Bezner says. 
He credits many mentors for their advice in starting and running an independent feedyard. He discussed what worked and what didn't with veteran feeders like Andy Rogers and Paul Brown. 
"I'm grateful for the guidance and support my family and I have had from many through the beef industry and in the Texline and Dalhart communities," Bezner says. "I'm honored to be trusted to serve as chairman of TCFA." 
Bitter cold and a frozen water pipe won't keep Bezner Beef from keeping cattle healthy on Christmas day. And with Bezner reading bunks to spot misguided legislative and regulatory issues in D.C. or Austin, cattle feeders have a leader they can count on throughout the year.