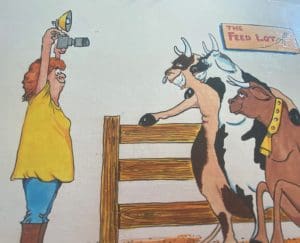 By Betty Jo Gigot, Publisher
The weather outside turned frightful just as our staff started writing their stories and columns for this issue of CALF News. I had always thought the word cyclone referred to a tornado in the Southern Hemisphere. As it turns out cyclone means a large air mass that moves a strong center of low atmospheric pressure counterclockwise in the Northern Hemisphere and clockwise in the Southern. Who would have thought? The bomb cyclone that hit the center of the United States, recently, produced frigid temperatures and blizzards, and the one that hit California certainly got our attention. We were again reminded that we, in agriculture, are always just a step away from an act of God. Now, if we can just get moisture where we need it and not where we don't, maybe we can continue to feed the world. 
Our story on the Ogalla Aquifer by Gina Gigot is a very personal one. The Gigot family was one of the first to drill wells into the Ogalla and, at one time, was one of the largest corn farmers in the nation. Gina's generation has adopted a very specific and detailed plan to conserve every ounce of water possible. They developed their own Water Conservation Area and planted crops that mature early, use very little water and are able to be used locally. Our family along with you folks are the true environmentalists. Never forget that. 
The picture we used for this Gypsy was a cartoon painting done years ago when I first started with the magazine. While doing my Recollections column and re-reading old issues of CALF News, I was swept back to that interview with Bill Foxley in La Jolla and to many other cattle feeding giants I interviewed. Having a chance to know W.D. Farr, Kenny Monfort, Leo Timmerman, Bob Gottsch, Bob Josserand and many others was an honor few have ever experienced. Working with Topper Largent, Benny Van Seggern and Dr. Bob Hummel was an adventure to be sure. Getting to interview people like Temple Grandin and Baxter Black has been an honor. Three trips to Australia, spending a month at a time each, are some of the other highlights of what is turning out to be a long career in telling the story of an industry we are justifiably proud of. 
Along the same line, by the time you read this, the 14th class of the Cattle Feeder's Hall of Fame will have been inducted at the Cattle Industry Convention in New Orleans. I am honored to be presenting the award to the family of the late Ed Barrett of Barrett and Crowfoot in Texas who, along with Jerry Adams of Adams Land and Cattle in Nebraska, are this year's cattle feeder honorees. The Industry Leadership Award will be presented to Dee Likes, former Kansas Livestock Association CEO, and Terry Wegner of Drinnin West Cattle Co., will receive the Arturo Armendanriz Distinguished Service Award. That said, be sure to vote for the 2024 class at the Cattle Feeder's Hall of Fame website, cattlefeeders.org/vote/. The Hall of Fame has been one of my pet projects since 2009 and is one way to highlight the history of the feeding industry. 
I have to be amused and may be wrong but think I might have nudged the U.S. Postal Service a tad. In the last issue, I commented that sometimes the Post Office doesn't have stamps to sell. Over the past week, I have gotten three – yes, three – emails trying to sell me postage stamps. They have flag stamps and elephant stamps … all kinds of stamps available, and would you believe I can get 10,000 stamps for $999? How is that for a bargain. Meanwhile, happy trails till next time.