By Larry Stalcup, Contributing Editor
"It's all about quality and genetics." You'd think that statement came from an Extension beef specialist or a breed association leader. But Terry Bradshaw?
Well, you can bet his three Super Bowl rings he said it. The NFL Hall of Famer, Steeler Terrible-Towel-waving and FOX NFL Sunday 25-year-man also runs cattle and Quarter Horses in Louisiana and Oklahoma. He knows his way around the barn and corral. And he had thousands in stitches as the featured speaker to open the Cattle Industry Convention and NCBA Trade Show in New Orleans in late January.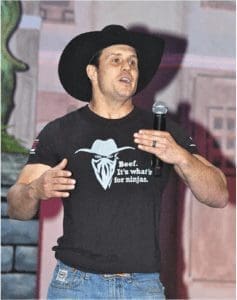 Bradshaw was among many convention speakers, who included U.S. Sec. of Agriculture Sonny Perdue (see separate story in this issue), officers from NCBA, Cattlemen's Beef Board and American National CattleWomen, allied industry leaders and a host of other beef ambassadors.
A native of Shreveport, La., Bradshaw quipped that Drew Brees, Tom Brady and FOX sidekick Howie Long can't talk to you about cattle – "but I can" – noting that he currently runs an Angus operation after getting started with Simmental and "Tiger Stripes" early on.
"I went to the Federal Land Bank and borrowed money off my NFL contract," he said, throwing in hilarious anecdotes about getting started in the cattle business.
"God put me here to enjoy myself. Everyone should dance to your own tune with your own fiddle."
He saluted producers and feeders for the sacrifices they make in the beef business. "You earn your money the hard way," he said.
Another general session speaker was Lance Pekus, better known as the "Cowboy Ninja Warrior" and fan favorite on NBC's American Ninja Warrior television show. He lives near Salmon, Idaho, and works on a ranch. He likes being a spokesman for beef and notes that "consumers want to know about cattle production and health."
NCBA President Kevin Kester, who did an excellent job of representing NCBA at state and regional cattle association meetings this past year, said his experience has left him feeling that producers and feeders "are like family" no matter where they run cattle.
Kester added that NCBA remains a big factor in Washington, D.C., saying, "we have a strong identity there. We're small in numbers, but carry a big stick."
Gwen Geis, ANCW president from Wyoming, said the group's efforts to spread beef's good message is making the most of opportunities available via Facebook, Instagram, Twitter and other social media platforms. These "wired" women are educating consumers by the thousands, she said.
CBB Chair Joan Ruskamp from Nebraska reminded conventioneers that the Beef Checkoff helped fund foreign marketing programs that helped produce some $8 billion in export sales.
She said digital TV ads are helping get the most out of checkoff dollars, as are many other marketing programs aimed at dieticians, the health and fitness community and others who help dictate what consumers eat.
One new program involves "Chuck," a beef loving, although fictitious voice that is activated through Amazon Alexa or Google Assistant wireless devices. Chuck can answer consumer questions on beef recipes, beef cuts and other aspects of beef preparation.
Ruskamp noted that more than 13 million people visited the beefitswhatsfordinner.com website the past year in search of recipes and other beef-oriented information.
Singer-songwriter John Ondrasik, who carries the stage name Five for Fighting, closed the final general session with an inspirational message. He described how he has overcome life's issues using creativity for motivation.
"What kind of a world do you want?" he asked. "At the end of the day, it really is about doing your part, each one of us, in whatever area we can."
New officers 
During the convention, Jennifer Houston of Sweetwater, Tenn., was elected 2019 NCBA president. Houston and her husband, Mark, own and operate East Tennessee Livestock Center, Inc., in Sweetwater. She has been active in the beef industry for over 30 years, first serving at the state level then being elected to positions in national posts. She has been an NCBA Board member since 1996.
Elected NCBA president-elect was Marty Smith, a producer from Florida. Jerry Bohn, long-time cattle feeder of Pratt, Kansas, was elected vice president. Other 2019 officers include: Don Schiefelbein of Minnesota, chair of the NCBA Policy Division; Todd Wilkinson of South Dakota, policy division vice chair; Laurie Munns of Utah, chair of the NCBA Federation Division; and Buck Wehrbein of Nebraska, federation vice chair.
Chuck Coffee, a Springer, Okla., rancher, was elected CBB chairman. He replaces Ruskamp. Coffee is a fifth-generation rancher who grew up on a ranch in the Texas Hill Country. Jared Brackett is the new CBB vice chair. He is a fifth-generation cow-calf producer from Filer, Idaho. The new CBB secretary/treasurer is Hugh Sanburg, part of a horned Hereford cow-calf operation in Eckert, Colo.