By Larry Stalcup, Contributing Editor
After achieving what he dreamed of – and then some – in the veterinary medicine, equine and cattle businesses, "Doc" Graham has more than fulfilled what his vet school dean requested – to give back to his beloved Texas A&M University.
His goals to help expand A&M's vet school were capped this summer with the official grand opening of the new Charles W. "Doc" Graham, The Texas A&M University System Center, located on the campus of West Texas A&M University in Canyon.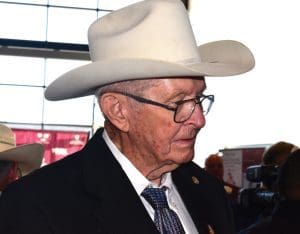 The center is home to the Veterinary Education, Research and Outreach Building (VERO) and the Charles W. Graham DVM Texas A&M Veterinary Medical Diagnostic Laboratory Building (TVMDL). Both are part of the Texas A&M College of Veterinary Medicine and Biomedical Sciences (CVMBS).
The new facilities opened last September, signaling the culmination of the Texas A&M University System's investment in large animal health in the Texas Panhandle. The grand opening celebration was delayed until this summer due to COVID-19. However, students completed their first year at the center this spring.
The center is supported by some $95 million in investments into the WTAMU and Panhandle region. Ground was broken on both buildings in December 2018.
"With this partnership at WT, the CVMBS continues to meet both the needs of the state and our students in the most innovative, high-quality, effective and cost-efficient manner possible," said Texas A&M System Chancellor John Sharp. "We have created a two-way superhighway of veterinary education and research activity from Canyon to College Station. And it runs right through the VERO and TVMDL facilities within the Dr. Charles Graham center on the WT campus."
Doc Graham is known by most as a man who says directly what's on his mind. And some of his words may even make a sailor blush. He served in the U.S. Army after earning his Bachelor of Arts degree at A&M. Following his tour for Uncle Sam, he returned to A&M and entered vet school. He learned all he could in class and "outside" the classroom and lab.
"I was as nervous as a whore in church," Doc uttered in his center dedication speech when describing his reaction to being called into the dean's office just before graduating from vet school in 1953. It seems that Doc had been helping local livestock producers on the side. He had cared for sick animals and performed other animal health chores. The dean apparently let the outside practice slip by until it was graduation time. He told Doc that he had questionably earned more money than anyone in the vet school.
"I know you're going to be financially successful," the dean told him. "I'm going to ask you to do one thing. I want you to give back to Texas A&M University."
"I think I've done that," Doc said, speaking to the center grand opening crowd that included Chancellor Sharp and other Aggie brass, fellow vets from the Texas A&M and WT faculty, and numerous donors and other friends of his and the universities. He stressed that he owned a debt of gratitude to the many who, over the years, have supported him and A&M.
From Skunks to Stallions
Doc was raised on a cotton and corn farm in southeastern Texas. While still in grammar school, he got to know a friend's brother who was a veterinarian in nearby Cameron. Young Charles figured out how to deodorize skunks and handle boar hogs. He became an aspiring assistant, although a stinky one. Doc's mother was a school principal in Cameron. He smelled so bad that she made him ride in the back of a pickup on a cotton sack.
He played basketball in high school and went to A&M on a scholarship. He got to College Station with $10 in his pocket and bunked in the college horse center. He "furnished" the place with prize money he won from a little rodeoing. He bought an old steel bed and initially used cardboard as a mattress. After eventually deducing that the basketball coach wasn't completely honest with him, Graham informed him he was quitting and concentrating on getting an animal science degree.
"I told him, 'Feller, you lied to me,' and gave him that 'long finger,'" Doc declared. "I told him I never want to see you again."
After earning his DVM degree, he immediately started living up to his, and the dean's, expectations. Throughout his still-vibrant career, Doc became one of the world's most renowned equine veterinarians, a leader in Texas' horse and cattle industries and a tireless volunteer, advocate and youth mentor.
Along with Dr. W. H. Cardwell, he built the Elgin Veterinary Hospital in the early 1960s, which grew into one of the nation's largest equine veterinary facilities. Graham is now owner of a number of other businesses, including the 1,300-acre Southwest Stallion Station in Elgin, which has bred some of the top stallions and broodmares in the Quarter Horse industry.
He is the only individual to serve as president for both the Texas Quarter Horse Association and the Texas Thoroughbred Association and is the only person to be selected as Horseman of the Year by both associations. He has also been recognized by Texas A&M's AgriLife, College of Agriculture & Life Sciences and CVMBS, as well as having been inducted into multiple halls of fame.
South Texas beef producers know him as principal owner of Graham Land & Cattle Co., which operates a 30,000-head commercial feedyard in Gonzales, with backgrounding facilities for another 15,000 head. There are plenty of local customers, as Gonzales County is typically one of the nation's largest cow-calf producing counties.
In 2014 he was honored by the Texas and Southwestern Cattle Raisers Association as winner of the Texas A&M AgriLife Distinguished Texan in Agriculture Award. During his acceptance speech, he jokingly told the crowd he appreciated the award because "I helped make some of you 'sumbitches' rich."
WTAMU's Rousing Ag College Resources
Doc's serious side has never swayed from helping A&M and more recently WT. He has made numerous trips to Canyon to help open one of the nation's most innovative agricultural college programs. The VERO and diagnostic laboratory are part of the Paul Engler College of Agriculture and Natural Sciences.
The VERO Building is a $22-million, 36,000-square-foot facility that serves as a veterinary teaching center. It creates a gateway to the CVMBS in College Station for Panhandle and West Texas area students interested in pursuing veterinary medicine.
The TVMDL facility is a $17.6-million, 22,000-square-foot building that features the latest technology for diagnostic services in bacteriology, pathology, serology and virology, as well as spaces for receiving, processing, necropsy and support.
The opening of the building last September signaled relocation to Canyon from Amarillo. It has been vital to the region's mammoth cattle feeding industry as an extension of the College Station-based laboratory. The lab has expanded to offering testing for almost every animal species for some of the largest animal ag companies in the world, as well as the ever-important smaller, independent producers.
Doc Graham will be a lasting institution in Aggieland and Texas equine and cattle industries. His generosity through his wisdom and support of the A&M family and all of Texas agriculture has made many in southwestern agriculture richer in more ways than one.