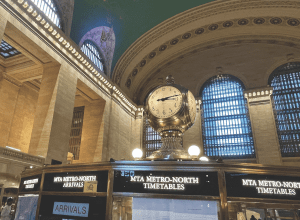 By Larry Stalcup, Contributing Editor 
"Meet me at the clock" – for an exceptional filet mignon. 
The clock is the "grand dame" of the wondrous Grand Central Terminal on Park Avenue in New York City. The filet is a few steps away at the Cipriani Dolci, one of the terminal's 35 restaurants.  
The clock highlights Grand Central's train information desk, located in the center of the iconic railroad crossroads. Covering more than 48 acres, the station has 44 platforms on two levels, with 67 tracks along them encompassing 33 miles of track, all underground. In rush hour, trains depart or arrive once every 58 seconds.  
As the host to some 750,000 travelers – every day – Grand Central certainly lives up to one of Americana's grandest clichés. It's literally "as busy as Grand Central Station." 
Debby and I made Grand Central part of our tourist menu last fall after viewing some of Upstate New York's beautiful farm and dairy land. Our son, Dane, a professor and true New Yorker, recommended the Cipriani Dolci for lunch. 
From bagels to prime beef, travelers can select anything one hungers for at Grand Central. The Cipriani isn't for those in a hurry. It's on a balcony overlooking the main concourse, so enjoy the sites. It's menu centers on pasta and risotto. It stretches to salads, apps, seafood and sandwiches. Main courses include a Black Angus New York strip (what, no KC?), and the filet served with peppercorn sauce.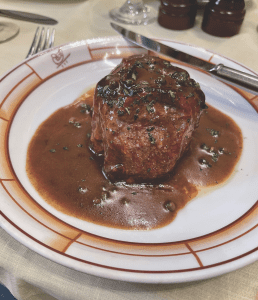 Debby had the tortellini, as she typically doesn't order steaks eating out because they can't top what we grill in our Amarillo backyard. But after days of New York pizza, hot dogs and street vendor pastries, I was ready for beef.
New York likely has as many steakhouses as any major metropolis. The competition means chefs don't skimp on quality, not when any steak under $75 is a bargain. My filet was as good as any I've had. Tasty, tender and filling. 
Like all Manhattan restaurants a step above McDonald's, the price was high. Let's just say the lunch tip for four of us was $100. But those costs are budgeted for when visiting The Big Apple. 
The landmark Grand Central Oyster Bar & Restaurant is the oldest of the terminal's eateries. It, too, is a can't-miss for dining. Its bar is one of the city's favorites.  
Debby's research of Grand Central turned up fun facts. In February 1913, Cornelius Vanderbilt's vision became a reality when architect Whitney Warren's magnificent Grand Central Terminal was open for business.  
Elevators or ramps can reach all levels, floors and track platforms. There are no stairs. The design was necessary because train passengers traveled with steamer trunks and train cases. 
There's the "whispering gallery" next to the Oyster Bar. Its low ceramic arches create an acoustical phenomenon letting you talk to a friend in the opposite corner. Grand Central's lost and found receives more than 2,000 items a month. About 80 percent of them get back to their owners. Grand Central contends it's the best recovery rate of any lost and found in the world (Ahem, airlines!) 
The Grand Central clock is estimated to be worth $20 million. The phrase "meet me at the clock" refers to this clock only and is understood by every New Yorker.  
On a typical day, the clock's information booth fields more than 1,000 questions per hour. And when travelers ask where to get a good steak, they're likely told, "try the Cipriani Dolci." 
Remember, cowboys aren't strangers to Manhattan (and aren't to be confused with Times Square's Naked Cowboy.) The best of the Pro Rodeo Cowboys Association have competed at the Madison Square Garden rodeo during much of its history. Now, the Professional Bull Riders (PBR) holds events there.  
The PBR "Buck Off" was held in early January. There will probably be another one the beginning of 2024. If it's in your plans, consider the Cipriani Dolci for a good filet.  
Just ask the clock.