Williamsburg, Va.
By Carolynn Howk, Contributing Editor
While visiting historic Williamsburg, Va., late this summer on a business trip, my boss tasked me with finding a good steakhouse for dinner. Situated between the York River and the James River, it's a locale more well-known for its seafood, but our work team decided to try Opus 9 Steakhouse for some beef.
Tucked into a modern, pedestrian-friendly, business and shopping area, Google offers Opus 9 as an "upscale option for Prime beef and seafood." I opted for their online reservation system and snagged a Friday evening table for three. Tagging it as a "business" occasion afforded us ample opportunity to chat with minimal interruptions from the attentive waitstaff.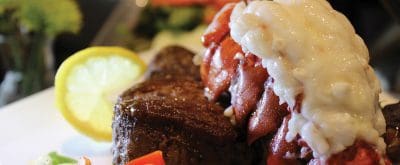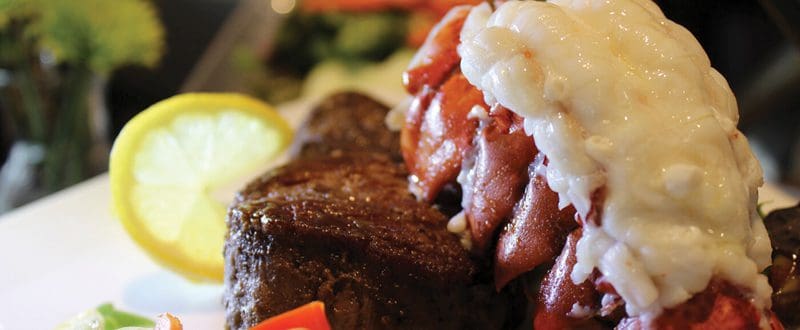 We were seated at a table with white linen cloth between a booth with an older couple and a family with four young boys, as the restaurant accommodates all manner of diners. It gives the feel of upscale, fine dining without the stuffiness. Steaks average about $45 per plate, with signature steaks ranging from $50 to $80. Although it was too warm to enjoy during our stay, the outdoor patio is a beautiful al fresco option, which might be nice with their lighter lunch menu.
Opus 9 offers an impressive wine list of over 150 choices, making it difficult to pick one! Our server suggested a popular red wine that paired nicely with both our seafood appetizers and the filets chosen for our meals. Their appetizers showcase the seafood locale with options from shrimp cocktails and ahi tuna to fried oysters and calamari, the latter of which we enjoyed. They were hot, crispy and accompanied by creamy sauces that definitely deserve their own mention. The decorative and delicious microgreens helped balance the plate and my guilt at all the fried goodness.
We were able to speak briefly with the head chef, a fine feat considering the busy nature of a Friday evening. Although relatively new to this particular kitchen, he was pleased to share that the restaurant had recently begun sourcing their specialty beef from Brasstown Beef in North Carolina. The majority of their steaks come from Iowa, and are sourced and cut to specifications through Performance Food Group.
Our filets were all perfectly cooked, Choice, corn-fed, wet-aged beef, served on piping-hot, white plates with drawn butter that sizzled long enough to continue cooking at the table. If you want potatoes, they have all the choices: baked, fried, scalloped, mashed and sweet. Be sure to try the macaroni and cheese, it's a can't miss that almost made my coworker pass up dessert.
Thankfully, the "Chocolate Concerto Plus," their signature, molten lava cake, takes some extra time to prepare, so there were desserts all around. While I chose that beautiful concerto, my tablemates enjoyed the key lime pie (made with REAL key limes, of course) and a deliciously creamy crème brûlée with that perfect, golden-brown crust. We greatly enjoyed this end to our meal.
If beef isn't what you're feeling, Opus 9 also prepares some fine-looking seafood dishes starting at about $30. Lump crab cakes, rock lobster tails and Chilean sea bass all grace that portion of the menu along with salmon, shrimp and sea scallops.
Their Sunday brunch is all-you-can eat for about $35 per adult (free for kids 5 and under) and includes everything from a prime rib and ham carving station, to Belgian waffles and even a chocolate fountain for dessert. Overall, Opus 9 is a wonderful choice for a celebration or for when you just want to enjoy a well-cooked meal in a quiet and beautiful space.