Hatmaker for Cowboys, Ranchers and Other Stars
While some who wear Greeley Hat Works hats are on Hollywood's A List or are major world leaders,
it's workin' folks who made the shop renown.
By Burt Rutherford Contributing Editor
Ever heard someone mention how good Kevin Costner looks in a cowboy hat? He should. The star of the cable TV show Yellowstone wears one of the best custom-made hats money can buy. While Costner is one of a remarkable list of notable people who wear hats from Greeley Hat Works, those folks are the ice cream on top of a Dutch-oven cobbler, according to Trent Johnson, the fourth hatmaker to own the venerable hat shop in downtown Greeley, Colo.
"That feedlot cowboy, cattlemen and women, horse people, that's my bread and butter," he says.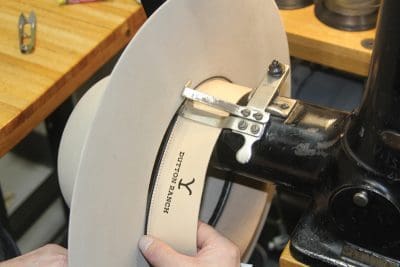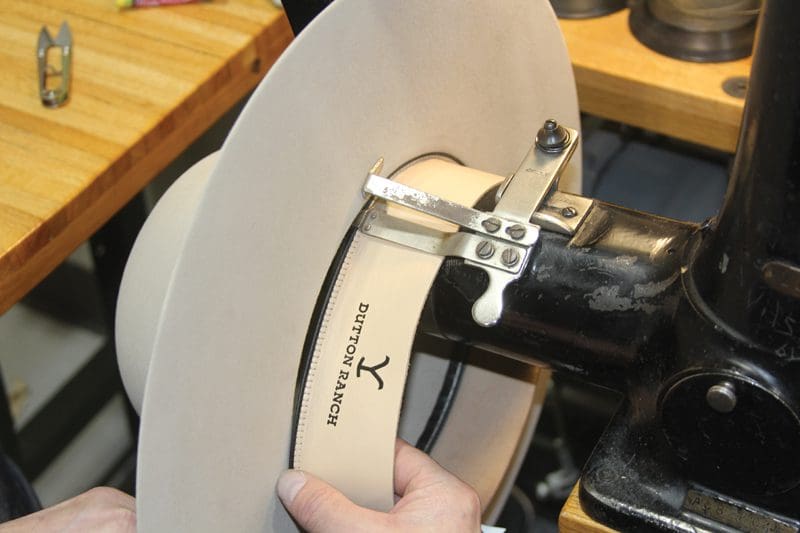 "We had a cowboy come in the other day," he remembers. "This guy had been saving up for two years for a Greeley Hat Works hat. And to me, that's the honor, that's my clientele. Those are my people."
For the boots-in-the-stirrups crowd, a hat is more than something to adorn your head, Johnson says. It's a tool. "He had the money for a very good hat. Then I started to explain to him the difference between what he was buying and a pure beaver."
The advantage of having more beaver in the hat is it makes it thinner, lighter weight, more weather resistant, more durable. It'll last longer, clean up better and hold its shape better, Johnson explained.
But the cowboy resisted, saying he was really hard on hats. "So my analogy for his was, 'You ride a horse every day, right?'" Darn right, the cowboy responded. "So you probably have a cheap saddle and cheap boots and cheap spurs."
Of course he didn't. Being horseback was how he made his living. "So I say, 'Why would it be different with a hat?'"
How It Came to Be
There's a saying that if you do what you love, the money will come. Johnson can relate to that because he loves building hats. In fact, he's always had a thing for hats, even as a child. "So I've never really been normal when it comes to hats. I often joke that I didn't choose the hat life. It chose me."
Greeley Hat Works was founded in 1909 as Greeley Hat and Shine Parlor. Ben Martinez, a young man working there as a shoeshine boy, bought the business in the mid-'20s and remained involved for much of the rest of his life.
In the early 1980s, Susie Orr bought the business and moved it to the ranch she and her husband, Ed, ran in northeast Colorado. That's where Johnson got the opportunity to discover his mission in life – building hats.
He grew up in Pueblo, Colo., the son of a schoolteacher and stay-at-home mom. He enrolled in the University of Northern Colorado in Greeley with the idea of studying business.
But college gives you the opportunity to reinvent yourself, he says. While he didn't grow up country, he started hanging out with the rodeo team, "And I kind of started falling into the Western way of life, more than just Wranglers and boots."
He went to the Orr ranch one day to get his hat shaped and asked if they were hiring. He told Ed, "Here's the deal; hire me for a day. If you like me, keep me. If you don't, just let me know what I could have done differently."
His first day as a ranch hand, he and two other hands were eating lunch. "After lunch, the three of us got up and the other guys went on their way. I picked up all three plates and set them by the door going into the mudroom. And she looks out the hat shop window and knew that they were going to hire me."
Johnson soon moved in with the Orrs until they built him his own place on the west end of the outfit. He became an apprentice in the hat shop and continued his studies.
The story of how he came to own Greeley Hat Works is one of hard work, entrepreneurship and the value of family. He had a lawnmowing business as a youth and built it to 60 yards and four employees. When he started, however, he wanted to use his dad's lawnmower.
"He goes, 'I'll rent it to you, five bucks a yard.' Darn if I didn't save every penny and nickel to buy my own stuff so I didn't have to give the old man any money."
Fast forward to his second senior year in college. He set his sights on owning Greeley Hat Works. The Orrs agreed to finance half the deal. He paid Ed's secretary to type up a business plan. "No banks would look at me," he remembers, so he sent it to his uncle.
As he and his uncle talked about the opportunity, Johnson asked what the interest rate would be. "And he says, 'Well, here's the interest rate. Every year you owe me money, you have to build me a hat.'"
Being hat rich and cash poor, that was a pretty sweet deal. Now he has three-quarters of the money he needs. "So I go to my parents, which I didn't want to do," he says.
"I remember this like it was yesterday, sliding the business plan across the table and my parents looking at it and whispering." His parents slid the plan back across the table and said they weren't going to lend him the money.
"I said, 'I understand, but why?' They go, 'Remember when we rented you a lawn mower and when you came home from college, we made you pay rent? We invested every penny you ever paid us in the stock market. So how 'bout we go down and get your money?'
So that's how I ended up with Greeley Hat Works."
Johnson says his grades weren't good enough to get into business school, so he graduated with a degree in sociology and a minor is psych. "I often joke that, at the time, all I knew how to do with my degree was analyze cowboys and hats."
He's been making a living doing exactly that ever since. His last year as an apprentice, they were building 60 hats a year. The first year he owned the business, he built 120. "I paid off my uncle and I built him two hats in case I ever got in trouble."
He remembers building 350 hats, then 500. "Then I started to expand and actually hire some employees, buy some more equipment because now I was in the business, and people knew me and I could find stuff."
When you're in the hat business, finding stuff can be a challenge. Almost all the equipment Johnson uses in his shop was built between the 1850s and the 1950s.
Greeley Hat Works built a little more than 5,500 hats in 2020. Johnson's goal for 2021 is to build 25 to 30 hats a day. "That's a lot of hats for a small company."
While that's a little less than the 14 dozen the popular brands will average in a day, just as that feedyard cowboy learned, there are advantages to buying a custom-made hat. In Johnson's mind, those advantages are quality and customer service.
While all those hats are built one at a time, by hand, and mostly purchased in the same building where they're made, you can find Greeley Hat Works hats in Western stores. "We build hats for about a hundred Western stores in the U.S. And we have five premier dealers around the United States and one in Canada where you can get fit, measured and order a custom-made hat," he says.
Why buy a custom-made hat? "The main advantage is the fit, the quality of the materials we use and the customer service. I don't care if we're building an entry-level hat for a store or a custom hat for Aaron Rogers, we put the same amount of detail into every hat we build."